Do you know that the sun, a world, or a spider are guys, while moons, tables, and legs are girls? And these are only a few family-friendly examples of the French nouns genders' oddity. Wait until you learn about the male and female genital words and their counter-intuitive genders.
Figuring out which are the feminine nouns in French is one of the trickiest aspects of the language, and so is the formation of plural nouns, but bear with me for a little while and you'll learn a collection of useful tricks to help you wrap your head around it!
In this guide, you'll find a list of the 100 most common and useful French nouns and how to use them. For each of these words, I've included the gender, plural form, translation, and example sentences. If you manage to memorize most of the items on this French nouns list, you'll be pretty far along on your way to talking about a great many things!
Table of Contents
1. Gender and Plural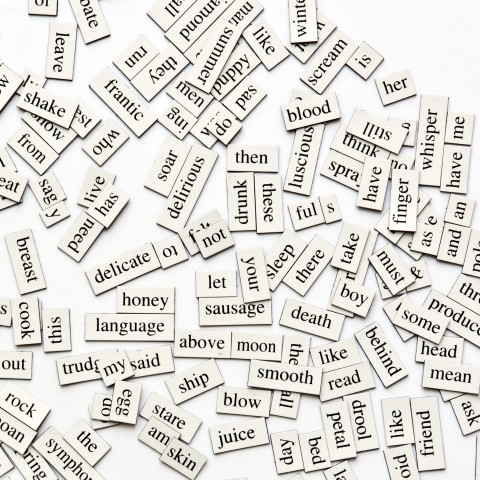 Le vocabulaire ("Vocabulary")
1- How do you know if a French word is masculine or feminine?
French nouns are either masculine or feminine.
For instance,
le soleil
("the sun") is masculine, while
la lune
("the moon") is feminine.
The question of why
une araignée
("a spider") is female and
un cafard
("a cockroach") is male doesn't matter as much as: How do I know which gender it is?
Luckily, it's generally quite straightforward, and based on the final letters of a word, you can guess its gender. The rule isn't entirely accurate, but as you get used to these typical masculine and feminine endings, you'll be able to make good guesses.
Usually feminine endings:
Most words ending in -e or -ion


Une lune; une année; une semaine
Une nation; une division

Except words ending in -age, -ege, -é, -isme

Usually masculine endings:
Words ending in -age, -ege, -é, -isme
+ Everything else.


Un mariage; un été
Un jour; un parc; un nain
Should you learn all of these endings by heart? I don't believe so.
It would be a tedious and super-boring process.
This is not how native speakers learn the words' genders.

If you're wondering how to remember French nouns' gender, I instead encourage you to ALWAYS learn new nouns with their article.
Soleil Un soleil ("A sun")
Lune Une lune ("A moon")

You can also memorize them with a definite article. It's just a matter of preference.
Le soleil ("The sun")
La lune ("The moon")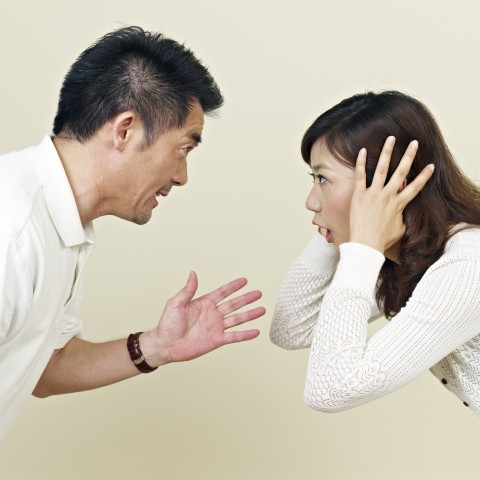 The gender war is declared.
2- How to make French nouns plural
For most nouns, simply add an -s at the end of the word.
Un an -> des ans
Un jour -> des jours

Nouns ending in -au become -aux.
Nouns ending in -ou usually become -ous, but some take a -oux.
Un fou -> des fous
Un bijou -> des bijoux

Nouns ending in -al become -aux.
Finally, nouns ending in -s, -x, or -z are invariable.
Une souris -> des souris
Un lynx -> des lynx
Un nez -> des nez

Now that we've learned how to determine the gender of French nouns and how to make them plural, let's move on to our 100 French nouns list!

2. About Time
Un an; des ans
"Year"

Une année; des années
"Year"
Nous vivons ici depuis dix ans.
"We have been living here for ten years."

Nous vivons ici depuis plusieurs années.
"We have been living here for several years."

An is mainly used when there is a number involved:


J'ai 35 ans. ("I'm 35 years old.")
Trois fois par an ("Three times per year")

Année is used in most other cases:


Je voyage chaque année. ("I travel every year.")
L'année dernière, j'ai arrêté de fumer. ("Last year, I stopped smoking.")
Une semaine; des semaines
"Week"

A la semaine prochaine !
"See you next week!"

Un mois; des mois
"Month"
Le mois de juillet est souvent ensoleillé.
"The month of July is often sunny."

Un jour; des jours
"Day"
Je viendrai dans trois jours.
"I will come in three days."
Une heure; des heures
"Hour"
Ce film dure trois heures.
"This movie is three hours long."
Quick Tip: How to tell time?

In France, you can use the twelve- or twenty-four-hour system.


Quelle heure est-il ? ("What time is it?")
Il est seize heures et demi. ("It is 4:30 PM." Literally: "It is 16 and half.")
Il est huit heures trente cinq. ("It is 8:35.")
Une minute; des minutes
"Minute"
Laisse moi deux minutes et on y va !
"Give me two minutes and let's go!"
Un temps; des temps
"Time"
Je n'ai pas le temps.
"I don't have the time."
→ Make sure to visit our full article about Time as well as our vocabulary list on Talking About Time, with audio recordings to practice your pronunciation. It's freely available on FrenchPod101!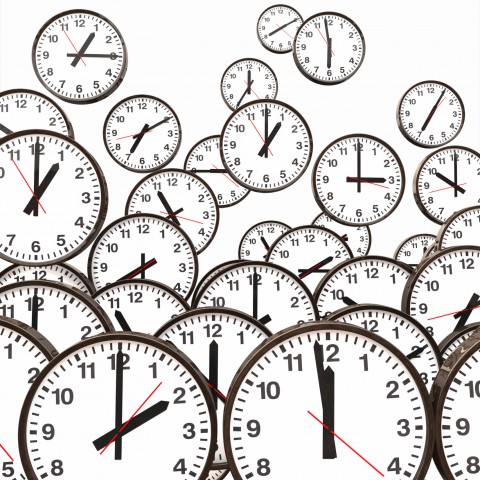 Une question de temps ("A matter of time")
3. Places
Un monde; des mondes
"World"
La plus belle plage du monde.
"The most beautiful beach in the world."

Un pays; des pays
"Country"

Tu as visité de nombreux pays.
"You have visited many countries."

Un endroit; des endroits
"Place"
J'adore cet endroit !
"I love this place!"
In Quebec, where French is a bit different, a place is une place.


Montréal est un endroit une place que j'aime beaucoup
"Montreal is a place that I like very much."

In France, une place means "a square," as in La place centrale ("The main square").
Une région; des régions
"Region"
C'est le plat typique de ma région.
"This is the typical dish of my region."

Une mer; des mers
"Sea"
La mer du nord est un peu froide.
"The northern sea is a bit cold."
Une forêt; des forêts
"Forest"
Il s'est perdu dans la forêt.
"He got lost in the forest."
Une montagne; des montagnes
"Mountain"
Des vacances à la montagne
"Mountain vacations"

Un magasin; des magasins
"Shop"
Tu peux en acheter dans ce magasin.
"You can buy some in this shop."

Une banque; des banques
"Bank"
J'ai besoin de retirer de l'argent à la banque.
"I need to withdraw some cash at the bank."

Un parc; des parcs
"Park"
On se retrouve dans le parc ?
"Shall we meet in the park?"
→ Learn more about how to navigate French cities with our free vocabulary list on places Around Town.
4. Technology & Internet
Un téléphone; des téléphones
"Phone"
Je te donne mon numéro de téléphone.
"I'll give you my phone number."

Un portable; des portables
"Mobile phone"
Tu me donnes ton numéro de portable ?
"Can you give me your mobile phone number?"

Portable VS. Mobile VS. Laptop

A common source of confusion, even among natives, is the word portable meaning "mobile phone" and "laptop."

One way to avoid the confusion is to use un mobile or un smartphone instead of un portable when talking about mobile phones. Younger generations also tend to use laptop instead of portable.

To be fair, it's usually easy to guess from the context.

Un ordinateur; des ordinateurs
"Computer"
Mon ordinateur est un PC.
"My computer is a PC."

Fun fact: PC is also the acronym for the French communist party: Parti Communiste.
Is there any risk of ever confusing these two? I wouldn't bet on it.
Une tablette; des tablettes
"Tablet"
Tu as installé l'app sur ta tablette ?
"Did you install the app on your tablet?"
Une télé; des télés
"TV"
Il y a quoi à la télé, ce soir ?
"What's on TV tonight?"

Télévision, Télé, or TV?

While Télévision is the full word, it's rarely used in conversations; Télé is far more popular. TV is mainly used in writing.
Un chargeur,;des chargeurs
"Charger"
Je peux emprunter ton chargeur ?
"Can I borrow your charger?"
Internet
"Internet"
On n'a pas internet, dans ce petit village.
"We don't have internet in this small village."
Internet (with a capital "I"), internet, or l'internet?

Short answer: Whatever you like!

(But use "internet" if you wanna sound cool. L'internet is for your grandpa.)

Long answer: According to the Académie Française (official patron of the French language), you can use both. However, there was an attempt in 2016 at the national assembly to officialize l'internet over "internet." Thank goodness, the bill didn't pass.
Un site web; des sites web
"A website"
On ira voir sur le site web de la mairie.
"We'll check on the city hall's website."

Site or Site web? Whichever.


On ira voir sur le site de la mairie.
"We'll check on the city hall's website."
Un compte; des comptes
"Account"
Tu as un compte Skype ?
"Do you have a Skype account?"
Un mot de passe; des mots de passe
"Password"
Je dois réinitialiser mon mot de passe.
"I need to reset my password."
How do you say "login?"
We often say login, but you can equally say identifiant.
Un fichier; des fichiers
"File"
J'ai copié les fichiers sur ma clef USB.
"I copied the files on my USB drive."

Un logiciel; des logiciels
"Software"
Tu peux installer ce logiciel.
"You can install this software."

→ Appliances and technology are a vast topic and I'm just scratching the surface here! Don't miss any words with our free vocabulary lists on Home Appliances, Technology, and the Internet.
La technologie ("Technology")
5. Home, Sweet Home
Une maison; des maisons
"House"; "Home"
On rentre à la maison.
"We're going home."
Une porte; des portes
"Door"
La première porte à gauche
"The first door on the left"
Une fenêtre; des fenêtres
"Window"
Les cambrioleurs ont cassé une fenêtre.
"Burglars have broken a window."

Un frigo; des frigos
"A fridge"
Ne mettez jamais de vin rouge au frigo !
"Don't ever put red wine in the fridge!"

Ideally, before and after it has been opened, you should keep it out of light and at room temperature.
Une armoire; des armoires
"Closet"
On a besoin d'une nouvelle armoire.
"We need a new closet."

Une pièce; des pièces
"Room"
Ce serait bien d'avoir une pièce en plus.
"It would be nice to have one more room."

Une cuisine; des cuisines
"Kitchen"
N'oublie pas d'aérer la cuisine.
"Don't forget to ventilate the kitchen."

Cuisine also means…well, "Cuisine." #CaptainObvious


J'aime la cuisine indienne. 
"I love Indian cuisine."
Un salon; des salons
"Living room"
On va prendre l'apéro dans le salon.
"We'll take the aperitif in the living room."
Une chambre; des chambres
"Bedroom"
Ma chambre a un plafond intéressant.
"My bedroom has an interesting ceiling."

Des toilettes (invariable)
"Toilets"
Où sont les toilettes ?
"Where are the toilets?"

We also use WC, for "water closet."
Une salle de bain; des salles de bain
"Bathroom"
Il y a une autre salle de bain à l'étage.
"There is another bathroom upstairs."
6. City & Transports
Une voiture; des voitures
"Car"
J'ai vendu ma voiture.
"I've sold my car."
Un bus; des bus
"Bus"
Je prends souvent le bus.
"I often take the bus."

Un train; des trains
"Train"
Je voyage parfois en train.
"I sometimes travel by train."

Un avion; des avions
"Plane"
J'évite surtout de prendre l'avion.
"I especially avoid taking planes."

Un taxi; des taxis
"Taxi"; "Cab"
Tu peux m'appeler un taxi ?
"Can you call me a cab?"

Un vélo; des vélos
"Bicycle"
Un vélo de course.
"A racing bicycle."

Vélo is short for vélocipède, a word so popular that I learned about it two minutes ago.
Une ville; des villes
"City"; "Town"
On se promène en ville.
"We're strolling in town."

Une rue; des rues
"Street"
Une rue piétonne
"A walking street"

Une avenue; des avenues
"Avenue"
L'avenue principale
"The main avenue"

Une route; des routes
"Road"
Les routes de campagne sont tranquilles.
"Countryside roads are quiet."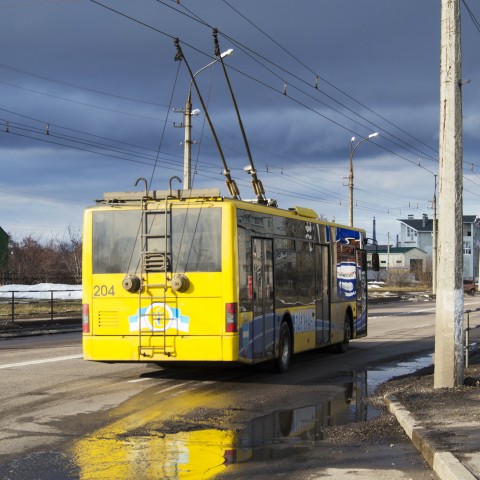 Les transports en commun ("Public transports")
7. Family & Friends
Une mère; des mères
"Mother"

Aujourd'hui, c'est la fête des mères.
"Today is Mother's Day."

Ma maman 
"My mom"

Un père; des pères
"Father"
Luke, je suis ton père.
"Luke, I am your father."

Mon papa 
"My dad"

Une femme; des femmes
"Wife" (literally: "Woman")
Ma femme a toujours raison.
"My wife is always right."

You can also say Mon épouse (formal) or Ma conjointe (super-formal).
Un mari; des maris
"Husband"
Son mari est enseignant.
"Her husband is a teacher."

You can also say Mon époux (formal) or Mon conjoint (super-formal).
Un frère; des frères
"Brother"
Il t'aime comme un frère.
"He loves you like a brother."

Une soeur; des soeurs
"Sister"
J'ai deux soeurs et un frère.
"I have two sisters and one brother."

Une famille; des familles
"Family"
Je passe Noël avec ma famille.
"I spend Christmas with my family."

You can also use un parent/des parents, but don't confuse mon parent ("my relative") and mes parents ("my parents").

Un parent ("a relative") or des parents ("relatives") both refer to relatives of any kind, while mes parents (possessive plural) means: "my parents" (mom and dad).


Je vais voir mes parents. 
"I'm going to see my parents."


J'ai des parents dans la région. 
"I have relatives in the region."
Une copine; des copines
"Girlfriend"

Un copain; des copains
"Boyfriend"

Je vais au cinéma avec ma copine.
"I'm going to the cinema with my girlfriend."

Laisse tomber, j'ai un copain.
"Let it go, I have a boyfriend."

The word copain / copine also means "buddy." It depends on the context, but it can be confusing even for locals. (Just like when American women talk about their "girlfriends.")

The general rule is:


When you say un copain, it means "a buddy" or "a pal."
When you say mon copain, it means "my boyfriend."
Un fils; des fils
"Son"

Nous sommes les fils de la Terre.
"We are the sons of the Earth."

Une fille; des filles
"Daughter" (Literally: "Girl")
Ma fille aînée.
"My elder daughter."

Un ami; des amis
"Friend"
Tu es mon meilleur ami.
"You're my best friend."

→ To read more about the rest of the family, check out our free vocabulary list on Family Members. And be sure not to miss our special article about The French Family to learn everything on this important topic, from the vocabulary to the cultural aspect of it!
8. Body Parts
Une tête; des têtes
"Head"
Un chasseur de têtes
"A headhunter"

Un oeil; des yeux
"Eye"
Tu as de très beaux yeux.
"You have very beautiful eyes."

Une bouche; des bouches
"Mouth"
Ouvre la bouche.
"Open your mouth."

Un nez; des nez
"Nose"
Un piercing au nez.
"A nose piercing."

The French don't stand toe to toe, but nose to nose.


Il se trouve nez à nez avec elle. 
"He's standing toe to toe with her."

However, in French, this expression doesn't necessarily involve a conflict or competition. It means that you unexpectedly end up right in front of that person.

Un cheveu; des cheveux
"Hair"
Elle a les cheveux courts.
"She has short hair."

Un bras; des bras
"Arm"
Viens dans mes bras.
"Come into my arms."

Une main; des mains
"Hand"
Les mains en l'air !
"Put your hands in the air!"

The French don't wear their heart on their sleeve; they have it on their hand.


Il a le coeur sur la main. 
"He's wearing his heart on his sleeve."
Une jambe; des jambes
"Leg"
Je me suis cassé la jambe.
"I broke my leg."

Un pied; des pieds
"Foot"
J'ai déjà un pied dans la tombe.
"I already have one foot in the grave."

In France, don't put your foot in your mouth; put it in the dish.


J'ai mis les pieds dans le plat. 
"I put my foot in my mouth."
→ Practice your French anatomy by reviewing our free vocabulary list on Body Parts, with audio recordings to improve your pronunciation!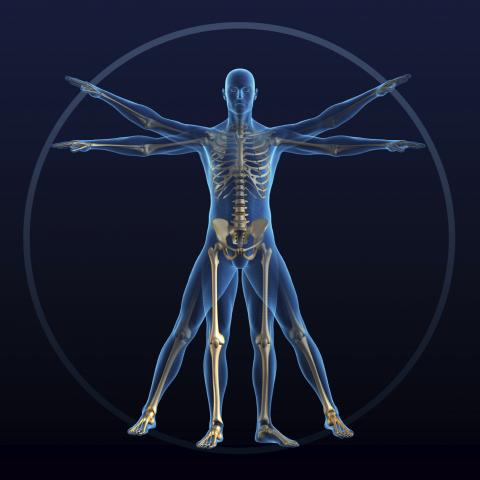 L'anatomie ("Anatomy")
9. Food & Utensils
Un couteau; des couteaux
"Knife"
Un couteau à fromage
"A cheese knife"

Une fourchette; des fourchettes
"Fork"
J'ai besoin d'une plus grande fourchette.
"I need a bigger fork."

Une cuillère; des cuillères
"Spoon"
Une cuillère à soupe d'huile
"A tablespoon of oil"

Une assiette; des assiettes
"Plate"
Une assiette de charcuterie
"A plate of cold cuts"

Un verre; des verres
"Glass"
Tu mérites un verre de vin.
"You deserve a glass of wine."

Une eau; des eaux
"Water"
Je voudrais une carafe d'eau, s'il vous plait.
"I would like a jug of water, please."

Un vin; des vins
"Wine"
Une cave à vin
"A wine cellar"

Un fruit; des fruits
"Fruit"
Un jus de fruit
"A fruit juice"

Un légume; des légumes
"Vegetable"
Je mange des légumes une fois par semaine.
"I eat vegetables once a week."
Une viande; des viandes
"Meat"
Viande ou poisson ?
"Meat or fish?"

10. Occupation
Un étudiant; des étudiants
"Student"
C'est un très bon étudiant.
"He's a very good student."

Un docteur; des docteurs
"Doctor"; "Physician"
Vous avez besoin d'une ordonnance du médecin.
"You need a doctor's prescription."



The most common word for "physician" is médecin.
Un policier; des policiers
"Police officer"
Mon frère est policier.
"My brother is a police officer."

Un professeur; des professeurs
"Teacher"
Je veux devenir professeur de Russe.
"I want to be a Russian teacher."

Un avocat; des avocats
"Lawyer"
Je ne parlerai pas sans mon avocat.
"I will not talk without my lawyer."

Avocat also means "Avocado." Any risk of confusion? Not sure.


Je ne parlerai pas sans mon avocat. 
"I will not talk without my avocado."
Un serveur; des serveurs
"Waiter"
La serveuse a pris notre commande.
"The waitress has taken our order."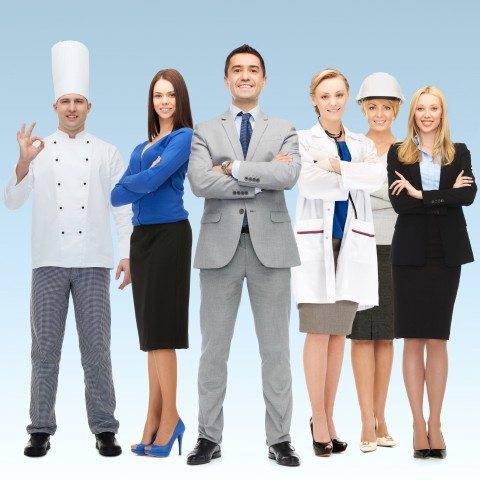 Quelle est votre profession? ("What is your profession?")
11. Clothing Items
Un pantalon; des pantalons
"Pants"
Un pantalon en cuir
"Leather pants"

Un pull; des pulls
"Sweater"
Un pull en laine
"A wool sweater"

Un T-shirt; des T-shirts
"T-shirt"
J'enfile un T-shirt propre.
"I'm putting a clean T-shirt on."

Une chemise; des chemises
"Shirt"
Enlève ta chemise.
"Take off your shirt."

Un manteau; des manteaux
"Coat"
J'ai laissé mon manteau dans la voiture.
"I've left my coat in the car."

Une chaussette; des chaussettes
"Sock"
Mes chaussettes rouges et jaunes
"My red-and-yellow socks"

Une robe; des robes
"Dress"
Une robe en soie
"A silk dress"

Une chaussure; des chaussures
"Shoe"
Des chaussures de randonnée
"Hiking shoes"

12. Bonus: Communication
Une question; des questions
"Question"
C'était une question rhétorique.
"It was a rhetorical question."

Une réponse; des réponses
"Answer"
J'exige des réponses !
"I demand answers!"

Un mot; des mots
"Word"
Je ne trouve pas les mots.
"I can't find the words."

Une phrase; des phrases
"Sentence"
Je ne comprends pas cette phrase.
"I don't understand this sentence."

Une idée; des idées
"Idea"
C'est une très bonne idée !
"This is a very good idea!"

13. How FrenchPod101 Can Help You Learn More French

In this French nouns lesson and guide, you've learned everything there is to know about French nouns, from the feminine nouns in French to the rules of forming plurals. You've also learned the key French nouns with our extensive noun list.
Did we forget any important noun that you know? Do you feel ready to explore new conversation topics with your French friends, using everything you've learned today?
A good way to practice the words on our basic French nouns list is to start simple, then add more flavor with adjectives.
Adding adjectives to common French nouns will also help you remember the nouns' gender, as many French adjectives have different forms in feminine or masculine:
Une pomme ("An apple")
Une pomme verte ("A green apple")

Make sure to explore FrenchPod101, as it has plenty of free resources for you to practice your grammar and learn new words. Our vocabulary lists are also a great way to revisit the words and learn their pronunciation.
Remember that you can also use our premium service, MyTeacher, to get personal one-on-one coaching. Practice using French nouns with your private teacher so they can give you personalized feedback and advice, and help you with your pronunciation.

About the Author: Born and bred in the rainy north of France, Cyril Danon has been bouncing off various jobs before he left everything behind to wander around the wonders of the World. Now, after quenching his wanderlust for the last few years, he's eager to share his passion for languages.

April 10, 2020
Have you ever stopped to ponder on how much our lives revolve around defining moments? These could be happy or tragic, once-in-a-lifetime or recurring events, and depending on where you live, you might experience them in dramatically different ways.
If you live in France, have French friends, or have an interest in French culture, you need to know how major life events are handled there, and how to talk about them. You'll need to know how to wish a happy birthday in French, a Merry Christmas or New Year, and how to offer condolences or wish for a swift recovery. Further, you'll wish to know how to congratulate friends on their new degree, spouse, or offspring.
In this article, we'll go through the ten major French life events and their cultural ins and outs. We'll also provide you with a list of the most useful French phrases for congratulations (and condolences) so that you can take part in these pivotal moments, and as a result grow much closer to the people involved.
Table of Contents
1. Joyeux Anniversaire ! (Happy Birthday!)
Just like in many other European countries and North America, French birthdays usually involve a party with friends or family, a cake, some optional singing, blowing out candles, and receiving presents.
There are no fixed rules on who should throw your fête d'anniversaire (birthday party). It could be friends, family, or even yourself. Most birthdays in France are celebrated either at home or a restaurant. In the latter case, you're not expected to pay for everyone, but your friends might want to pay for you. It's your special day, after all!
Le gâteau d'anniversaire (The birthday cake) can be absolutely whatever: fruits, cream, chocolate, nuts, you name it. The white frosting cliché isn't really a thing in France. Some like to cook the cake, while others prefer to buy it at the pâtisserie (pastry shop). We put les bougies (the candles) on it.
Les cadeaux (The presents) are equally not codified and really depend on the person. For a kid, we usually go for a toy or book. Adults are tricky, but if you're close enough to buy them a present, you should know what they like, right?
La chanson (The song) is the easy part, with lyrics as simple as: Joyeux anniversaire, joyeux anniversaire, joyeux anniversaire Nicolas ! Joyeux anniversaire ! (Assuming the birthday boy is called Nicolas). Or you could go for this nightmarish song from humorist and singer Patrick Sebastien.
Les cartes d'anniversaire (Birthdays cards) used to be a thing, and it never hurts to send one, but the younger generations go through social networks.
How to say Happy Birthday in French:
Joyeux anniversaire !
Bon anniversaire !
Heureux anniversaire !
"Happy birthday!"
(Postcard greetings)
Je te souhaite un joyeux anniversaire et plein de bonheur.
"I wish you a happy birthday and plenty of happiness!"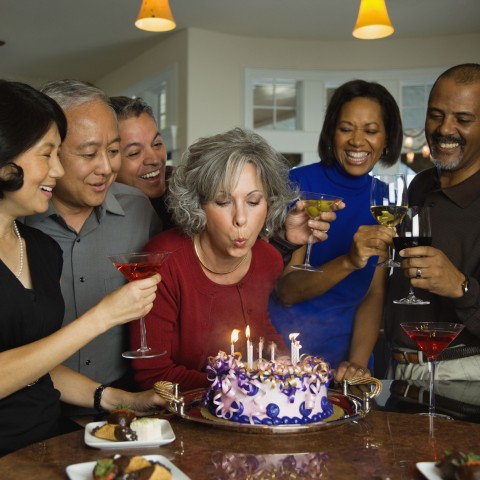 Don't spit on the cake!
2. Bonne Fête ! (Happy Name Day!)
A tradition mainly in Europe and Latin America, name days are originally based on the Christian calendar of Saints, but everyone can celebrate it in France, even though we don't make a big deal out of it.
Just locate your name on the calendar and you'll know when your fête, or "name day," is. You're not featured there? Well, tough luck, but you won't be missing much more than nice words and a pat on the shoulder. Presents and parties for a name day aren't unheard of, but definitely not commonplace.
So, how do we celebrate a name day? More often than not, we don't. Should you wish to do it, a small present or a postcard are safe bets, but buying a drink might work just as well.
Here's how you can offer your congratulations in French to someone on their name day:
| | |
| --- | --- |
| Bonne fête ! | "Happy name day!" |
| Bonne fête, Nicolas ! | "Happy name day, Nicolas!" |
| C'est la Saint Nicolas aujourd'hui, bonne fête ! | "It's Nicolas' day. Happy name day!" |
3. Naissance (Birth)
We don't do baby showers in France and have no pre-birth equivalent. This American tradition has been pushed through advertisement companies, but people are resisting, seeing it as consumerism or even something prone to bring bad luck. However, celebrations are held after birth with the regular shower of gifts.
Religious rituals have become unusual in France, and although biblical names are still popular, parents don't choose the name of their newborn based on the Saint's name of the birthday. Christian families can choose to baptize their children before their first anniversary, which leads to a Fête de baptème, or "Baptism party."
Toutes mes félicitations !
Sincères félicitations !
"Congratulations!"
(Postcard greetings)

Bienvenue au petit Nicolas ! Meilleurs voeux de bonheur à tous les trois !

Félicitations pour la naissance de votre fille ! Puisse sa vie être faite de rires, de chansons, d'allégresse et de découvertes !

"Welcome to little Nicolas! Best wishes of happiness to all three of you!"

"Congratulations on the birth of your daughter! May her life be filled with laughter, songs, joy, and discoveries!"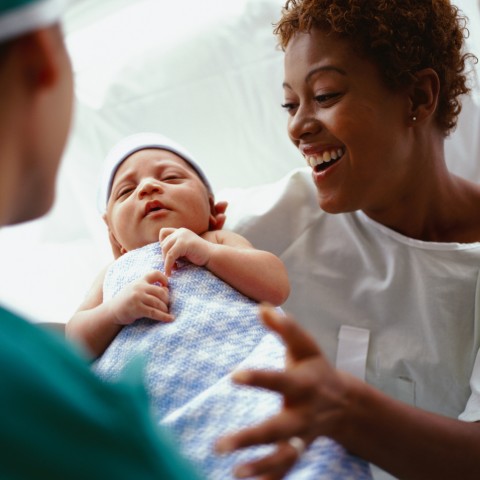 Congratulations, it's a baby!
4. Remise de Diplôme (Graduation)
Graduations are usually not cause for wide-scale celebrations in France, but we have nothing against it! Graduated students can celebrate among themselves over a drink or a party, while schools or universities can also organize festive events on graduation day.
Parents sometimes offer presents to their children to celebrate their success, but there are no conventions on what these gifts should be.
Félicitations !
Bien joué !
Bon travail !
"Congratulations!"
"Well done!"
"Nice job!"
Bravo pour ta réussite !
Bravo pour ton diplôme !
Félicitations pour ton examen !
"Congratulations on your success!"
"Congratulations on your degree!"
"Congratulations on your test!"
(Postcard greeting)

Bravo pour ton diplôme bien mérité après tout ce travail acharné.

"Congratulations on a well-deserved degree after all of your hard work."
→ Learn more about education and degrees with our free vocabulary list on the Graduation Season.
5. Nouvel Emploi (New Job)
Work isn't as prominent in French mentality as it is in other countries. It's generally accepted that you should work for a living but not live for your work, and as a result, the French are trying to strike the right balance between their professional and personal lives, without dedicating too much to their workplace.
Similarly, new jobs and promotions are usually not a big thing. Your new job can typically be celebrated with your partner, while promotions are a good excuse for a drink among colleagues.
[Casual] Bravo pour ton nouveau job !
Bravo pour ton nouveau poste !
"Congratulations on your new job!"
"Congratulations on your new position!"

[Formal] Félicitations pour ton nouvel emploi.
Félicitations pour ta promotion.
"Congratulations on your new position."
"Congratulations on your promotion."
(Postcard greeting)

Toutes mes félicitations pour votre promotion ! Etant donné la qualité de votre travail, une telle reconnaissance est amplement méritée.

"Congratulations on your promotion! Considering the quality of your work, such a recognition is well-deserved."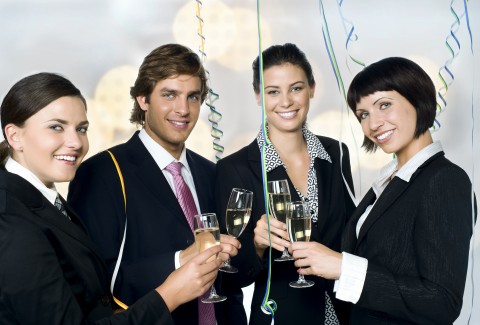 Embrace your new career with a cheesy smile.
→ Get ready to congratulate your friends on any new position with our free vocabulary list on Jobs.
6. Retraite (Retirement)
Most French retire between the ages of sixty and seventy, but l'âge de la retraite, or "the retirement age," is steadily rising. This is a cause for concern and social unrest in the country.
The pension system is contribution-based. A retiree's pension is proportional to the amount of contributions he paid during his working life. Those contributions are directly taken from the salary, in the form of a tax.
When their retraite, or "pension," (yes, this is the same word as for "retirement" ) allows for it, it's fairly common for the French to enjoy their retirement by traveling, either in the countryside or abroad.
Here are some ways to go about congratulating someone in French for their retirement:
[Professional] Bonne continuation !
"All the best!"
[Casual] Profite bien de ta retraite !
"Enjoy your retirement!"
(Postcard greeting)

Je te souhaite une heureuse et sereine retraite.

"I wish you a happy and peaceful retirement!"
7. Mariage (Wedding)
Weddings in France can be celebrated in many different ways, depending on your religion, social status, and personality. The celebrations range from an unpretentious informal event to a fastuous large-scale banquet of expensive delicacies, with awe-inspiring choregraphies and expertly crafted speeches.
A French marriage is typically planned up to years in advance, and don't leave much to improvisation (or spontaneity, for that matter). Hiring a wedding coach is a new trend for the wealthiest couples.
The tradition of enterrement de vie de garçon ("bachelor party," but literally "Burial of boy's life")—enjoying your single life to the fullest, with heavy drinking and strippers, before shackling yourself to your spouse for the rest of your days—appeared recently and is gaining in popularity.
Mariage religieux, or "religious weddings," have been on the decline for a while, and most people marry at their town hall. The PACS (civil union, that used to be the only option for same-sex unions before) is quickly becoming the most popular option.
We don't do wedding rehearsals or rehearsal dinners.
Here are some of the most common French marriage congratulations:
Tous mes voeux de bonheur.
"Best wishes of happiness."
Toutes mes félicitations pour votre union
Toutes mes félicitations pour votre mariage.
"Congratulations on your union."
"Congratulations on your wedding."
(Postcard greeting)

Sincères félicitations et meilleurs voeux de bonheur.

"Sincere congratulations and best wishes of happiness."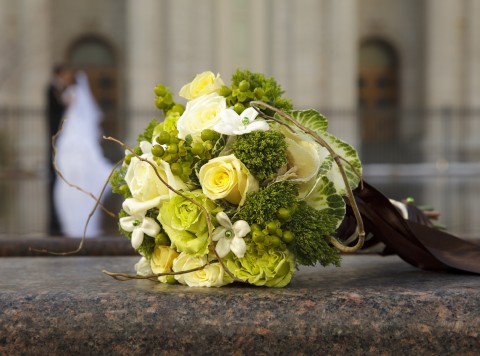 "Wait, did you bring the bouquet?"
8. Funérailles (Funerals)
Some peoples around the world see death as a cheerful event, cause for celebration and rejoicing. French funerals, however, are as grim and depressing as you can expect them to be if you grew up in a western country.
Enterrement, or "burial," is the most common way to go, but crémation, or "cremation," is also an option.
The tradition of veillée funèbre, or a "wake," is on the decline but still going strong in villages. The modern version is often held in a dedicated rented place (and not in the house of the deceased, like it used to be), and usually not through the night.
Here's some French condolences messages and French phrases for condolences:
Repose en paix.
Paix à son âme.
"Rest in peace."
"May he/she rest in peace."
Toutes mes condoléances.
"My condolences."
(Postcard condolence)

Nous partageons votre douleur et sommes de tout coeur avec vous.

"We share your pain and our hearts go out to you."
9. Convalescence (Recovery)
Serious illnesses or grave injuries are tragic yet important events for anyone. In France, it's fairly common for friends and family to visit someone at the hospital, to keep them company or bring them gifts in the hope of helping with their recovery by lifting their spirit.
At the workplace, when someone is away on a long sick leave, their coworkers can write a group card with greetings and wishes.
| | |
| --- | --- |
| Bon rétablissement ! | "Get well soon!" |
| [Casual] Prends soin de toi ! | "Take care!" |
| [Formal] Je te souhaite un prompt rétablissement. | "I wish you a swift recovery." |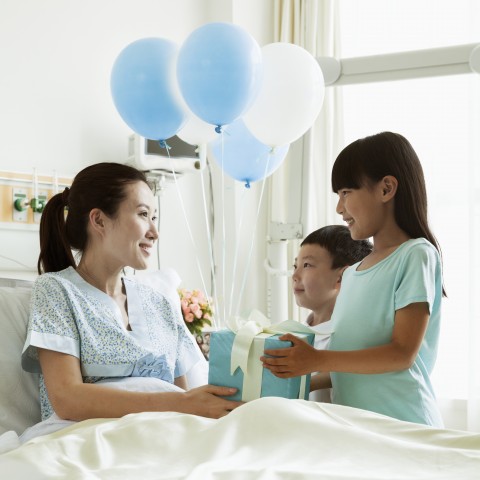 "Look mom, we found you a new kidney on Craigslist!"
10. Fêtes (Holidays)
Classic French holidays include:
Noël (Christmas).
Most French celebrate it without any religious connotation, but this is still arguably the biggest holiday of the year. Our traditions involve un arbre de Noël (Christmas tree), une crêche (a small nativity scene) in Christian families, une bûche de Noël (log-shaped Christmas cake), and lots of cadeaux de Noël (Christmas gifts), especially for kids.
Nouvel an (New Year).
This one comes a little too close after Christmas' hangover, but it's duly celebrated by most French anyway. It's not as traditional, though, and may take any form, from a family dinner to a restaurant with friends, a romantic walk on the Seine, or a gathering of fireworks enthusiasts.
Pâques (Easter).
Celebrating Easter in France involves bells, des oeufs de Pâques (Easter eggs), and most of all, LOTS of chocolate. It's common to hide chocolate eggs around the house and/or garden and let the children go on a treasure hunt. Adults gift each other with fancy Belgian chocolate treats.
We have many more holidays! You can find them all on our French Calendar, on FrenchPod101.
A few more celebrations worth mentioning:
Halloween started growing in popularity roughly a decade ago, and is now widely celebrated throughout the country.

Unsurprisingly, our most conservative fellow citizens see it as overly commercial and a threat to our traditions, but it doesn't prevent the younger generation from throwing Halloween parties and wearing their ghoulish costumes in the street.

The French Halloween is mainly for adults celebrating at home or in local bars, while children rarely go door-to-door for trick-or-treating.

Thanksgiving isn't celebrated in France, and most French don't even know what it's about. However, given our love for never-ending dinner and delicious food, I'm sure there's hope for this tradition to eventually land on our shores.
| | |
| --- | --- |
| Joyeux Noël ! | "Merry Christmas!" |
| Bonne année ! | "Happy New Year!" |
| Joyeuses Pâques ! | "Happy Easter!" |
| Poisson d'avril | "April's Fool" |
| Saint Valentin | "Valentine's Day" |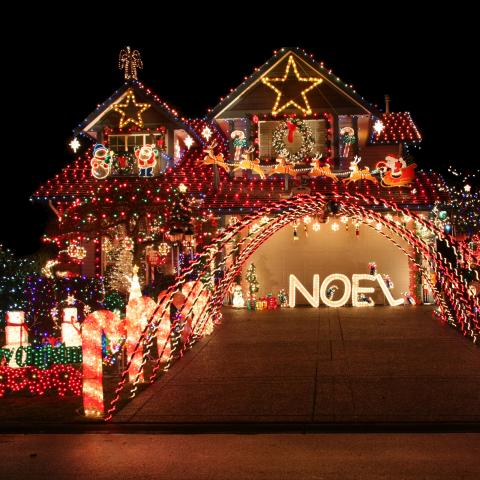 Joyeux Noël ! ("Merry Christmas!" )
→ Don't let the Christmas season take you off-guard; learn more festive vocabulary with our free list on Christmas!
11. How FrenchPod101 Can Help You Learn More French
In this guide, you've learned everything about the main life events as experienced in France, from birth to birthdays, weddings, and funerals. You've also learned the most important French phrases of congratulations, condolences, and well-wishing.
Did I forget any important event that you've been through or heard about? Do you feel ready to take part in these defining moments of the lives of your French friends with all the right words and phrases?
FrenchPod101 also has tons of vocabulary lists with audio recordings, and free resources to boost your studies and keep your French learning fresh and entertaining!
Remember that you can also use our premium service, MyTeacher, to get personal one-on-one coaching and practice life event phrases with your private teacher. You'll gain access to assignments, personalized exercises, and recorded audio samples, and an experienced tutor to review your work and help improve your pronunciation. Happy learning on FrenchPod101!
About the Author: Born and bred in the rainy north of France, Cyril Danon has been bouncing off various jobs before he left everything behind to wander around the wonders of the World. Now, after quenching his wanderlust for the last few years, he's eager to share his passion for languages.
March 24, 2020
Can you imagine how boring life would be without adjectives? You could never describe what you like or what you want, and giving an opinion on anything would be as bland and binary as clicking a "Like" button.
You probably already know several French adjectives and are aware of their importance. French adjective placement isn't obvious, but it's not rocket science either. As soon as you get familiar with the irregular adjectives list and how to handle their feminine and plural forms, they'll unveil their secrets to you.
In this article, I'll explain everything you need to know about how to use and adapt adjectives to your needs. Then, I'll give you the ultimate list of the 100 most common and useful French adjectives. Not only will they allow you to describe things, people, and situations more accurately, but they will also give more color and texture to your speech.
Table of Contents
1. How to Use Adjectives in French
1- Before or After: Where do French Adjectives Go?
How do French adjectives work? Where do they go?
The majority of French adjectives need to be placed AFTER the noun they describe.
For example:
Un truc bizarre
"A weird thing"
Une science exacte
"An exact science"
Une table ronde
"A round table"
Un ciel bleu
"A blue sky"
However, some of the most common French adjectives come BEFORE the noun.
Une jolie fille
"A pretty girl"
Une belle journée
"A beautiful day"
Un grand voyage
"A long travel"
Un nouveau monde
"A new world"
In our French adjectives list, these will be marked in purple.
A small number of adjectives have a different meaning depending on whether they're placed before or after.
Un ancien hôpital
"A former hospital"
Un hôpital ancien
"An ancient hospital"
Finally, some marginal adjectives must be placed before or after the noun depending on the noun itself.
Des cheveux courts
"Short hair"
Une courte pause
"A short break"
L'année prochaine
"Next year"
La prochaine fois
"Next time"
2- Masculine or Feminine
Most French adjectives have different feminine and masculine forms.
Both will be written in the list, as follows: Masculine – Feminine
Petit – Petite
"Small"
Fin – Fine
"Thin"
When the masculine and feminine forms are identical, only one form will be shown.
Bizarre
"Strange"
Facile
"Easy"
3- Plural or Invariable
Most of the essential French adjectives have a different spelling in plural form. They simply take a final -s.
Petits – Petites
Des petites maisons (Small houses)
Bizarres
Des animaux bizarres. (Strange animals)
When a singular adjective ends with a -s or an -x, it doesn't change in plural form:
Un animal heureux (A happy animal)

Des animaux heureux (Happy animals)

Un mur épais (A thick wall)

Des murs épais (Thick walls)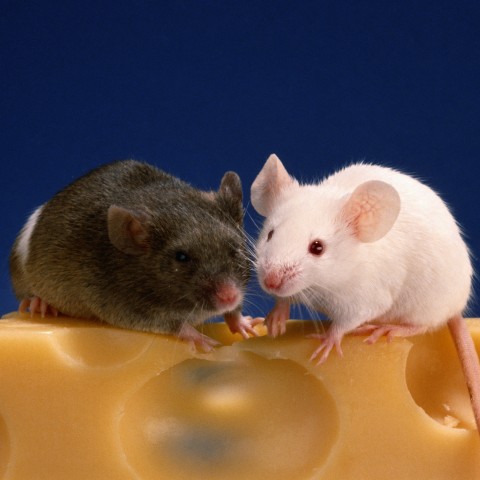 Deux souris heureuses ("Two happy mice" )
2. French Adjectives to Know for Evaluating
Masculine – Feminine
Bon – Bonne

1. "Good"

2. "Right," "Correct"

1. J'ai un bon niveau.
"I have a good level."

2. J'attends le bon moment.
"I'm waiting for the right moment."

Mauvais – Mauvaise

1. "Bad"

2. "Wrong," "Incorrect"

1. C'est un très mauvais film.
"This is a very bad movie."

2. Tu as pris le mauvais tournant.
"You have taken a wrong turn."

Génial – Géniale
"Awesome"
C'est génial de te rencontrer !
"It's awesome to meet you!"
Horrible
"Horrible"
Vous devez brûler cette horrible chose.
"You have to burn this horrible thing."
Bizarre
"Weird," "Strange"
L'ornithorynque est un animal très bizarre.
"The platypus is a really weird animal."
The word "bizarre" is also present in the English language with a similar meaning, but it wasn't imported from French. Was it originally Basque, Spanish, or Portuguese? Its bizarre etymology is still debated and mysterious.
Facile
"Easy"
Plus facile à dire qu'à faire.
"Easier said than done."
Here is another way to use facile in a familiar context:
Il doit peser facile 200 kg !
"He's got to be 200 kilos, easy!"
Difficile
"Difficult," "Hard"
C'est une situation difficile.
"It is a difficult situation."
Possible
"Possible"
Avec elle, tout est possible.
"With her, anything is possible."
Impossible
"Impossible"
Il est impossible de survivre à une telle chute.
"It's impossible to survive such a fall."
Impossible n'est pas Français
"There is nothing impossible for the French," or literally "Impossible is not French."
This is a famous quote attributed to Napoléon. It can be used as a mantra when we have to do something so difficult it borders on impossible.
Simple
"Simple"
Une histoire simple mais émouvante.
"A simple yet moving story."
Compliqué – Compliquée
"Complicated"
On est pas vraiment ensemble…c'est compliqué.
"We're not really together…it's complicated."
Cher – Chère
"Expensive"
C'est beaucoup trop cher pour ce que c'est !
"This is way too expensive for what it's worth!"
This word has nothing to do with American singer and Goddess of Pop, Cher.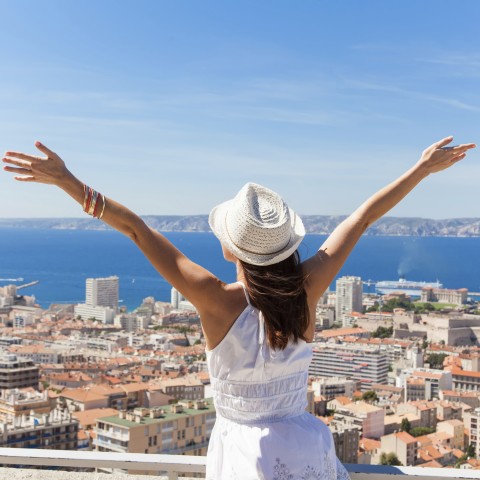 Il fait beau ! ("The weather is good!" )
→ To practice with adjectives about the weather, make sure to visit our vocabulary list about Weather Conditions. It's freely available on FrenchPod101.
3. French Adjectives of Size and Shape
Grand – Grande

1. "Large," "Big"

2. "Tall"

3. "Great," "Major"

1. Elle a un grand jardin.
"She has a big garden."

2. J'ai l'air plus grande avec mes talons.
"I look taller with my heels."

3. Blade Runner est un grand film de science-fiction.
"Blade Runner is a major science-fiction movie."
Do not confuse Grand with its English homonym "Grand."
In English, "grand" means "impressive," "important," or "large in degree."
For example: "A grand opening," "The Grand Canyon," or "This palace is very grand."
Gros – Grosse

1. "Big"

2. "Fat"

1. J'aime les grosses voitures.
"I love big cars."

2. Il est tellement gros qu'il ne voit plus ses pieds.
"He's so fat he can't see his feet anymore."

Petit – Petite

1. "Small," "Little"

2. "Little," "A kid"

1. Ma copine aime les petits chats.
"My girlfriend loves small cats."

2. Quand j'étais petit, j'allais pêcher avec mon père.
"When I was little, I went fishing with my dad."

Epais – Epaisse
"Thick"
Une épaisse nappe de brume.
"A thick cloud of mist."
Fin – Fine
"Thin"
Une fine couche de givre.
"A thin layer of frost."
You should not confuse French homonyms fin ("thin" ) and la fin ("the end" ).
Proche
"Near"
La fin est proche !
"The end is near!"
Loin
"Far"
J'habite loin du centre-ville.
"I live far from the city center."
Long – Longue
"Long"
Ca va être une longue journée.
"It's going to be a long day."
Court – Courte
"Short"
Il a les cheveux courts.
"He has short hair."
Etroit – Etroite
"Narrow," "Tight"
Le sentier est de plus en plus étroit.
"The trail is getting narrower and narrower."
Large

1. "Wide," "Broad"

2. "Extensive," "Large"

1. Cette route n'est pas assez large pour deux voitures.
"This road is not wide enough for two cars."

2. Ce parc offre un large choix d'activités.
"This park features an extensive selection of activities."
As tricky as it may sound, the primary meaning of large is not "large," but "wide."
However, in some specific cases, it can also be used for "large."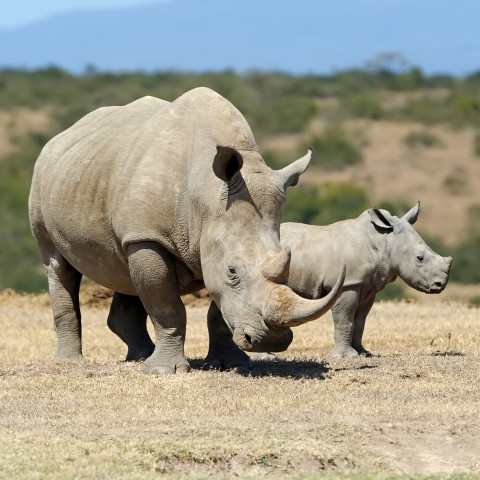 Grand et petit ("Big and small" )
4. Key French Adjectives to Describe Physical Qualities
Doux – Douce
"Soft," "Smooth," "Gentle"
Elle a la peau très douce.
"She has very soft skin."
Dur – Dure

1. "Solid," "Hard"

2. "Difficult," "Tough"

1. Demain, le béton aura séché et sera dur.
"Tomorrow, the concrete will be dry and hard."

2. C'est tellement dur de se lever le matin.
"It is so hard to wake up in the morning."

Plein – Pleine
"Full"
Est-ce que le verre est à moitié plein ?
"Is the glass half-full?"
Vide
"Empty"
Non, le verre est à moitié vide.
"No, the glass is half-empty."
Léger – Légère

1. "Light"

2. "Minor," "Mild," "Slight"

1. Une robe légère et confortable.
"A light and comfortable dress."

2. Nous avons juste un léger problème.
"We just have a slight problem."

Lourd – Lourde

1. "Heavy"

2. "Annoying" [Familiar]

1. C'est un instrument très lourd.
"It is a heavy instrument."

2. T'es lourd, avec tes blagues débiles.
"You're annoying, with your stupid jokes."

Rapide
"Fast," "Quick"
Rapide comme l'éclair !
"Fast as lightning!"
Lent – Lente
"Slow," "Sluggish"
Elle est lente mais minutieuse.
"She's slow but thorough."
Chaud – Chaude
"Hot," "Warm"
Je préfère me doucher à l'eau chaude.
"I prefer to shower with warm water."
Wait, how can chaud mean both "hot" and "warm?"
In English, "hot" often has a connotation of "too hot."
Chaud doesn't have this connotation. It can be used for "warm":
Ce manteau me garde bien au chaud. ("This coat keeps me nice and warm." )
And for "hot":
Il fait tellement chaud ici, je suis en sueur. ("It's so hot here, I'm sweating." )
Then, we have another word for when it gets cooler: Tiède ("lukewarm," "tepid" ):
Je lave mon linge à l'eau tiède. ("I wash my clothes with lukewarm water." )
Froid – Froide
"Cold"
Gardons la tête froide.
"Let's keep our heads cool."
Sec – Sèche
"Dry"
L'apéro idéal ? Saucisse sèche et rosé.
"The perfect apéritif? Dry sausage and rosé wine."
Humide
"Wet," "Moist," "Humid"
L'herbe est encore un peu humide.
"The grass is still a bit wet."
Fragile
"Fragile," "Delicate"
Attention, ce vase est très fragile.
"Be careful, this vase is very fragile."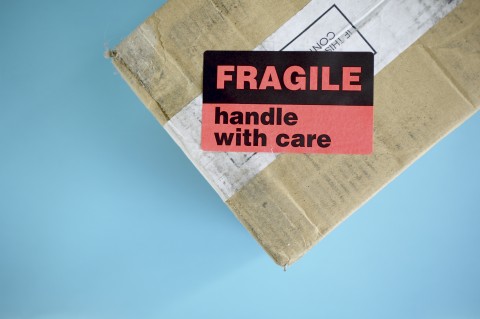 Attention : Fragile ("Warning: Fragile" )
5. Adjectives in French for Ordering
Premier – Première
"First"
C'est ma première fois.
"It's my first time."
Dernier – Dernière

1. "Last," "Final"

2. "Latest"

1. Il est le dernier de son espèce.
"He's the last of his kind."

2. Voici les dernières nouvelles.
"Here is the latest news."

Second – Seconde
"Second"
La seconde guerre mondiale.
"The Second World War."
Deuxième
"Second"
Le deuxième tireur se tenait juste ici.
"The second shooter was standing right here."
Should you use Second or Deuxième?
There used to be some vague traditional reasons to use one over the other, but even the "Académie Française" (the official patron for the French language) stated that there's no difference anymore.
All you need to know is that second sounds slightly more sophisticated than deuxième.
Prochain – Prochaine
"Next"
A quelle heure est le prochain train ?
"At what time is the next train?"
Précédent – Précédente
"Previous"
La solution précédente était bien meilleure.
"The previous solution was much better."
Avant-dernier – Avant-dernière
"Penultimate," "Second to last"
L'avant-dernier niveau est le plus difficile.
"The second to last level is the most difficult."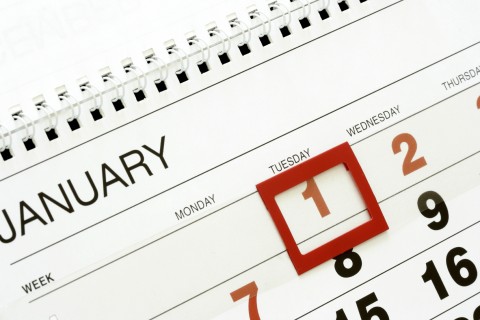 Le premier janvier ("January the first" )
6. French Adjectives for Comparing Things
Même
"Same"
C'est toujours la même histoire.
"It's always the same story."
Autre
"Other"
Une autre victime a été découverte.
"Another victim has been found."
Différent – Différente
"Different"
Nous vivons une époque différente.
"We're living in different times."
Seul – Seule

1. "Only"

2. "Alone," "Lonely"

1. C'est la seule solution.
"This is the only solution."

2. Tu ne te sens jamais seul avec un chat.
"You never feel lonely with a cat."

Meilleur – Meilleure

1. "Best"

2. "Better"

1. C'est le meilleur jeu de 2019.
"This is the best game of 2019."

2. Il est meilleur que le précédent épisode.
"It is better than the last episode."
Should you use Meilleur or Mieux when both mean "Better?"
In most cases, you can use meilleur when comparing nouns, and mieux when modifying verbs:
Je chante mieux que toi.
"I sing better than you."
Je suis un meilleur chanteur.
"I'm a better singer."
Pire
"Worst"
C'est le pire jour de ma vie.
"This is the worst day of my life."
Unique
"Unique," "Only," "Single"
Il est fils unique.
"He's an only child."
Spécial – Spéciale
"Special"
Voici l'agent spécial Fox Mulder.
"Here is special agent Fox Mulder."
Particulier – Particulière

1. "Specific," "Particular"

2. "Private," "Special"

1. Roger a un sens de l'humour assez particulier.
"Roger has a rather particular sense of humor."

2. Il est l'assistant particulier de la présidente.
"He's a special assistant for the president."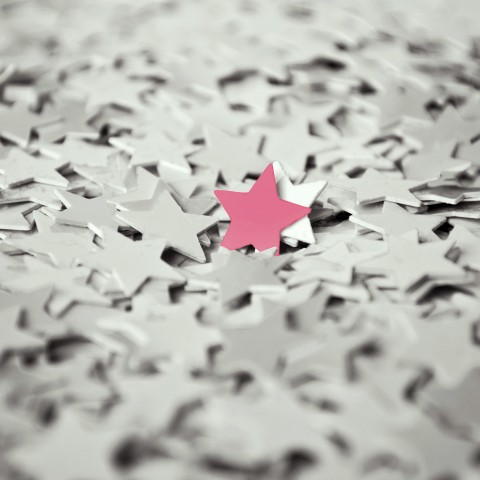 Tu es unique ("You are unique" )
7. French Adjectives to Describe Condition
Nouveau / Nouvel – Nouvelle
"New"
J'adore ta nouvelle robe !
"I love your new dress!"
Nouveau or Nouvel?
If the next word is singular and starts with a vowel sound, you should use nouvel.
For example: Le nouvel an. ("New year." )
Otherwise, you should use Nouveau.
Neuf – Neuve
"Brand-new"
Cette robe est neuve.
"This dress is brand-new."
Pauvre
"Poor"
Il est si pauvre qu'il vit dans la rue.
"He's so poor he's living in the street."
Riche

1. "Wealthy"

2. "Diverse," "Abundant"

1. Le Koweït est un pays riche.
"Kuwait is a wealthy country."

2. Les Galapagos ont une faune incroyablement riche.
"The Galapagos have an incredibly diverse fauna."

Propre

1. "Clean"

2. "Own," "Personal"

1. Des vêtements propres.
"Clean clothes."

2. Mes propres vêtements.
"My own clothes."

Sale
"Dirty"
Je ne veux pas d'argent sale.
"I don't want dirty money."
Dégueulasse [Familiar]
"Disgusting," "Nasty"
Ce fromage est vraiment dégueulasse.
"This cheese is really disgusting."
Cassé – Cassée
"Broken"
J'ai une jambe cassée.
"I have a broken leg."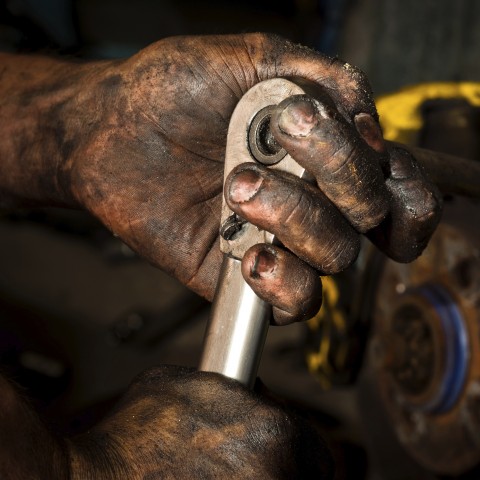 J'ai les mains sales. ("I have dirty hands." )
8. French Adjectives to Describe People
1- Describing Physical Traits
Jeune
"Young"
C'est un jeune artiste prometteur.
"He's a young promising artist."
Vieux / Vieil – Vieille
"Old"
Un vieux guitariste.
"An old guitar player."
Vieux or Vieil?
If the next word is singular and starts with a vowel sound, you should use vieil.
For example: Un vieil accordéoniste. ("An old accordionist." )
Otherwise, you should use vieux.
Beau / Bel – Belle
"Handsome" – "Beautiful"
Elle a de belles mains.
"She has beautiful hands."
Beau or Bel?
If the next word is singular and starts with a vowel sound, you should use bel.
For example: Un bel homme. ("A handsome man." )
Otherwise, you should use beau.
Moche
"Ugly"
Il est pas si moche que ça.
"He's not that ugly."
Fort – Forte

1. "Strong"

2. "High," "Important"

1. C'est pratique d'avoir un homme fort à la maison.
"It's handy to have a strong man at home."

2. Une forte augmentation
"An important increase"

Faible

1. "Weak"

2. "Low," "Small"

1. Ils sont faibles et pitoyables.
"They are weak and pitiful."

2. Un faible pourcentage
"A small percentage"

Mince
"Slim," "Thin"
Elle est grande et mince.
"She's tall and slim."
Mignon – Mignonne
"Cute," "Sweet"
Tu as vu le serveur ? Il est mignon.
"Did you see the waiter? He's cute."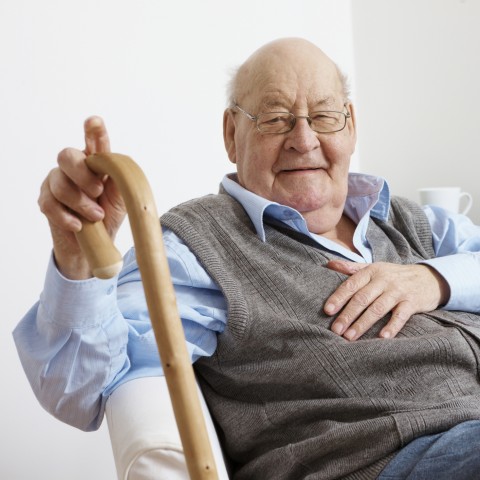 Un vieil homme ("An old man" )
2- French Adjectives About Personality & Attitude
Gentil – Gentille
"Nice," "Kind"
Elle a rencontré un gentil garçon.
"She met a nice guy."
Méchant – Méchante
"Mean," "Wicked"
A la fin, il combat le méchant sorcier.
"At the end, he's fighting the evil sorcerer."
Con – Conne [Familiar]

1. "Dumb"

2. "Jerk"

1. J'ai l'air con avec cette chemise ?
"Do I look dumb with this shirt?"

2. Oublie-le, c'est un sale con.
"Forget about him, he's a nasty jerk."

Drôle (de)

1. "Fun," "Funny"

2. "Strange"

1. Elle est drôle et insouciante.
"She's funny and carefree."

2. Tu fais une drôle de tête. Ca va ?
"You have a strange look on your face. Are you okay?"
Why is it drôle de tête?
This irregular structure is specific to the second meaning of drôle. It takes an additional de between the adjective and the noun.
Un drôle de type ("A strange dude" )
Une drôle d'histoire ("A strange story" )
Fou – Folle
"Crazy," "Mad"
Un savant fou
"A mad scientist"
Sympa
"Nice"
Il est super sympa !
"He's super nice!"
Sympa is short for sympathique.
This slightly more casual version has become much more common than the original word.
→ You'll find many more words to describe your friends' personalities in our free vocabulary list on Personality Traits, with examples and audio recordings.
3- French Adjectives of Emotion & Mood
Heureux – Heureuse
"Happy"
Un imbécile heureux
"A happy idiot"
Triste
"Sad"
Un clown triste
"A sad clown"
Calme
"Calm"
Restez calme et tout ira bien.
"Stay calm and everything is gonna be alright."
Excité – Excitée
"Excited"
Je suis tellement excité de les rencontrer !
"I'm so excited to meet them!"
Content – Contente
"Glad"
Je suis contente de te voir.
"I'm glad to see you."
Malade
"Sick," "Ill"
Sa fille est très malade.
"His daughter is very ill."
Mort – Morte
"Dead"
Il est mort par strangulation.
"He was strangled to death."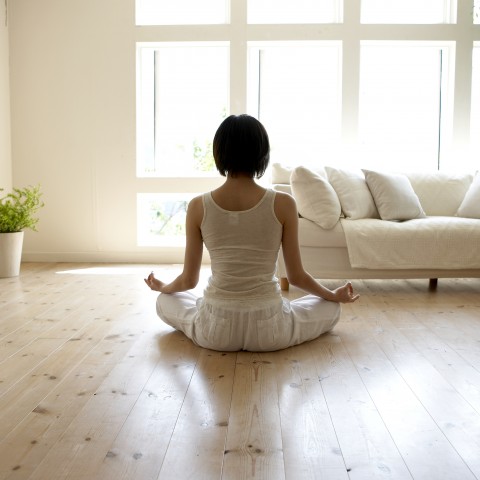 Restez calme, restez zen ("Stay calm, stay zen" )
9. French Adjectives to Describe Situations
Public – Publique
"Public"
Une affaire de santé publique
"A matter of public health"
Privé – Privée
"Private"
Un club privé
"A private club"
Important – Importante
"Important"
Une affaire très importante
"A very important matter"
Dangereux – Dangereuse
"Dangerous"
Tu joues un jeu dangereux.
"You're playing a dangerous game."
Ennuyeux – Ennuyeuse

1. "Boring"

2. "Inconvenient," "Annoying"

1. Je vous épargne les détails ennuyeux.
"I'll spare you the boring details."

2. Ca devient ennuyeux, ces pannes de courant.
"These blackouts are getting annoying."
10. Describing the Colors in French
Noir – Noire
"Black"
Le cygne noir
"The black swan"
Blanc – Blanche
"White"
Un drapeau blanc
"A white flag"
Bleu – Bleue
"Blue"
Un ciel bleu
"A blue sky"
Rouge
"Red"
La sorcière rouge
"The red witch"
Vert – Verte
"Green"
Le frelon vert
"The green hornet"
Jaune
"Yellow"
La fièvre jaune
"The yellow fever"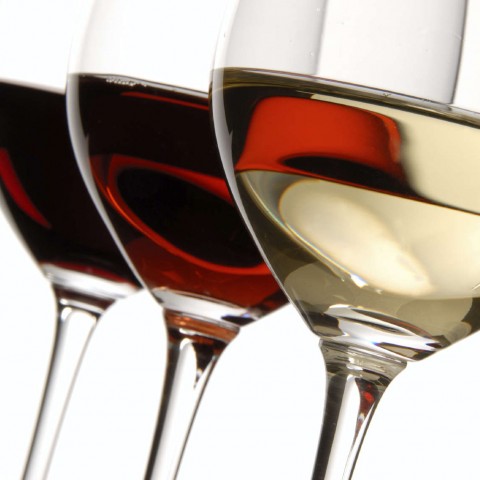 Le vin rouge et le vin blanc ("Red wine and white wine" )
11. Describing Food in French
Sucré – Sucrée
"Sweet," "Sweetened"
Je préfère un petit déjeuner sucré.
"I prefer a sweet breakfast."
Salé – Salée
"Salty," "Salted"
Un demi-litre d'eau salée
"Half a liter of salted water"
Epicé – Epicée
"Spicy," "Spiced"
La cuisine Indienne est très épicée.
"Indian cuisine is very spicy."
Fade
"Bland," "Tasteless"
C'est un peu fade sans la cannelle.
"It's a bit bland without the canella."
Gras – Grasse
"Fat"
C'est trop gras pour mon régime.
"This is too fat for my diet."
Délicieux – Délicieuse
"Delicious"
Merci pour ce délicieux repas !
"Thank you for this delicious meal!"
Ecoeurant
"Sickening"
Il y a tellement de sucre que c'est un peu écoeurant.
"There is so much sugar that it's a bit sickening."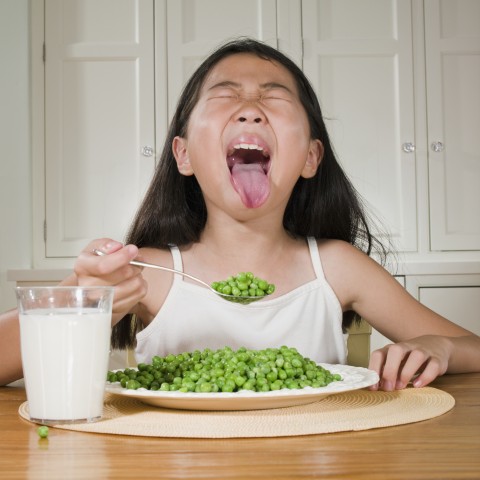 C'est délicieux à en pleurer ! ("It's so delicious I would cry!" )
→ Everything you need from the kitchen is in our vocabulary list for Utensils and Tableware, with audio recordings to practice your pronunciation!
12. How FrenchPod101 Can Help You Learn More French
In this guide to French adjectives, you've learned everything there is to know on the topic including French adjectives position and agreement. You've also reviewed an extensive list of the most common and useful ones.
Did we forget any important French adjectives? Do you feel ready to describe everything around you and talk about what you like and want, using what you've learned today?
A good way to practice with adjectives is to start with the basics and slowly add more complexity to your sentences:
Une voiture rouge. ("A red car" )
Une voiture rouge et sale. ("A red and dirty car" )
Une voiture rouge et blanche, très belle mais un peu sale. ("A red and white car, very beautiful but a bit dirty" )
Make sure to explore FrenchPod101, as it has plenty of free resources for you to practice your grammar and learn new words. The vocabulary lists are also a great way to revise the words and learn their pronunciation.
Remember that you can also use our premium service, MyTeacher, to get personal one-on-one coaching. Practice using adjectives in French with your private teacher so they can give you personalized feedback and advice, and help you with the pronunciation.
About the Author: Born and bred in the rainy north of France, Cyril Danon has been bouncing off various jobs before he left everything behind to wander around the wonders of the World. Now, after quenching his wanderlust for the last few years, he's eager to share his passion for languages.
January 16, 2020
Do you know what a conjunction is? Many people don't, even though they use them every day, hundreds of times a day! Stick around to see our French conjunctions charts and more information on important French conjunctions.
Languages are all about connecting people, allowing them to understand each other and bond over a friendly conversation. Similarly, conjunctions connect words together, allowing them to make sense and become more than the sum of their parts.
French connecting words—also called conjunction words—are an important part of the language. You could learn as many vocabulary lists as you can possibly remember, but if you don't know how to connect them with the right linking words, you'll quickly feel limited in what you can express.
Is that enough to convince you it's time to learn French conjunctions?
In this article, you'll learn the most common French conjunctions and how to use them, with real-life examples. We'll look at how to list things, how to express conditions and consequences, and much more. Oh, and we'll also talk about food and love along the way!
Table of Contents
1. What are French Conjunctions?
Conjunctions act as links between similar words or groups of words. They can convey various meanings and perform an array of actions, from listing things to expressing conditions or causality. If words were bricks, conjunctions would be the cement holding them together. If they were lasagnas, conjunctions would be the melty layer of cheese binding everything together. I'm sure you get the idea.
Now, I could bore you with the technicalities of French coordinating conjunctions, French subordinating conjunctions, and even French conjunctive phrases, but it wouldn't help you remember any of them. And knowing the categories or their grammatical origin doesn't bring much to the table. So why don't we jump right in?
Here's our list of common French conjunctions and some examples of French sentences with conjunctions.
2. Common French Conjunctions for Listing Things
Let's talk about food, and how to list food. These conjunctions can be used to list anything, from dates to people, locations, and ideas, but we'll stick to edible goodies for now. 🙂
et (and)
Des fruits et des légumes
"Fruits and vegetables"
Du pain, du vin et du fromage
"Bread, wine, and cheese"
ou (or)
Fromage ou dessert ?
"Cheese or dessert?"
Des pâtes, du riz ou des frites ?
"Pasta, rice, or French fries?"
ni (nor)
Il ne mange ni viande ni poisson.
"He eats neither meat nor fish."
The ni __ ni __ structure is a sort of "neither __ nor __," but can often be translated with a simple "or," such as: "He doesn't eat meat or fish."
You can use ni anytime you want to say "no" to several listed elements. And I say several, because it can be extended to more than just two:

Il ne mange ni viande ni poisson, ni oeufs, ni fromage.
"He doesn't eat meat, fish, eggs, or cheese."
Another useful expression with ni is ni l'un ni l'autre, which translates to "neither one, nor the other."
It's a perfect pick when you want to deny two things without repeating them:
– Tu préfères la viande ou le poisson ?
"Do you prefer meat or fish?"
– Ni l'un ni l'autre.
"Neither."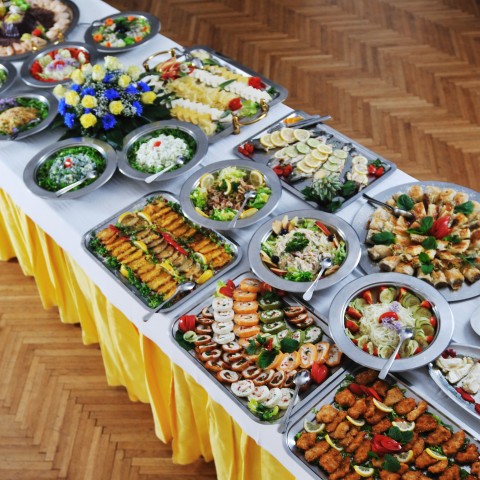 Avoir l'embarras du choix ("To be spoilt for choice")
soit (either.. or)
Je prépare soit du thé, soit du café.
"I'll make either tea or coffee."
Soit des pommes, soit des poires, soit des bananes.
"Either apples, or pears, or bananas."
Soit is the jealous version of ou that makes you choose exclusively. You won't get any more than one of the items listed, so choose carefully!
Also keep in mind that the word soit can have a different meaning: "very well."
For instance:
Donc, tu préfères du café ? Soit.
"So, you prefer the coffee? Very well."
Don't worry, though, with the context, there's little to no chance that you could get them mixed up.
          → To learn more appetizing words and how to pronounce them, make sure to check out our free vocabulary list on Food Utensils and Tableware on FrenchPod101.
3. Setting Conditions with Basic French Conjunctions
"If," "then," and "else" are the bread-and-butter of every programmer, but are also involved in countless situations in our daily lives. They are among the most important conjunctions and, luckily, they behave similarly in French and English.
si (if)
S'il n'y a plus de café, je prendrai du thé.
"If there is no more coffee, I will have tea."
Je ne sais pas si je dois acheter du café ou si nous en avons assez.
"I don't know if I should buy coffee or if we have enough."
alors (then; so)
Si tu ne bois rien d'autre, alors essaye au moins le vin.
"If you don't drink anything else, then at least try the wine."
Whereas si works just like"if," alors is a mixed bag and can translate to "then" or "so."
You can use it like "then," but it gets a bit too formal for conversational style:
Il y aura alors évidemment un dessert.
"Then, obviously, there will be a dessert!"
Vous oublierez alors tous vos soucis.
"You will then forget all your worries."
Many times, alors can be translated as "so," and tends to express consequence:
Je n'ai pas bu, alors je rentre en voiture.
"I haven't drunk, so I'm driving back home."
Then, you have the cases of alors at the beginning or the end of a sentence:
Alors, comment tu trouves le vin ?
"So, how do you like the wine?"
Tu reprendras bien un verre, alors !
"You will have another round, then!"
sinon (otherwise; literally "if not" when translated)
Reprends un café, sinon tu vas t'endormir avant la fin.
"Take another coffee, otherwise you will fall asleep before the end."
Je ne bois pas de vin, sinon je rentre à pied.
"I don't drink wine, otherwise, I'm walking back home."
→ Get a good boost of energy with our vocabulary list on Coffee. It has plenty of phrases and recordings to practice your pronunciation!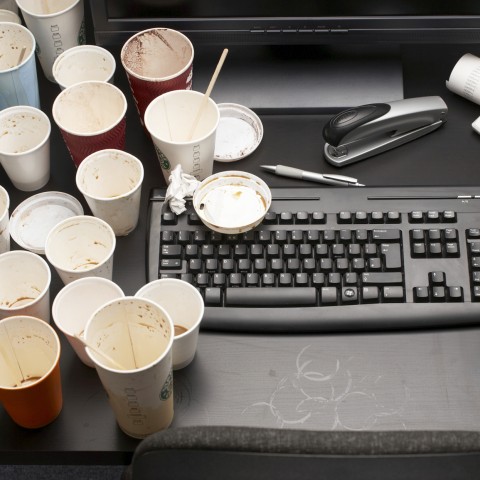 Un dernier pour la route ! ("One for the road!")
4. Useful French Conjunctions for Expressing Causality
"Shallow men believe in luck or in circumstance. Strong men believe in cause and effect."
― Ralph Waldo Emerson (1803-1882)
Just like conjunctions tie words together, causality is what ties the world together: actions causing reactions, and causes having consequences, in an endless domino effect.
But before we collapse under the weight of these philosophical considerations, let's keep it light and talk about our lame excuses for not doing sports!
car (because) [Formal]
Je ne peux pas courir car j'ai mal aux pieds.
"I cannot run because my feet hurt."
parce que (because) [Less formal than car]
Je ne vais pas à la gym parce qu'il fait trop chaud.
"I'm not going to the gym because it's too hot."
puisque (since; as)
Puisque c'est un jour férié, le stade est sûrement fermé.
"Since it's a holiday, the stadium is probably closed."
comme (as; since)
Comme je suis fatigué, je suis resté à la maison.
"As I'm feeling tired, I have stayed home."
quand (when)
Quand j'ai trop mangé, je ne peux faire de l'escalade.
"When I have overeaten, I cannot go climbing."
lorsque (when)
Lorsqu'il pleut, je ne vais pas m'entraîner.
"When it is raining, I'm not going to training."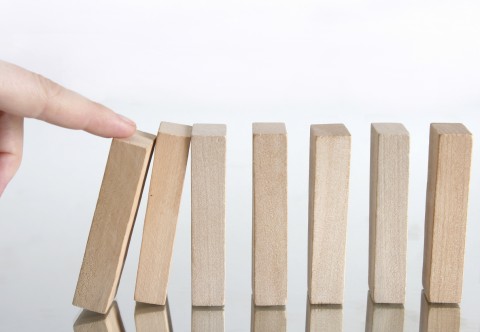 Une réaction en chaîne ("A chain reaction")
donc (so; therefore)
J'avais mal aux pieds, donc je suis resté chez moi.
"My feet were hurting, so I stayed home."
alors (so; therefore)
Il pleuvait, alors j'ai eu la flemme.
"It was raining, so I got lazy."
du coup (so; therefore)
J'étais épuisé, du coup j'ai fait la sieste.
"I was exhausted, so I took a nap."
Keep in mind that you'll usually have to choose whether you use a conjunction for the cause or the consequence, not both.
For example—back to philosophy—in the famous quote from René Descartes (or Gomez Pereira, depending on who you ask): Je pense, donc je suis. (I think, therefore I am.) You wouldn't say "Because I think, therefore I am." The same goes for French.
In this sentence, you have two possible slots for a conjunction: 1 je pense, 2 je suis.
And you can fill soit 1, soit 2 (either 1 or 2).
Therefore, you could rephrase this famous quote like this:
Puisque je pense, je suis.
"Because I think, I am."
Comme je pense, je suis.
"As I think, I am."
Parce que je pense, je suis.
"Since I think, I am."
Or like this:
Je pense, alors je suis.
"I think, then I am."
Je pense, du coup je suis.
"I think, so I am."
If Descartes could read that last one, he would be spinning in his grave.
Or even put it upside down:
Je suis car je pense.
"I am because I think."
Je suis parce que je pense.
"I am because I think."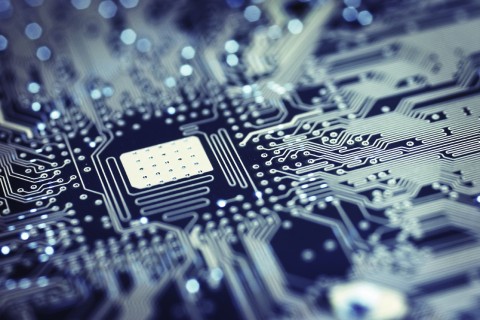 A.I.s think. Therefore, are they?
5. Objection, Your Honor!
Next stop: how to use French conjunctions to attach two conflicting ideas by expressing an opposition or objection.
mais (but)
J'ai un faible pour Leah mais elle est fiancée.
"I have a thing for Leah but she's engaged."
Il travaille lentement mais sûrement.
"He's working slowly but steadily."
The next two words, cependant and or, are best used in professional and formal speech or you may sound too stiff. I, for one, never use them in conversations, but only for formal writing.
cependant (however) [Formal]
Je voudrais cependant lui parler.
"However, I would like to talk to her."
or (now; but; however) [Formal]
This one can be used in two distinct ways:
1- or can introduce new information that will change the situation and have consequences, whether they are directly mentioned or not.
For instance:
Elle partit seule dans les bois. Or, le loup y rôdait.
"She went alone through the woods. However, the wolf was lurking around."
This new information about the wolf is important for what comes next in the story.
2- or can also introduce a new piece of information into reasoning and allow a conclusion to be drawn.
For example:
La victime a été étranglée. Or, notre principal suspect est manchot. Donc, il ne peut pas être l'assassin.
"The victim was strangled. However, our prime suspect is a one-handed man. Therefore, he cannot be the killer."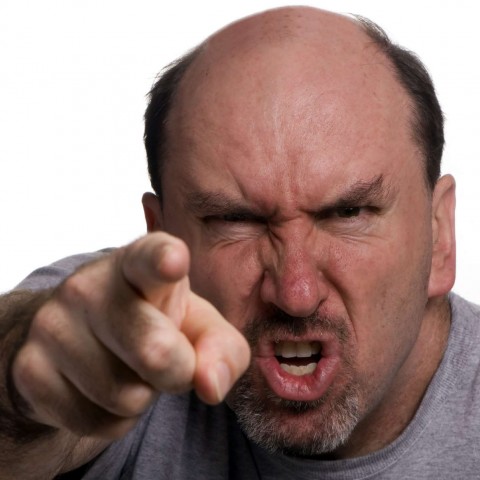 Objection ! ("Objection!")
6. What is Your Purpose?
pour (for; to; so that)
Je m'entraîne pour devenir plus fort.
"I train to grow stronger."
C'est bon pour ta santé.
"It is good for your health."
Un pour toi et un pour moi.
"One for you and one for me."
Parle plus fort pour que je t'entende.
"Speak louder so that I can hear you."
par (by; out of; with; using)
Je te prends par la main.
"I take you by the hand."
Les fruits sont mangés par des vers.
"The fruits are eaten by worms."
Il a fait un choix par colère.
"He made a choice out of anger."
La réunion commence par un discours.
"The meeting starts with a speech."
7. Conjunctive What Now?
We're almost done with our French conjunctions list, but before we can wrap it up, I need to tell you about "that." Indeed, the French conjunction que (that) is so ubiquitous that I can't stress enough how useful and important it is!
First, let's have a look at its raw form, and then you'll see how it combines with nearly half of the words from the French dictionary to create as many expressions. It's quite similar to how phrasal verbs operate in English, but much simpler.
que (that)
Tu penses qu'il va pleuvoir?
"Do you think that it will rain?"
Je sais que tu es là.
"I know that you are here."
/!\ In English, you could omit "that" and say "Do you think it will rain?" or "I know you are here." However, in French, you can never leave it out. The sentences above without que would not be grammatically correct.
You'll also use que to compare two things. For example:
Je bois plus de bière que d'eau.
"I drink more beer than water."
La bière n'est pas aussi chère que le vin.
"Beer is not as expensive as wine."
If you're doubling up on conditions, you have to use que before the second condition:
Comme je suis fatigué et que j'ai mal aux pieds, je ne vais pas à la gym ce soir.
"Since I'm tired and my feet hurt, I'm not going to the gym tonight."
And if you're not convinced yet, here's a short list of the most common expressions including que. I can't list them all here, but believe me, there are many.
Let's talk about love, for a change!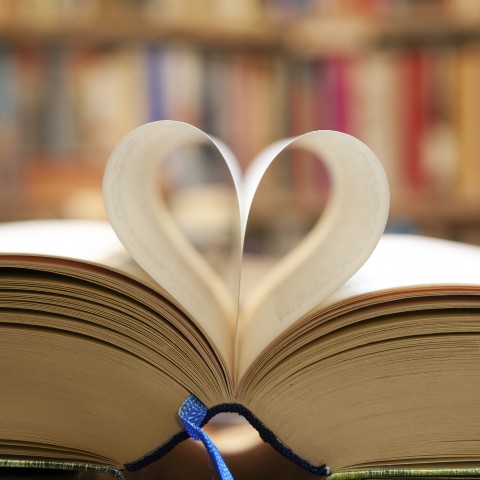 Give some love to your French grammar book!
French conjunctions chart about love: