Have you ever stopped to ponder on how much our lives revolve around defining moments? These could be happy or tragic, once-in-a-lifetime or recurring events, and depending on where you live, you might experience them in dramatically different ways.
If you live in France, have French friends, or have an interest in French culture, you need to know how major life events are handled there, and how to talk about them. You'll need to know how to wish a happy birthday in French, a Merry Christmas or New Year, and how to offer condolences or wish for a swift recovery. Further, you'll wish to know how to congratulate friends on their new degree, spouse, or offspring.
In this article, we'll go through the ten major French life events and their cultural ins and outs. We'll also provide you with a list of the most useful French phrases for congratulations (and condolences) so that you can take part in these pivotal moments, and as a result grow much closer to the people involved.
Table of Contents
1. Joyeux Anniversaire ! (Happy Birthday!)
Just like in many other European countries and North America, French birthdays usually involve a party with friends or family, a cake, some optional singing, blowing out candles, and receiving presents.
There are no fixed rules on who should throw your fête d'anniversaire (birthday party). It could be friends, family, or even yourself. Most birthdays in France are celebrated either at home or a restaurant. In the latter case, you're not expected to pay for everyone, but your friends might want to pay for you. It's your special day, after all!
Le gâteau d'anniversaire (The birthday cake) can be absolutely whatever: fruits, cream, chocolate, nuts, you name it. The white frosting cliché isn't really a thing in France. Some like to cook the cake, while others prefer to buy it at the pâtisserie (pastry shop). We put les bougies (the candles) on it.
Les cadeaux (The presents) are equally not codified and really depend on the person. For a kid, we usually go for a toy or book. Adults are tricky, but if you're close enough to buy them a present, you should know what they like, right?
La chanson (The song) is the easy part, with lyrics as simple as: Joyeux anniversaire, joyeux anniversaire, joyeux anniversaire Nicolas ! Joyeux anniversaire ! (Assuming the birthday boy is called Nicolas). Or you could go for this nightmarish song from humorist and singer Patrick Sebastien.
Les cartes d'anniversaire (Birthdays cards) used to be a thing, and it never hurts to send one, but the younger generations go through social networks.
How to say Happy Birthday in French:
Joyeux anniversaire !
Bon anniversaire !
Heureux anniversaire !
"Happy birthday!"
(Postcard greetings)
Je te souhaite un joyeux anniversaire et plein de bonheur.
"I wish you a happy birthday and plenty of happiness!"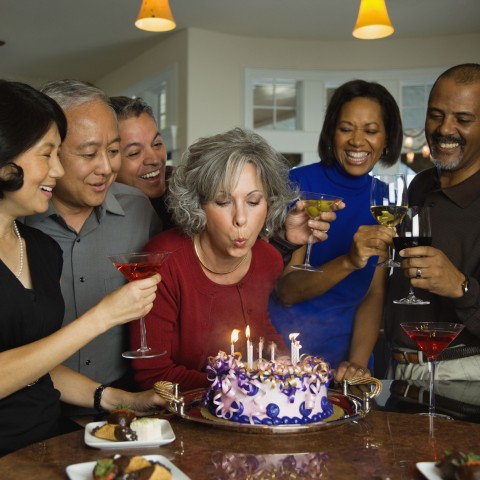 Don't spit on the cake!
2. Bonne Fête ! (Happy Name Day!)
A tradition mainly in Europe and Latin America, name days are originally based on the Christian calendar of Saints, but everyone can celebrate it in France, even though we don't make a big deal out of it.
Just locate your name on the calendar and you'll know when your fête, or "name day," is. You're not featured there? Well, tough luck, but you won't be missing much more than nice words and a pat on the shoulder. Presents and parties for a name day aren't unheard of, but definitely not commonplace.
So, how do we celebrate a name day? More often than not, we don't. Should you wish to do it, a small present or a postcard are safe bets, but buying a drink might work just as well.
Here's how you can offer your congratulations in French to someone on their name day:
| | |
| --- | --- |
| Bonne fête ! | "Happy name day!" |
| Bonne fête, Nicolas ! | "Happy name day, Nicolas!" |
| C'est la Saint Nicolas aujourd'hui, bonne fête ! | "It's Nicolas' day. Happy name day!" |
3. Naissance (Birth)
We don't do baby showers in France and have no pre-birth equivalent. This American tradition has been pushed through advertisement companies, but people are resisting, seeing it as consumerism or even something prone to bring bad luck. However, celebrations are held after birth with the regular shower of gifts.
Religious rituals have become unusual in France, and although biblical names are still popular, parents don't choose the name of their newborn based on the Saint's name of the birthday. Christian families can choose to baptize their children before their first anniversary, which leads to a Fête de baptème, or "Baptism party."
Toutes mes félicitations !
Sincères félicitations !
"Congratulations!"
(Postcard greetings)

Bienvenue au petit Nicolas ! Meilleurs voeux de bonheur à tous les trois !

Félicitations pour la naissance de votre fille ! Puisse sa vie être faite de rires, de chansons, d'allégresse et de découvertes !

"Welcome to little Nicolas! Best wishes of happiness to all three of you!"

"Congratulations on the birth of your daughter! May her life be filled with laughter, songs, joy, and discoveries!"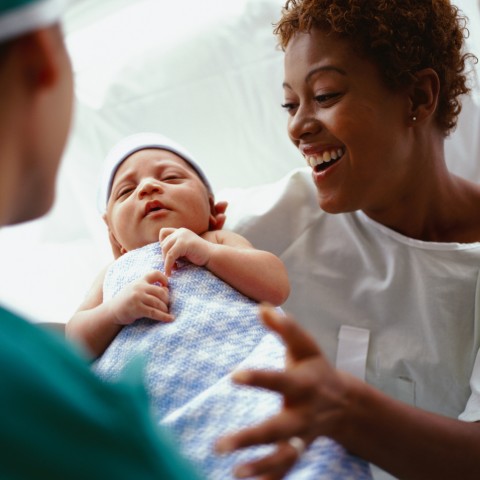 Congratulations, it's a baby!
4. Remise de Diplôme (Graduation)
Graduations are usually not cause for wide-scale celebrations in France, but we have nothing against it! Graduated students can celebrate among themselves over a drink or a party, while schools or universities can also organize festive events on graduation day.
Parents sometimes offer presents to their children to celebrate their success, but there are no conventions on what these gifts should be.
Félicitations !
Bien joué !
Bon travail !
"Congratulations!"
"Well done!"
"Nice job!"
Bravo pour ta réussite !
Bravo pour ton diplôme !
Félicitations pour ton examen !
"Congratulations on your success!"
"Congratulations on your degree!"
"Congratulations on your test!"
(Postcard greeting)

Bravo pour ton diplôme bien mérité après tout ce travail acharné.

"Congratulations on a well-deserved degree after all of your hard work."
→ Learn more about education and degrees with our free vocabulary list on the Graduation Season.
5. Nouvel Emploi (New Job)
Work isn't as prominent in French mentality as it is in other countries. It's generally accepted that you should work for a living but not live for your work, and as a result, the French are trying to strike the right balance between their professional and personal lives, without dedicating too much to their workplace.
Similarly, new jobs and promotions are usually not a big thing. Your new job can typically be celebrated with your partner, while promotions are a good excuse for a drink among colleagues.
[Casual] Bravo pour ton nouveau job !
Bravo pour ton nouveau poste !
"Congratulations on your new job!"
"Congratulations on your new position!"

[Formal] Félicitations pour ton nouvel emploi.
Félicitations pour ta promotion.
"Congratulations on your new position."
"Congratulations on your promotion."
(Postcard greeting)

Toutes mes félicitations pour votre promotion ! Etant donné la qualité de votre travail, une telle reconnaissance est amplement méritée.

"Congratulations on your promotion! Considering the quality of your work, such a recognition is well-deserved."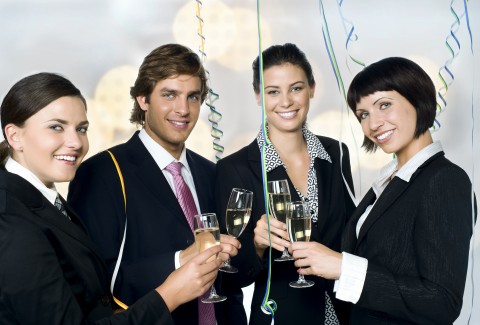 Embrace your new career with a cheesy smile.
→ Get ready to congratulate your friends on any new position with our free vocabulary list on Jobs.
6. Retraite (Retirement)
Most French retire between the ages of sixty and seventy, but l'âge de la retraite, or "the retirement age," is steadily rising. This is a cause for concern and social unrest in the country.
The pension system is contribution-based. A retiree's pension is proportional to the amount of contributions he paid during his working life. Those contributions are directly taken from the salary, in the form of a tax.
When their retraite, or "pension," (yes, this is the same word as for "retirement" ) allows for it, it's fairly common for the French to enjoy their retirement by traveling, either in the countryside or abroad.
Here are some ways to go about congratulating someone in French for their retirement:
[Professional] Bonne continuation !
"All the best!"
[Casual] Profite bien de ta retraite !
"Enjoy your retirement!"
(Postcard greeting)

Je te souhaite une heureuse et sereine retraite.

"I wish you a happy and peaceful retirement!"
7. Mariage (Wedding)
Weddings in France can be celebrated in many different ways, depending on your religion, social status, and personality. The celebrations range from an unpretentious informal event to a fastuous large-scale banquet of expensive delicacies, with awe-inspiring choregraphies and expertly crafted speeches.
A French marriage is typically planned up to years in advance, and don't leave much to improvisation (or spontaneity, for that matter). Hiring a wedding coach is a new trend for the wealthiest couples.
The tradition of enterrement de vie de garçon ("bachelor party," but literally "Burial of boy's life")—enjoying your single life to the fullest, with heavy drinking and strippers, before shackling yourself to your spouse for the rest of your days—appeared recently and is gaining in popularity.
Mariage religieux, or "religious weddings," have been on the decline for a while, and most people marry at their town hall. The PACS (civil union, that used to be the only option for same-sex unions before) is quickly becoming the most popular option.
We don't do wedding rehearsals or rehearsal dinners.
Here are some of the most common French marriage congratulations:
Tous mes voeux de bonheur.
"Best wishes of happiness."
Toutes mes félicitations pour votre union
Toutes mes félicitations pour votre mariage.
"Congratulations on your union."
"Congratulations on your wedding."
(Postcard greeting)

Sincères félicitations et meilleurs voeux de bonheur.

"Sincere congratulations and best wishes of happiness."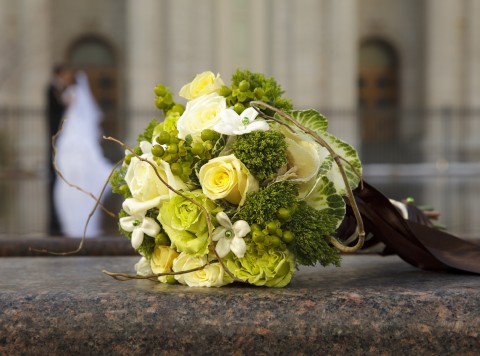 "Wait, did you bring the bouquet?"
8. Funérailles (Funerals)
Some peoples around the world see death as a cheerful event, cause for celebration and rejoicing. French funerals, however, are as grim and depressing as you can expect them to be if you grew up in a western country.
Enterrement, or "burial," is the most common way to go, but crémation, or "cremation," is also an option.
The tradition of veillée funèbre, or a "wake," is on the decline but still going strong in villages. The modern version is often held in a dedicated rented place (and not in the house of the deceased, like it used to be), and usually not through the night.
Here's some French condolences messages and French phrases for condolences:
Repose en paix.
Paix à son âme.
"Rest in peace."
"May he/she rest in peace."
Toutes mes condoléances.
"My condolences."
(Postcard condolence)

Nous partageons votre douleur et sommes de tout coeur avec vous.

"We share your pain and our hearts go out to you."
9. Convalescence (Recovery)
Serious illnesses or grave injuries are tragic yet important events for anyone. In France, it's fairly common for friends and family to visit someone at the hospital, to keep them company or bring them gifts in the hope of helping with their recovery by lifting their spirit.
At the workplace, when someone is away on a long sick leave, their coworkers can write a group card with greetings and wishes.
| | |
| --- | --- |
| Bon rétablissement ! | "Get well soon!" |
| [Casual] Prends soin de toi ! | "Take care!" |
| [Formal] Je te souhaite un prompt rétablissement. | "I wish you a swift recovery." |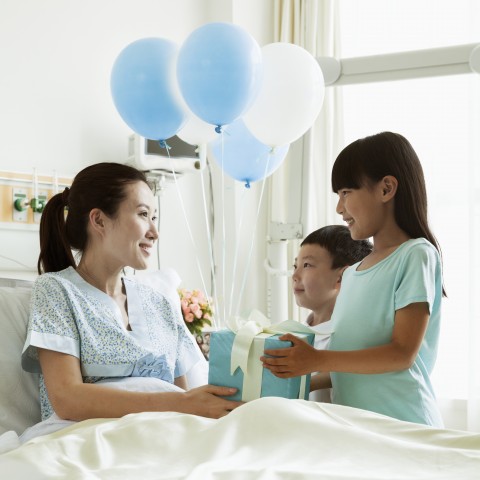 "Look mom, we found you a new kidney on Craigslist!"
10. Fêtes (Holidays)
Classic French holidays include:
Noël (Christmas).
Most French celebrate it without any religious connotation, but this is still arguably the biggest holiday of the year. Our traditions involve un arbre de Noël (Christmas tree), une crêche (a small nativity scene) in Christian families, une bûche de Noël (log-shaped Christmas cake), and lots of cadeaux de Noël (Christmas gifts), especially for kids.
Nouvel an (New Year).
This one comes a little too close after Christmas' hangover, but it's duly celebrated by most French anyway. It's not as traditional, though, and may take any form, from a family dinner to a restaurant with friends, a romantic walk on the Seine, or a gathering of fireworks enthusiasts.
Pâques (Easter).
Celebrating Easter in France involves bells, des oeufs de Pâques (Easter eggs), and most of all, LOTS of chocolate. It's common to hide chocolate eggs around the house and/or garden and let the children go on a treasure hunt. Adults gift each other with fancy Belgian chocolate treats.
We have many more holidays! You can find them all on our French Calendar, on FrenchPod101.
A few more celebrations worth mentioning:
Halloween started growing in popularity roughly a decade ago, and is now widely celebrated throughout the country.

Unsurprisingly, our most conservative fellow citizens see it as overly commercial and a threat to our traditions, but it doesn't prevent the younger generation from throwing Halloween parties and wearing their ghoulish costumes in the street.

The French Halloween is mainly for adults celebrating at home or in local bars, while children rarely go door-to-door for trick-or-treating.

Thanksgiving isn't celebrated in France, and most French don't even know what it's about. However, given our love for never-ending dinner and delicious food, I'm sure there's hope for this tradition to eventually land on our shores.
| | |
| --- | --- |
| Joyeux Noël ! | "Merry Christmas!" |
| Bonne année ! | "Happy New Year!" |
| Joyeuses Pâques ! | "Happy Easter!" |
| Poisson d'avril | "April's Fool" |
| Saint Valentin | "Valentine's Day" |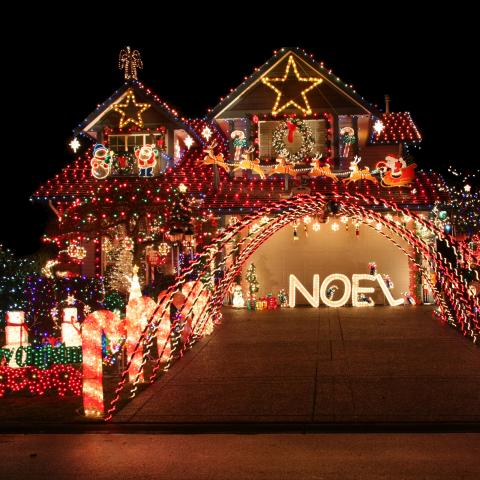 Joyeux Noël ! ("Merry Christmas!" )
→ Don't let the Christmas season take you off-guard; learn more festive vocabulary with our free list on Christmas!
11. How FrenchPod101 Can Help You Learn More French
In this guide, you've learned everything about the main life events as experienced in France, from birth to birthdays, weddings, and funerals. You've also learned the most important French phrases of congratulations, condolences, and well-wishing.
Did I forget any important event that you've been through or heard about? Do you feel ready to take part in these defining moments of the lives of your French friends with all the right words and phrases?
FrenchPod101 also has tons of vocabulary lists with audio recordings, and free resources to boost your studies and keep your French learning fresh and entertaining!
Remember that you can also use our premium service, MyTeacher, to get personal one-on-one coaching and practice life event phrases with your private teacher. You'll gain access to assignments, personalized exercises, and recorded audio samples, and an experienced tutor to review your work and help improve your pronunciation. Happy learning on FrenchPod101!
About the Author: Born and bred in the rainy north of France, Cyril Danon has been bouncing off various jobs before he left everything behind to wander around the wonders of the World. Now, after quenching his wanderlust for the last few years, he's eager to share his passion for languages.