Do you wish there were a way to practice your French without going through the tedious grind of flashcards and grammar exercises? Some low-key technique that would save you from the hardships of academic learning?
What if I told you that you could practice any language efficiently without feeling like you're putting actual work into it? This is not a life hack—it's just what happens when you listen to engaging content in your target language!
Just like with movies and TV shows, you can learn French by listening to podcasts on a regular basis. Simply through natural exposure, you'll learn new words, pick up a variety of idioms, and solidify the grammar structures you've already learned.
In this article, you'll find 15 of the best French podcasts for learners at any level. You can use them to give your French learning a speed boost, especially when combined with the tips we've listed at the end. 
Put on your headphones and let's dive in!
Table of Contents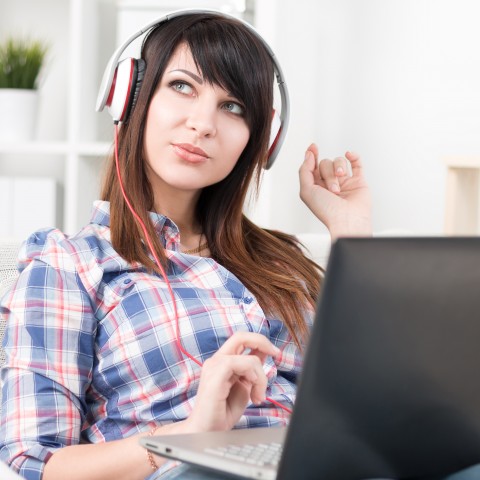 Effortless practice is just one podcast away.
1. Why learn French from podcasts?
The best way to learn French is to fully immerse yourself: travel to France, forbid yourself from speaking any other language, live and breathe French until it becomes second nature… I'm sure you've heard that before, right?
This is good advice, for sure, but what if it's not an option? Maybe you need to achieve a specific proficiency level before your trip to France, in order to pass an exam, or even to land a job. In any case, when full immersion is not on the table, it leaves us with all the other options.

Taking classes, learning grammar, and going through the usual tedium of vocabulary lists and fill-in-the-blank exercises has proven to be a reasonable approach. But in this day and age, why not take advantage of everything the internet has to offer? Streaming, YouTube videos, vlogs, online radio shows, and of course, podcasts.
1 – The Benefits of Passive Learning
Practice makes perfect. The more exposure you get, the better. 
On top of whatever method or academic program you may be following, the simple habit of listening to French every day in your car, on the bus, or while doing the dishes will foster a slew of benefits. It will: 
Improve your listening skills
Reinforce your pronunciation, especially early on
Consolidate your grammar as you hear the structures in context
Enrich your vocabulary on the topics of your choice
2 – Different Levels, Different Perks
As a beginner, listening to podcasts in French gives you a good sense of how the language sounds and allows you to tackle the pronunciation as early on as possible. This is something I always advocate for because fixing pronunciation mistakes further down the line would be significantly more difficult.
Intermediate learners always experience the effect of diminishing returns. Simply put, it takes more work to achieve the same level of progress than it used to. Through consistent exposure, you'll enhance your grammar, learn new vocabulary, and get more comfortable with your French without putting too much pressure on yourself.
Advanced students may benefit the most from podcasts, especially once they're fluent enough to choose from the massive amount of content for native speakers. Suddenly, you'll be able to listen to hundreds of podcasts on any possible topic while still making progress.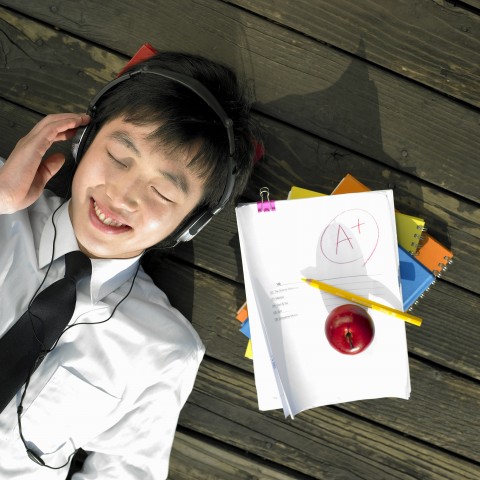 Podcasts are a great tool at any level.
2. The 15 Best French Podcasts
Level:

True Beginner

to

Advanced

Theme: Teaching Podcast
Free content with ads + Premium paid content
If you're a true beginner, you may find that very few podcasts allow you to jump right in, and this is what makes CoffeeBreak French stand out. Its four seasons cover every level, all the way up to advanced. It begins with lots of English in the first episodes, then gradually shifts to more French as you progress through the seasons.
They also have a 40-episode paid course specifically aimed toward children, while the main entries are free.
Level: Beginner to

Advanced

Theme: Teaching Podcast
Free
Another great podcast for beginners and advanced learners alike, Podcast Français Facile has dozens of recorded dialogues sorted by level. They often come with a transcript, a PDF, exercises, and questions. Some of them have attached videos as well. The website also features a collection of short grammar points and pronunciation exercises.
Level: Beginner to

Advanced

Theme: News
Paid content with subscription
The name is self-explanatory: This is just like the French news, but slower. Pick your level, and the content will adjust in terms of speed and complexity. There are options to change the playback speed, if you want (for example) to hear beginner-level vocabulary with faster audio.
The site is paid; as a free user, you can only listen to the first minute of each episode to get an idea of what it's about.
Level:

Absolute Beginner

to

Advanced

Theme: Teaching Podcast
Free content + Premium and Premium PLUS subscriptions
I feel like I'm preaching to my own choir, but there was no way I could leave FrenchPod101 off this list! The website is essentially a giant collection of podcast lessons ranging in difficulty from absolute beginner to advanced.
You'll find dialogues depicting common daily situations, cultural insights, and lots of first-hand information about the country and its lifestyle. You can complement this info with grammar points, exercises, quizzes, vocabulary lists, and even personal coaching (for Premium PLUS members).
Level:

Intermediate

Theme: Stories
Free
These are short stories for kids and teenagers, read by professional French actors for a pleasant and sharp delivery. Some of them use simple vocabulary, while others are more literary. Overall, even though they're targeted at a young French audience, I'd not recommend it for beginners.
Level:

Intermediate

Theme: Teaching Podcast
Free
This is a great French podcast for intermediate learners, featuring more than 200 free recordings of around 15 minutes each. They cover a wide variety of topics: news, politics, society, etc. Unlike most of the other podcasts I've listed so far, Learn French by Podcast doesn't provide the transcript, but the recordings are slow and very well-articulated.
Level:

Intermediate

Theme: Life Stories
Free
I was introduced to this podcast with a description along the lines of: "This lady's talking about whatever, with a soothing voice," and that's pretty much it. Nearly 2000 episodes of five to seven minutes, offering a slice of a Frenchwoman's day in France.
Level:

Intermediate

to

Advanced

Theme: Teaching Podcast
Free 
To this day, InnerFrench has almost 100 episodes of 40 minutes each. There are a few interviews, but most of them are essays on different topics: French culture, news, science, psychology, languages, politics, books, music… It's a great way to learn French and reflect on interesting topics of discussion. 
This is really a teaching podcast at heart, and expressions and idioms are sometimes explained. However, although it's slow and deliberately articulated, it features some rather complex vocabulary.
Level:

Intermediate

to

Advanced

Theme: Personal Development
Free
This French podcast has around 200 episodes of 10 to 20 minutes, each one covering a topic related to personal development or soft psychology. It's primarily aimed at native speakers, but its slow and carefully articulated speech makes it accessible enough for learners. The website sells life-coaching services, but the podcast is available for free.
Level:

Intermediate

to

Advanced

Theme: News
Free
The most important thing you need to know about Journal en Français Facile is that it's anything but facile ("easy"). Even though the speakers are very articulated with their neutral newscaster speech, you'll need some serious vocabulary to keep up. Luckily, the transcript is a big help.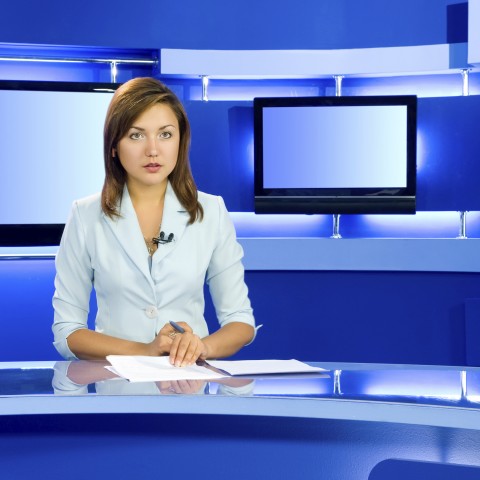 Newscasters articulate very well, making it easier for foreign learners to follow.
Level:

Advanced

Theme: Life Stories
Free
Transfert is a widely acclaimed blog about life stories. Various speakers come to share intimate tales about love, grief, family, and lifestyle. It doesn't shy away from controversial topics, and some of them can be emotionally trying, but I've always found the podcast strangely absorbing.
With more than 140 episodes (and counting) ranging from nine to 75 minutes, it's a great resource for advanced students to practice with many different tones and accents while dealing with everyday topics. 
Level:

Advanced

Theme: History
Free
What we have here is a massive collection of hundreds of recordings from 1999 to 2020, mainly about history and literature. Most of them are from the French radio station France Inter, and you can also hear these episodes on their official website. 
The radio show used to be called 2000 ans d'histoire ("2000 Years of History"), and it had various experts and academics discussing fascinating subjects. With so many topics, you're bound to find something you'll be curious about! 
Level:

Advanced

Theme: Society
Free
La Poudre ("The Powder") is an activist blog on racism and feminist struggles, with around 100 episodes of one hour each. Various guests come to share their insights and experiences, or to discuss the most recent news and cases on those topics.
It's definitely not the easiest podcast to follow, but you can find the transcript for many of their episodes at this address.
Level:

Advanced

Theme: History & Geography
Free
Another one of the best French podcasts about history, this highly educational blog will teach you more about the world and its history. What better way to practice your French and enrich your cultural knowledge at the same time? Episodes are chunky pieces of 60 to 90 minutes each and can be downloaded for offline use.
Level:

Advanced

Theme: Death
Free
Posted in March 2021 on France Inter, Une Histoire Intime ("An Intimate Story") is a miniseries by French author and blogger Maïa Mazaurette. With seven episodes of around eight minutes each, this is by far the shortest podcast on our list.
Maïa's boyfriend died from a heart attack. He was just 29. Seven years later, she's sharing the tale with the abrupt candor and disconcerting honesty she's known for. This is surprisingly not a sad story, but it's still a story about death, mourning, and acceptance.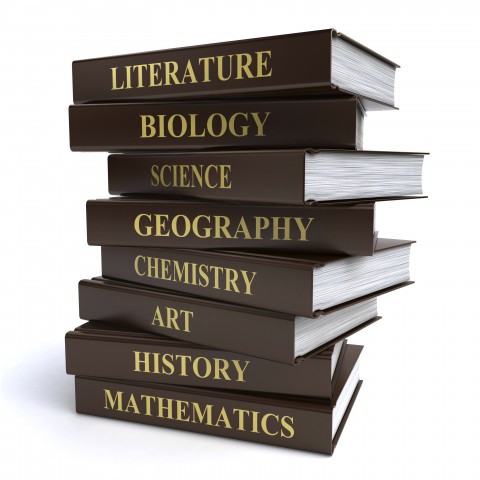 Whatever topic you're into, there's a French podcast for you!
If you're advanced enough to tap into the wide pool of French podcasts for native speakers, you can find a staggering amount of content. I've only listed a few in this article, but you might want to dig deeper until you find exactly what's right for you.
→ France Inter is a great place to start. They have countless free programs of professional quality available on their website. Among many others, I would recommend Affaires sensibles, a program about legal cases, unsolved crimes, and other gripping investigations.
→ France Culture is another radio channel that offers a wealth of free podcasts on a wide variety of subjects. On this page, you can sort through them by category (Philosophy, Music, Cinema, and much more) and find the best programs for your tastes.
3. How to Make the Most of Your French Podcasts
And there you have it, the 15 best podcasts for practicing your French. But this is still a bit raw. Let's see how you can pick the perfect podcast for you and make the most of it.
First of all, you should pick a podcast for your level.

What might sound really obvious can be challenging when you're somewhere between levels. I would recommend starting with something on the easier side so you don't get discouraged. Then, once you feel ready, you can always move up to some more challenging content later.
Make sure you choose the right country and accent for your needs or preferences.

The podcasts on this list are from France; if you want to learn French from Quebec or Belgium, you might want to look specifically for that. They will also address cultural topics in line with the country you're interested in.
Select the right topic for you.

It may take some trial and error to figure it out. Especially if you're advanced and have the luxury of choice, I strongly believe you should choose based on the topic over any other consideration. Listening to something you're passionate about will keep you invested and coming back for more.
Listen to several podcasts, and value diversity.

You don't have to find the perfect program from Day One, and keeping your options open is often the smart choice. This is also a good way to be exposed to more than one voice and accent.
Practice makes perfect.

You'll often find some "listen & repeat" exercises on beginner podcasts, and I'd encourage you to take them seriously. Especially if you're at home or in the comfort of your car, you can go wild and repeat as loud as you want. It will help you practice your pronunciation.
Daily exposure is key.

If you can find the time for a daily podcast session by setting up a routine, this consistency will take you a long way. Commuting time is a popular option, but any downtime can be transformed into progress, as long as your ears and brain are fully available (don't multitask too much!).
Don't forget to mix it up.

Although it might be possible to learn solely through passive learning, you will achieve the best results by mixing things up. I'd recommend using podcasts as a complementary activity to accompany some classic grammar and vocabulary work.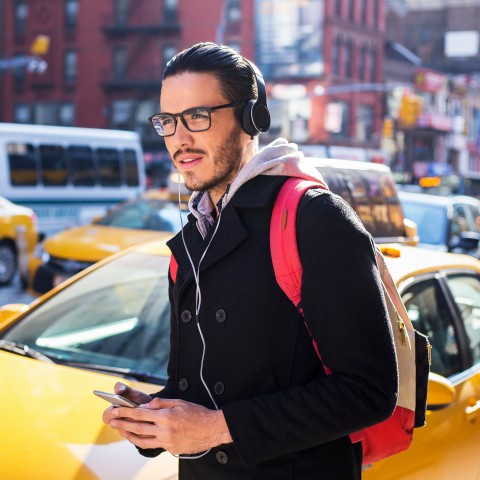 Transform your commute time into learning sessions.
4. Le mot de la fin
In this guide, we've discussed how you could boost your studies with the help of French podcasts and how to make the best of everything they have to offer. We've also listed our top picks for the 15 best podcasts for learning French.
Did we forget any amazing podcasts you're following? We'd love to discover more useful content, so feel free to share your favorites in the comments below!
Make sure to explore FrenchPod101, as we have plenty of free resources to help you practice your grammar and learn new words. Our vocabulary lists are also a great way to review words and learn their pronunciation.
Remember that you can also use our Premium PLUS service, MyTeacher, to get personal 1-on-1 coaching with your own private teacher. They can help you solidify the new vocabulary and structures you learn from podcasts, and much more. In addition to giving you assignments and personalized exercises, your teacher can record audio samples for you and review your work to help you improve in all areas. 
Happy learning on FrenchPod101.com!
About the Author: Born and bred in rainy Northern France, Cyril Danon was bouncing off various jobs before he left everything behind to wander around the wonders of the world. Now, after quenching his wanderlust over the last few years, he's eager to share his passion for languages.