What is DALF? Does it have anything to do with the alien-friendly 80s sitcom? And what about DELF? Are we talking engine oil and car lubricants? I'm sorry to disappoint, but we're only referring to the most important French Proficiency tests on the market.
In this article, I'll explain everything about the DELF & DALF language proficiency exams: what they are, how to sign up, and why you should care. You'll also learn all the details about the six possible DALF/DELF French exam levels and how to identify yours. 
Finally, you'll have an in-depth look at the structure and content of all four sections of the exam, and more importantly, the best techniques to practice and pass the test yourself!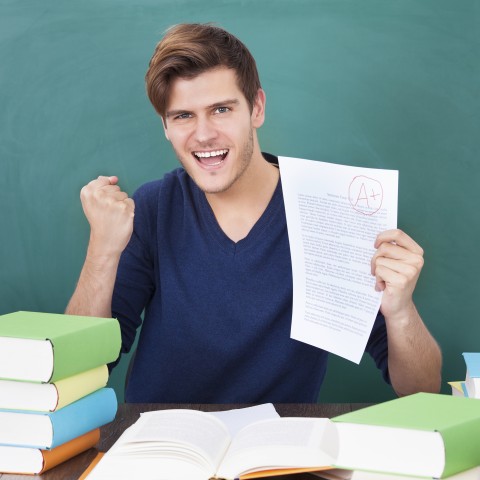 Ace your DELF or DALF with our collection of pro-tips.
Table of Contents
1. What are DELF and DALF?
DELF (Diplôme d'études en langue française) and DALF (Diplôme approfondi de langue française) are the two official degrees that certify various levels of proficiency in the French language. 
They're issued by the French Ministère de l'éducation nationale ("Ministry of Education"), valid for life, and recognized worldwide, making them the best choices for validating your French proficiency.
There are six levels of DELF and DALF, ranging from A1 to C2. If you're not yet at an A1 level, there's another exam called DILF (Diplôme initial de langue française). Find more details about it right here.
Why Take the Exam?
There are many possible reasons why you'd want to pass a DELF or DALF:

To get into a renowned French school or university
To find a job in France
To apply for a French residence permit
To request French citizenship
To get a French training approved within the framework of the CPF, or Compte personnel de formation ("Personal training account")
Maybe you've just spent the last six months studying hard on FrenchPod101.com and want to show the world the extent of your skills.

In that case, DELF might be too much trouble and I'd rather recommend that you take one of our free language portfolio tests. If you're a Premium PLUS subscriber, just ask your teacher about it and they'll get you started in no time!
What Do They Look Like?
Depending on the level you're taking, the DELF and DALF exams can be wildly different. However, each exam consists of four distinct sections:
Compréhension de l'oral (Listening test)
Compréhension des écrits (Reading test)
Production écrite (Writing test)
Production orale (Speaking test)
Each section is timed and will put your linguistic skills to the test!

You can find detailed information on the examination on the official website of France Education (that you may have seen referred to as CIEP in older articles).
How to Sign Up?
There are many testing centers around the world, and you can usually sign up online. Some of these centers are from the group Alliance Française and also provide specific training for the test, but it's rather expensive and NOT mandatory.

However, whether you pay for extra training or not, there will be a registration fee to take the exam. Prices vary depending on the center and level, but you can expect it to be in the range of $200.
You can find all approved examination centers outside of France on this official page. It includes contact numbers and email addresses for you, as well.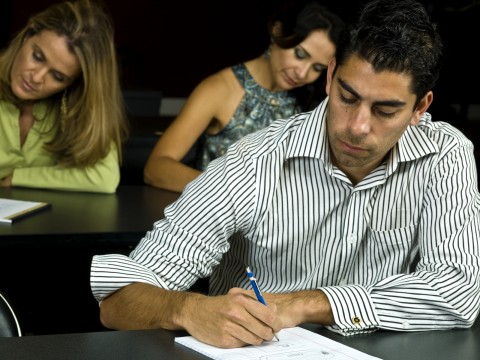 The first three parts of the test are collective, and the oral exam is individual.
2. A Test for Every Level
Before you can choose the right test for your level, you need to be familiar with the CECRL system (Cadre Européen de référence pour les langues). This classification allows you to define your proficiency level in a foreign language, from A1 for beginners to C2 for experts.
Level
Description
You can:
A1

DELF A1
Beginner
Understand and use typical everyday expressions and simple statements about practical needs
Introduce yourself to someone
Ask questions about someone and answer similar types of questions
Have very basic conversations if the other person is talking slowly and deliberately articulating
A2

DELF A2
Lower-intermediate
Understand isolated sentences and frequently used expressions from familiar daily situations (personal information, family, shopping, or work interactions)
Communicate about common and simple tasks when they don't require sharing too much information or unfamiliar topics

Describe your current environment and express immediate needs
B1

DELF B1
Intermediate
Understand the main topics of a conversation in plain language, when it's about familiar things (work, school, hobbies)
Handle most daily interactions when traveling in a French-speaking country

Produce simple texts on topics which are familiar or of personal interest
Tell about events, experiences, or dreams, describe a hope or goal, and briefly explain a project or an idea
B2

DELF B2
Upper-intermediate
Understand the main ideas within a complex text on concrete and abstract topics, including technical discussions in your field of specialization
Communicate spontaneously and effortlessly with a native speaker
Express yourself in a clear and detailed manner on a wide range of subjects and explain a point of view on a topical issue, giving the advantages and disadvantages of various options
C1

DALF C1
Advanced
Understand long and demanding texts and their implicit meaning
Talk spontaneously and fluently without searching for your words too much
Use the language in an efficient and flexible manner at home, work, or school
Express your opinion on complex topics in a clear and structured manner, having full control over the linguistic tools for organizing and articulating your speech
C2

DALF C2
Proficient
Understand effortlessly anything you read or hear
Summarize facts and arguments from various sources, written or spoken
Express yourself spontaneously, very clearly, and fluently, and highlight slight nuances in meaning when talking about complex topics
3. How to Succeed at DELF B2
In this section, we'll mainly focus on the B2 DELF tests. This will allow you to get an in-depth look at one level, rather than a vague overview of all possible exams.
Why B2? Because this is the most common level they ask for when you're looking for a job, and the minimum you should have when applying for a French university or school.
However, keep in mind that the structure, if not the timings, remains the same for all levels. Similarly, the Pro-Tips and How to Practice sections apply to most levels of DELF or DALF. Here's the information you'll need for your French DELF exam preparation:
1 – The Listening Test
Duration: 30 minutes, three exercises for a total of 25 points.
The Test
In this test, you'll listen to two recorded documents. They can be conversations, interviews, news broadcasts, conferences, or recordings from the radio or TV shows.
Before listening to the first document, you'll have one minute to read the questions. Then, you'll hear the document one single time (around two minutes). At the end of the recording, you have three minutes to answer the questions.

Before listening to the second document, you'll have one minute to read the questions. Then, you will hear the document for the first time (up to six minutes) and you'll have three minutes to start answering the questions. Finally, you'll hear the document for the second time and you'll have five minutes to complete your answers.
Pro-Tips
Make the most of the short time you're given to read the questions. In the heat of the moment, this one minute feels like seconds. But knowing the questions in advance will help you focus on the specific information you have to extract from the recordings.

Don't get tricked and stay very alert. Don't jump to conclusions too fast. The French DELF B2 exam is rather advanced, and appearances can be deceiving. If you hear the exact words of a question in the recording, it's probably a trap and you should be careful about what's really being said.

Don't worry about writing in flawless French, as long as you're clear and accurate. The most important part of this text is to prove you're a good listener, not a good writer.
How to Practice
You should ideally practice a few minutes every day, with French radio, TV, movies, series, or directly with native speakers if you have this luxury. Podcasts can also be a good idea!

Any listening exercise on FrenchPod101.com can be valuable practice to sharpen your ear.

Check online for examples of DELF recordings, starting with the website of France Education International, the official DELF ministry.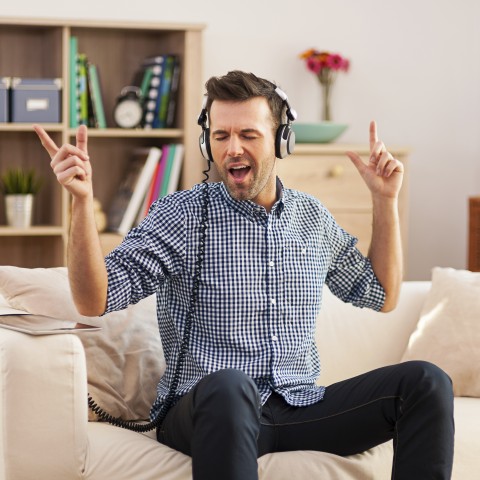 When you come well-prepared for your listening exam!
2 – The Reading Test 
Duration: around 1 hour, two to three exercises for a total of 25 points.
The Test
In this test, you'll be given two written documents along with questions to test your comprehension. You have one hour in total to read the texts and answer all the questions.
The first document will be informational, such as a news article or an essay about an aspect of French culture or values.
The second document will be an opinion article on a controversial topic.
Pro-Tips
Read the text very carefully before reading the questions, so you can get a first impression without any bias. Then quickly write down the main topics and ideas.
Only then, read the questions and make sure you understand them perfectly before you read the text once again in this new light.
Finally, answer the questions in the suggested order, always asking yourself why you're answering that way (and not differently).
It's important that you keep coming back to the text to question your answers and make sure you're still on track.

Answer the question fully but concisely. You shouldn't need more than a couple of sentences to prove your comprehension of the texts.

Stay alert and be prepared for multi-part questions or word play. Some idiomatic expressions might trick you into answering the wrong question.
How to Practice
It's important that you practice by reading a wide variety of material, from blogs to newspaper articles, essays, or novels.

Reading about politics, movie reviews, or heated internet debates are some ways to prepare yourself for the second text.

Read some actual DELF tests to get a good idea of what to expect in terms of length and difficulty. You can find some French DELF B2 exam sample papers and more resources on the official website.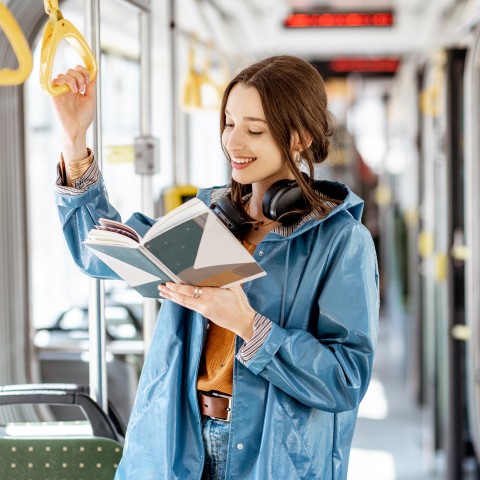 You can always find a minute to read some French!
3 – The Writing Test
Duration: around 1 hour, one writing exercise for a total of 25 points.
The Test
In this test, you'll have to take a stand on a controversial topic. You can be asked to support a given topic, or to write against it, and justify your opinion. Your text will be based either on a short text, letter, or article, or just a few sentences describing the situation and what you need to write.

You have one hour to write your text with a minimum of 250 words.
Pro-Tips
Make sure you've read the instructions very carefully and understand them fully.

Remember that you're not likely to be asked for your opinion, but rather to take a stand following some specific guidelines. For example: Write a letter explaining that you hate chocolate and why it should be forbidden. It doesn't matter that you personally love chocolate; you'll still have to write against it!

Adapt your text to the target audience. Who's writing? To whom? And why? If you're pretending to write for a news website, you won't use the same style as if you were writing a letter of complaint. The structure and style should match the type of text you're writing.

Write a quick outline of your text before you begin writing. Gather examples you can use to support and organize your arguments.

Re-read your text very carefully, focusing on grammar, conjugation, and words agreeing in gender and number. Don't forget about the punctuation.
How to Practice
Reading is an effective way to improve your grammar and vocabulary, and get familiar with the most common sentence structures. You'll have to focus your reading on opinion pieces and reviews to get used to the style, and to learn the kind of vocabulary and connecting phrases these texts use.

Of course, writing is also great; but you'll need to get feedback from a native speaker. There are some online communities where you can post your work and request feedback on websites like HiNative.

If you're a Premium PLUS subscriber, you can use MyTeacher and send your practice texts to your tutor for a detailed and comprehensive review.

Read the instructions of actual B2 DELF tests to know what to expect. See how long it takes you to come up with your ideas and outline, and how comfortable you are writing 250 words within the rest of the hour.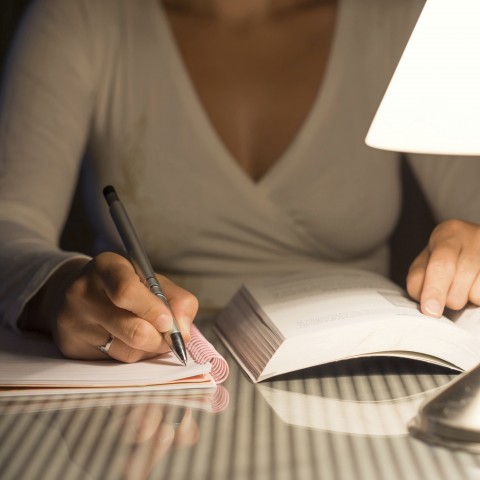 Will there ever be a better time to start writing your memoir in French?
4 – The Speaking Test
Duration: around 50 minutes, including the preparation, for a total of 25 points.
The Test
In this test, you'll have to present and defend an opinion, based on a short document provided to you.
You'll have thirty minutes to read the document and prepare for a ten-minute oral speech.
Once you've told your piece, you'll then discuss it with two examiners for ten more minutes. They'll ask you questions to start a dialogue, and you'll have to not only react to their solicitations, but also take initiatives in the exchange.
Pro-Tips
Read the document carefully, as many times as it takes to be sure you perfectly understand what it says, as well as its implications. 
Decide whether you want to support the idea or argue against it, and what your take on the issue will be.
Write a list of arguments and examples, in the form of bullet points. Remember you only have thirty minutes of preparation, and you shouldn't try to write the whole script of your ten-minute speech.
You may want to use some quotes from the text to make sure you don't go completely off the rails. You can use these quotes to support the idea or contradict it.

You can illustrate your opinion using examples from current events or knowledge from any source you've read or heard from. Using concrete words, details, and examples keeps people more interested than abstract concepts and ideas do.

Try not to scatter yourself too much. You may want to articulate your speech around the classic triad of thesis, antithesis, synthesis.
How to Practice
Check some official DELF tests to see what you should expect, the kind of texts they provide, and what you would talk about in your ten-minute speech. It's the best way to practice in "real" test conditions.

Practice your listening as much as possible. It's often considered easier to make a statement than to understand one, and you'll have to understand many questions from the two examiners.

Practice speaking with natives as often as you can. Talking to random strangers is the best way to get out of your comfort zone and get used to different accents, speeds, and styles.

If you don't have native speakers available, try to practice with other learners or even alone. In that case, make sure to record yourself and try to correct your own mistakes. Speaking often, even to yourself, will make you more comfortable over time.

And of course, if you're using MyTeacher, you can send recordings to your tutor and get some great feedback on your grammar and pronunciation!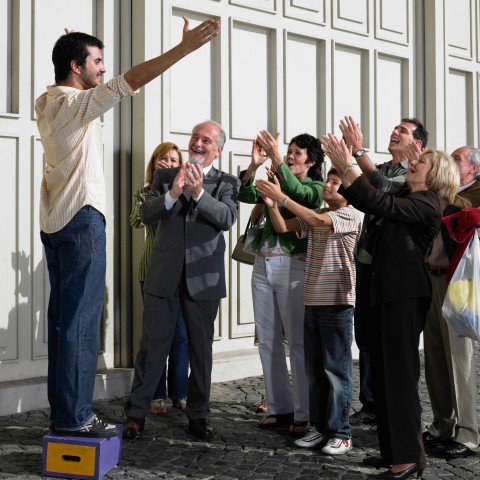 Conquer your French audience with well-crafted arguments!
4. Le Mot De La Fin
In this guide, you've learned everything about the French proficiency tests DELF and DALF, from the reading exam and essay-writing, to the listening test and oral speech. 
Did I forget any practical information you need to get ready for your DELF exam? Do you feel ready to start practicing and rise to the challenge?
A good exercise to practice is to pick one of the official DALF or DELF French examinations and just do it, from A to Z. It's gonna take a few hours, for sure, but only then will you know exactly what to expect, and how you should get ready for it!
FrenchPod101.com also has tons of vocabulary lists with audio recordings, and free resources to boost your studies and keep your French-learning fresh and entertaining!
Remember that you can also use our premium service, MyTeacher, to get personal one-on-one coaching. You can have your private teacher help you practice for your upcoming DELF exam, using personalized exercises and recorded audio samples; your teacher can also review your recordings to help improve your pronunciation. 

Happy learning on FrenchPod101.com!
About the Author: Born and bred in the rainy north of France, Cyril Danon has been bouncing off various jobs before he left everything behind to wander around the wonders of the World. Now, after quenching his wanderlust for the last few years, he's eager to share his passion for languages.
April 10, 2020
Have you ever stopped to ponder on how much our lives revolve around defining moments? These could be happy or tragic, once-in-a-lifetime or recurring events, and depending on where you live, you might experience them in dramatically different ways.
If you live in France, have French friends, or have an interest in French culture, you need to know how major life events are handled there, and how to talk about them. You'll need to know how to wish a happy birthday in French, a Merry Christmas or New Year, and how to offer condolences or wish for a swift recovery. Further, you'll wish to know how to congratulate friends on their new degree, spouse, or offspring.
In this article, we'll go through the ten major French life events and their cultural ins and outs. We'll also provide you with a list of the most useful French phrases for congratulations (and condolences) so that you can take part in these pivotal moments, and as a result grow much closer to the people involved.
Table of Contents
1. Joyeux Anniversaire ! (Happy Birthday!)
Just like in many other European countries and North America, French birthdays usually involve a party with friends or family, a cake, some optional singing, blowing out candles, and receiving presents.
There are no fixed rules on who should throw your fête d'anniversaire (birthday party). It could be friends, family, or even yourself. Most birthdays in France are celebrated either at home or a restaurant. In the latter case, you're not expected to pay for everyone, but your friends might want to pay for you. It's your special day, after all!
Le gâteau d'anniversaire (The birthday cake) can be absolutely whatever: fruits, cream, chocolate, nuts, you name it. The white frosting cliché isn't really a thing in France. Some like to cook the cake, while others prefer to buy it at the pâtisserie (pastry shop). We put les bougies (the candles) on it.
Les cadeaux (The presents) are equally not codified and really depend on the person. For a kid, we usually go for a toy or book. Adults are tricky, but if you're close enough to buy them a present, you should know what they like, right?
La chanson (The song) is the easy part, with lyrics as simple as: Joyeux anniversaire, joyeux anniversaire, joyeux anniversaire Nicolas ! Joyeux anniversaire ! (Assuming the birthday boy is called Nicolas). Or you could go for this nightmarish song from humorist and singer Patrick Sebastien.
Les cartes d'anniversaire (Birthdays cards) used to be a thing, and it never hurts to send one, but the younger generations go through social networks.
How to say Happy Birthday in French:
Joyeux anniversaire !
Bon anniversaire !
Heureux anniversaire !
"Happy birthday!"
(Postcard greetings)
Je te souhaite un joyeux anniversaire et plein de bonheur.
"I wish you a happy birthday and plenty of happiness!"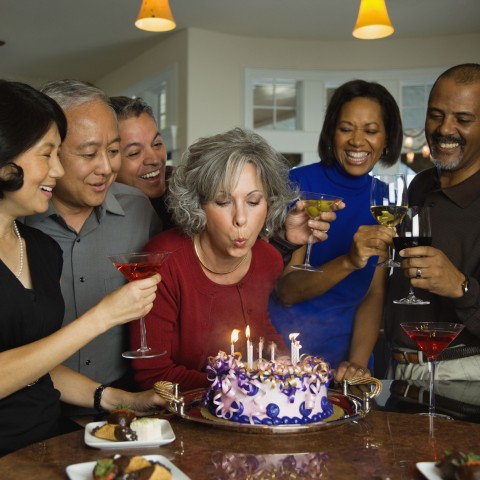 Don't spit on the cake!
2. Bonne Fête ! (Happy Name Day!)
A tradition mainly in Europe and Latin America, name days are originally based on the Christian calendar of Saints, but everyone can celebrate it in France, even though we don't make a big deal out of it.
Just locate your name on the calendar and you'll know when your fête, or "name day," is. You're not featured there? Well, tough luck, but you won't be missing much more than nice words and a pat on the shoulder. Presents and parties for a name day aren't unheard of, but definitely not commonplace.
So, how do we celebrate a name day? More often than not, we don't. Should you wish to do it, a small present or a postcard are safe bets, but buying a drink might work just as well.
Here's how you can offer your congratulations in French to someone on their name day:
| | |
| --- | --- |
| Bonne fête ! | "Happy name day!" |
| Bonne fête, Nicolas ! | "Happy name day, Nicolas!" |
| C'est la Saint Nicolas aujourd'hui, bonne fête ! | "It's Nicolas' day. Happy name day!" |
3. Naissance (Birth)
We don't do baby showers in France and have no pre-birth equivalent. This American tradition has been pushed through advertisement companies, but people are resisting, seeing it as consumerism or even something prone to bring bad luck. However, celebrations are held after birth with the regular shower of gifts.
Religious rituals have become unusual in France, and although biblical names are still popular, parents don't choose the name of their newborn based on the Saint's name of the birthday. Christian families can choose to baptize their children before their first anniversary, which leads to a Fête de baptème, or "Baptism party."
Toutes mes félicitations !
Sincères félicitations !
"Congratulations!"
(Postcard greetings)

Bienvenue au petit Nicolas ! Meilleurs voeux de bonheur à tous les trois !

Félicitations pour la naissance de votre fille ! Puisse sa vie être faite de rires, de chansons, d'allégresse et de découvertes !

"Welcome to little Nicolas! Best wishes of happiness to all three of you!"

"Congratulations on the birth of your daughter! May her life be filled with laughter, songs, joy, and discoveries!"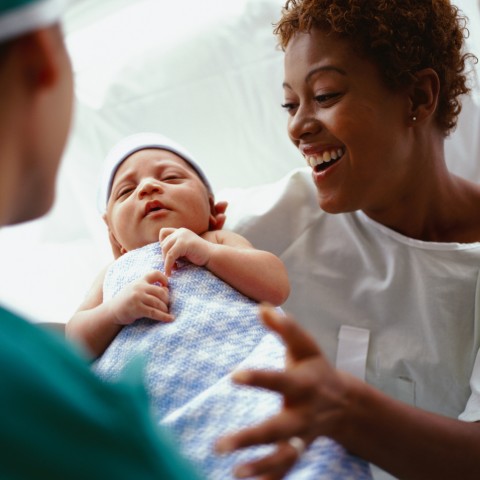 Congratulations, it's a baby!
4. Remise de Diplôme (Graduation)
Graduations are usually not cause for wide-scale celebrations in France, but we have nothing against it! Graduated students can celebrate among themselves over a drink or a party, while schools or universities can also organize festive events on graduation day.
Parents sometimes offer presents to their children to celebrate their success, but there are no conventions on what these gifts should be.
Félicitations !
Bien joué !
Bon travail !
"Congratulations!"
"Well done!"
"Nice job!"
Bravo pour ta réussite !
Bravo pour ton diplôme !
Félicitations pour ton examen !
"Congratulations on your success!"
"Congratulations on your degree!"
"Congratulations on your test!"
(Postcard greeting)

Bravo pour ton diplôme bien mérité après tout ce travail acharné.

"Congratulations on a well-deserved degree after all of your hard work."
→ Learn more about education and degrees with our free vocabulary list on the Graduation Season.
5. Nouvel Emploi (New Job)
Work isn't as prominent in French mentality as it is in other countries. It's generally accepted that you should work for a living but not live for your work, and as a result, the French are trying to strike the right balance between their professional and personal lives, without dedicating too much to their workplace.
Similarly, new jobs and promotions are usually not a big thing. Your new job can typically be celebrated with your partner, while promotions are a good excuse for a drink among colleagues.
[Casual] Bravo pour ton nouveau job !
Bravo pour ton nouveau poste !
"Congratulations on your new job!"
"Congratulations on your new position!"

[Formal] Félicitations pour ton nouvel emploi.
Félicitations pour ta promotion.
"Congratulations on your new position."
"Congratulations on your promotion."
(Postcard greeting)

Toutes mes félicitations pour votre promotion ! Etant donné la qualité de votre travail, une telle reconnaissance est amplement méritée.

"Congratulations on your promotion! Considering the quality of your work, such a recognition is well-deserved."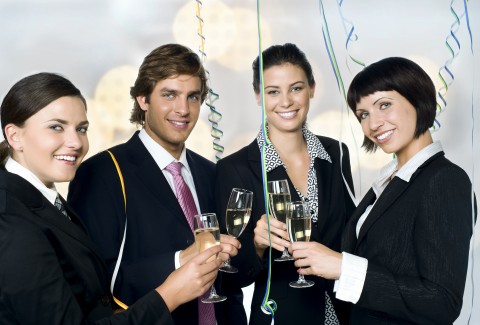 Embrace your new career with a cheesy smile.
→ Get ready to congratulate your friends on any new position with our free vocabulary list on Jobs.
6. Retraite (Retirement)
Most French retire between the ages of sixty and seventy, but l'âge de la retraite, or "the retirement age," is steadily rising. This is a cause for concern and social unrest in the country.
The pension system is contribution-based. A retiree's pension is proportional to the amount of contributions he paid during his working life. Those contributions are directly taken from the salary, in the form of a tax.
When their retraite, or "pension," (yes, this is the same word as for "retirement" ) allows for it, it's fairly common for the French to enjoy their retirement by traveling, either in the countryside or abroad.
Here are some ways to go about congratulating someone in French for their retirement:
[Professional] Bonne continuation !
"All the best!"
[Casual] Profite bien de ta retraite !
"Enjoy your retirement!"
(Postcard greeting)

Je te souhaite une heureuse et sereine retraite.

"I wish you a happy and peaceful retirement!"
7. Mariage (Wedding)
Weddings in France can be celebrated in many different ways, depending on your religion, social status, and personality. The celebrations range from an unpretentious informal event to a fastuous large-scale banquet of expensive delicacies, with awe-inspiring choregraphies and expertly crafted speeches.
A French marriage is typically planned up to years in advance, and don't leave much to improvisation (or spontaneity, for that matter). Hiring a wedding coach is a new trend for the wealthiest couples.
The tradition of enterrement de vie de garçon ("bachelor party," but literally "Burial of boy's life")—enjoying your single life to the fullest, with heavy drinking and strippers, before shackling yourself to your spouse for the rest of your days—appeared recently and is gaining in popularity.
Mariage religieux, or "religious weddings," have been on the decline for a while, and most people marry at their town hall. The PACS (civil union, that used to be the only option for same-sex unions before) is quickly becoming the most popular option.
We don't do wedding rehearsals or rehearsal dinners.
Here are some of the most common French marriage congratulations:
Tous mes voeux de bonheur.
"Best wishes of happiness."
Toutes mes félicitations pour votre union
Toutes mes félicitations pour votre mariage.
"Congratulations on your union."
"Congratulations on your wedding."
(Postcard greeting)

Sincères félicitations et meilleurs voeux de bonheur.

"Sincere congratulations and best wishes of happiness."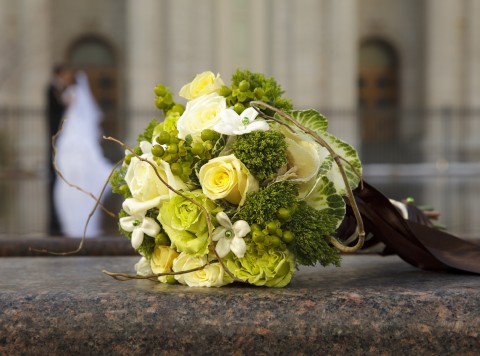 "Wait, did you bring the bouquet?"
8. Funérailles (Funerals)
Some peoples around the world see death as a cheerful event, cause for celebration and rejoicing. French funerals, however, are as grim and depressing as you can expect them to be if you grew up in a western country.
Enterrement, or "burial," is the most common way to go, but crémation, or "cremation," is also an option.
The tradition of veillée funèbre, or a "wake," is on the decline but still going strong in villages. The modern version is often held in a dedicated rented place (and not in the house of the deceased, like it used to be), and usually not through the night.
Here's some French condolences messages and French phrases for condolences:
Repose en paix.
Paix à son âme.
"Rest in peace."
"May he/she rest in peace."
Toutes mes condoléances.
"My condolences."
(Postcard condolence)

Nous partageons votre douleur et sommes de tout coeur avec vous.

"We share your pain and our hearts go out to you."
9. Convalescence (Recovery)
Serious illnesses or grave injuries are tragic yet important events for anyone. In France, it's fairly common for friends and family to visit someone at the hospital, to keep them company or bring them gifts in the hope of helping with their recovery by lifting their spirit.
At the workplace, when someone is away on a long sick leave, their coworkers can write a group card with greetings and wishes.
| | |
| --- | --- |
| Bon rétablissement ! | "Get well soon!" |
| [Casual] Prends soin de toi ! | "Take care!" |
| [Formal] Je te souhaite un prompt rétablissement. | "I wish you a swift recovery." |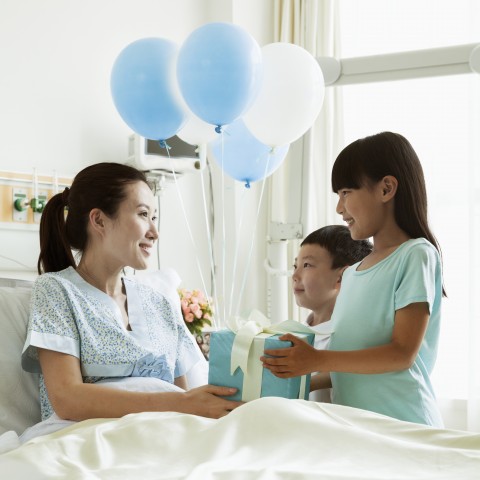 "Look mom, we found you a new kidney on Craigslist!"
10. Fêtes (Holidays)
Classic French holidays include:
Noël (Christmas).
Most French celebrate it without any religious connotation, but this is still arguably the biggest holiday of the year. Our traditions involve un arbre de Noël (Christmas tree), une crêche (a small nativity scene) in Christian families, une bûche de Noël (log-shaped Christmas cake), and lots of cadeaux de Noël (Christmas gifts), especially for kids.
Nouvel an (New Year).
This one comes a little too close after Christmas' hangover, but it's duly celebrated by most French anyway. It's not as traditional, though, and may take any form, from a family dinner to a restaurant with friends, a romantic walk on the Seine, or a gathering of fireworks enthusiasts.
Pâques (Easter).
Celebrating Easter in France involves bells, des oeufs de Pâques (Easter eggs), and most of all, LOTS of chocolate. It's common to hide chocolate eggs around the house and/or garden and let the children go on a treasure hunt. Adults gift each other with fancy Belgian chocolate treats.
We have many more holidays! You can find them all on our French Calendar, on FrenchPod101.
A few more celebrations worth mentioning:
Halloween started growing in popularity roughly a decade ago, and is now widely celebrated throughout the country.

Unsurprisingly, our most conservative fellow citizens see it as overly commercial and a threat to our traditions, but it doesn't prevent the younger generation from throwing Halloween parties and wearing their ghoulish costumes in the street.

The French Halloween is mainly for adults celebrating at home or in local bars, while children rarely go door-to-door for trick-or-treating.

Thanksgiving isn't celebrated in France, and most French don't even know what it's about. However, given our love for never-ending dinner and delicious food, I'm sure there's hope for this tradition to eventually land on our shores.
| | |
| --- | --- |
| Joyeux Noël ! | "Merry Christmas!" |
| Bonne année ! | "Happy New Year!" |
| Joyeuses Pâques ! | "Happy Easter!" |
| Poisson d'avril | "April's Fool" |
| Saint Valentin | "Valentine's Day" |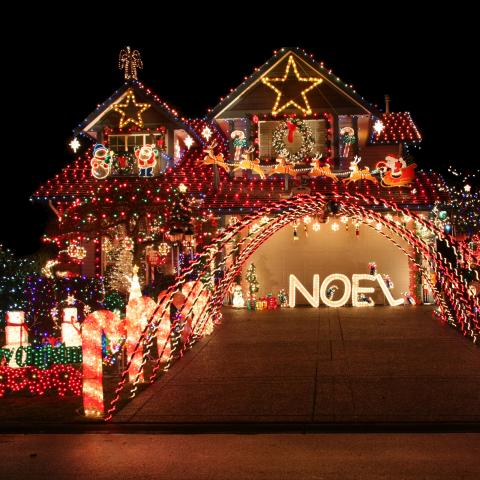 Joyeux Noël ! ("Merry Christmas!" )
→ Don't let the Christmas season take you off-guard; learn more festive vocabulary with our free list on Christmas!
11. How FrenchPod101 Can Help You Learn More French
In this guide, you've learned everything about the main life events as experienced in France, from birth to birthdays, weddings, and funerals. You've also learned the most important French phrases of congratulations, condolences, and well-wishing.
Did I forget any important event that you've been through or heard about? Do you feel ready to take part in these defining moments of the lives of your French friends with all the right words and phrases?
FrenchPod101 also has tons of vocabulary lists with audio recordings, and free resources to boost your studies and keep your French learning fresh and entertaining!
Remember that you can also use our premium service, MyTeacher, to get personal one-on-one coaching and practice life event phrases with your private teacher. You'll gain access to assignments, personalized exercises, and recorded audio samples, and an experienced tutor to review your work and help improve your pronunciation. Happy learning on FrenchPod101!
About the Author: Born and bred in the rainy north of France, Cyril Danon has been bouncing off various jobs before he left everything behind to wander around the wonders of the World. Now, after quenching his wanderlust for the last few years, he's eager to share his passion for languages.
December 25, 2008
Happy Holidays and Happy New Year from everyone here at FrenchPod101.com! We're grateful to have listeners just like you, and we're eagerly waiting for the upcoming year to learn French together!
And when the New Year comes around, be sure to make a resolution to study French with FrenchPod101.com!
Have a healthy and happy holiday season.
From Celine, Sam, Angele and the whole FrenchPod101.com Team!