Do you know which animals the French love most? What about the most popular pets and common farm animals? How many species are there in the gastropod family, and what's the life expectancy of forest-litter snails? We're about to answer some of these questions.
As I was gathering animal names, I came up with a fascinating theory: the more exotic an animal is in France, the easier it will be for you to learn its French name. Conveniently enough, there are several animal names in French that are identical to their English equivalents: lion, crocodile, panda, koala, giraffe, jaguar… They shouldn't give you too much trouble!
In this article, you'll learn the names of different animals in French, from pets and farm animals to wild beasts, sea creatures, and all sorts of tiny bugs. We'll even spice it up with some extras: French animal sounds, body parts, and a bunch of colorful expressions such as il pleut comme vache qui pisse ("it's raining like a pissing cow").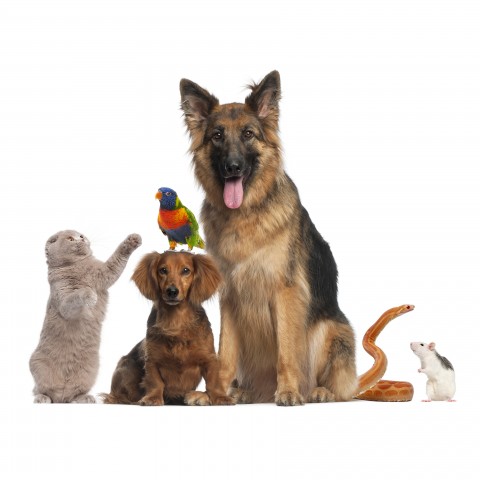 Des animaux de compagnie ("Pets")
Table of Contents
1. Pets
When it comes to pets, the French don't have very eccentric tastes. Sure, you could always find domestic snakes or spiders here and there. But the all-time classics (cats and dogs) are as ubiquitous here as anywhere else in the world, with fish and birds coming next on the list.
Polls have shown that the most popular pets in France are cats (purring in around 30% of households), followed by dogs (20%), and then fish (10%). When asked about their favorite animals (and not just pets), the French still answered in favor of cats and dogs, followed by horses and dolphins.
Surprisingly, France is also the European country with the highest number of domestic reptiles, though this number is marginal compared to the number of domestic mammals.
| | |
| --- | --- |
| Un chat | "Cat" |
| Un chien | "Dog" |
| Un lapin | "Rabbit" |
| Une souris | "Mouse" |
| Un rat | "Rat" |
| Un cochon d'Inde | "Guinea pig" |
| Un poisson rouge | "Goldfish" |
| Un perroquet | "Parrot" |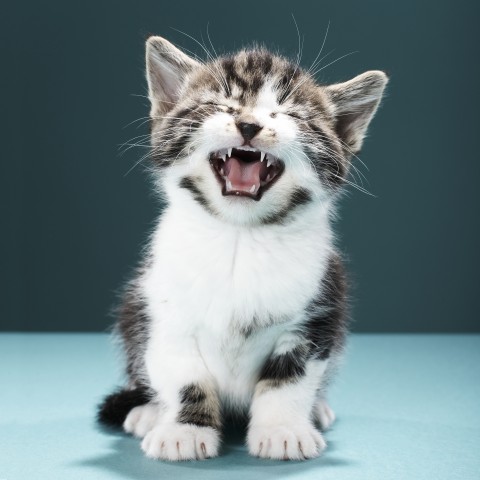 Un chaton ("Kitten")
2. Farm Animals
Farm animals don't vary much from one country to the next, and France is no exception. We breed the same-old cows, pigs, sheep, and goats as anywhere else in the world, which makes these words some of the most useful to learn.
The only feature you may find "exotic" about French farms is that we breed horses for their meat.
Hippophagy (the practice of eating horse meat) is generally frowned upon in the U.S., and is even banned in many states across the country. It's met with the same disgust in the U.K., where it remains a strong taboo. 
In France, it was never wildly popular, but following lots of scandals and controversies over the last two decades, the consumption of horse meat has decreased dramatically. At this rate, it shall soon become a distant nightmare for all horse-lovers.
Here are the names of common farm animals in French:
| | |
| --- | --- |
| Une vache | "Cow" |
| Un cochon | "Pig" |
| Un mouton | "Sheep" |
| Une chèvre | "Goat" |
| Un cheval | "Horse" |
| Une poule | "Hen" |
| Un coq | "Rooster" |
| Un canard | "Duck" |
| Une oie | "Goose" |
| Une dinde | "Turkey" |
→ To learn more French words and practice your pronunciation, why not stop by our vocabulary lesson on farm animals? It's available for free on FrenchPod101.com.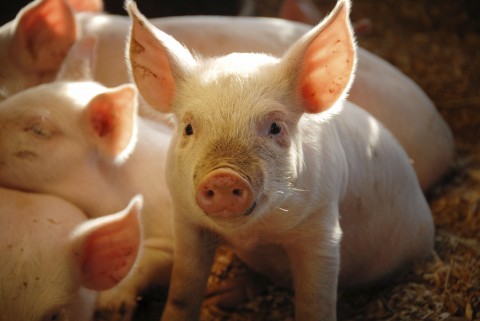 Des cochons ("Pigs")
3. Wild Animals
French forests and mountains are home to a variety of wild animals. Rabbits and hares are the easiest to spot, but if you hike deep enough in the woods, you might encounter deer, wolves, and even bears.
If you're more of a mountain climber, you may find some adorable groundhogs hiding from eagles and different kinds of wild goats strolling around like they own the place. The Alps are especially renowned for their wildlife, but we also have a few whales singing in the Mediterranean Sea and fluffy seals on the northern coast.
Here are the names of popular wild animals in the French language:
| | |
| --- | --- |
| Un ours | "Bear" |
| Un loup | "Wolf" |
| Un cerf | "Deer" |
| Un lièvre | "Hare" |
| Un renard | "Fox" |
| Un hérisson | "Hedgehog" |
| Un écureuil | "Squirrel" |
| Un sanglier | "Boar" |
| Une marmotte | "Groundhog" |
| Un lion | "Lion" |
| Un tigre | "Tiger" |
| Un jaguar | "Jaguar" |
| Une panthère | "Panther" |
| Un éléphant | "Elephant" |
| Une giraffe | "Giraffe" |
| Un singe | "Monkey" |
| Un gorille | "Gorilla" |
| Un kangourou | "Kangaroo" |
| Un koala | "Koala" |
| Un panda | "Panda" |
| Un paresseux | "Sloth" |
| Un phoque | "Seal" |
| Un pingouin | "Penguin" |
| Un ours polaire | "Polar bear" |
| Un morse | "Walrus" |
Un paresseux ("Sloth")
4. Sea Animals
Counting our overseas regions (Nouvelle Calédonie, Polynésie Française, Mayotte…), France alone is home to 10% of the world's corals. They're mostly gathered around our islands, and they host an impressive diversity of fish, algae, and shellfish.
On the other hand, the industrialization and pollution of the French coasts have taken a huge toll on the marine ecosystem, with plastic being one of the main culprits.
Un poisson
"Fish"
Un requin
"Shark"
Un dauphin
"Dolphin"
Une baleine
"Whale"
Un lion de mer
"Sealion"
Une méduse
"Jellyfish"
Une pieuvre
Un poulpe
"Octopus"
There is no difference between un poulpe and une pieuvre. The latter is a bit more modern, but both are equally used.
Un hippocampe
"Seahorse"
Un oursin
"Urchin"
Une étoile de mer
"Starfish"
Une moule
"Mussel"
Un concombre de mer
"Sea cucumber"
Sea cucumbers are so bizarrely amazing that I couldn't resist including them on this list. Do you know of any other animal that breathes through its butt?

They especially thrive in deep water, and make up 90% of life on the ocean floor below 15,000 feet.
→ Do you wanna dive deeper? We have a vocabulary list of marine animals and fish with recorded pronunciation examples.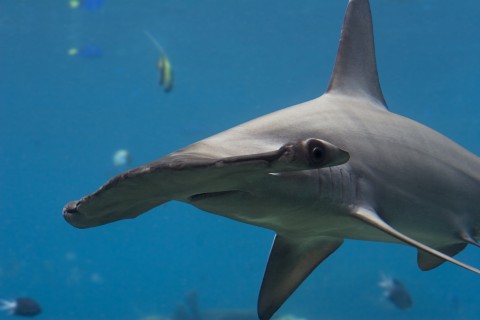 Un requin-marteau ("Hammerhead shark")
5. Bugs
France has a diverse fauna of native and endemic bugs. Nothing as lethal and scary as what you'd find in Australia, luckily, but we have our fair share of crawling insects and nasty worms.
The three most dangerous animals in France are the Asian hornets, blood-sucking ticks, and the infamous veuve noire ("black widow"), a spider found on the island of Corsica and the region of Provence. Its venom is more dangerous than that of a cobra and can induce crazy hallucinations.
| | |
| --- | --- |
| Une abeille | "Bee" |
| Une guêpe | "Wasp" |
| Un moustique | "Mosquito" |
| Une mouche | "Fly" |
| Une araignée | "Spider" |
| Un criquet | "Grasshopper" |
| Un cafard | "Cockroach" |
| Un papillon | "Butterfly" |
| Une fourmi | "Ant" |
| Une mite | "Moth" |
| Un escargot | "Snail" |
| Une limace | "Slug" |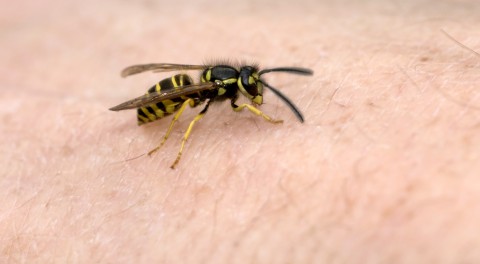 Une guêpe ("Wasp")
6. Birds
There are more than 500 species of birds in France, but none are as familiar as our iconic pigeon.
Around 23,000 pigeons live in Paris today, but it wasn't always so. Back in the nineteenth century, they could only be seen flying over the city. Pigeons only settled in later on, thanks to the lack of predators and the rise of the pigeon post during the Franco-Prussian War.
Un pigeon
"Pigeon"
Une mouette
"Seagull"
Un corbeau
"Crow"
Un aigle
"Eagle"
Une colombe
"Dove"
Un hibou
Une chouette
"Owl"
What's the difference between hiboux and chouettes? Simple enough: Hiboux have fluffy 'ears' and chouettes don't. Both are adorable.
Une pie
"Magpie"
Un moineau
"Sparrow"
Un paon
"Peacock"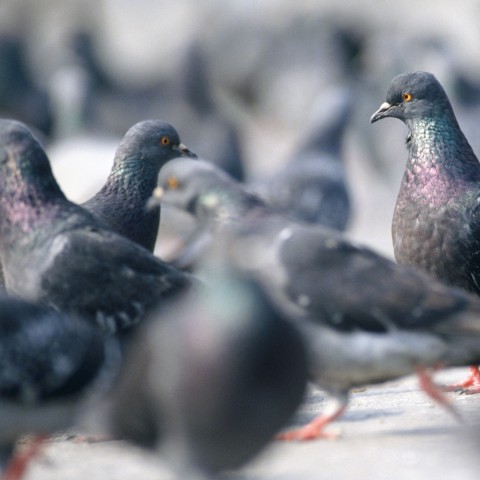 Des pigeons ("Pigeons")
7. Reptiles & Amphibians
Although we don't have many lethal snakes in France, we still have a few vipers hiding in the bushes here and there. However, they usually don't attack without provocation and their venom is rarely fatal to humans.
Their natural habitat has been increasingly threatened in recent years and they're nearly extinct today. Due to their bad reputation (much of which is derived from phobias and irrational fears), nobody's too eager to protect them.
| | |
| --- | --- |
| Une grenouille | "Frog" |
| Un crapaud | "Toad" |
| Un crocodile | "Crocodile" |
| Un lézard | "Lizard" |
| Une tortue | "Turtle" |
| Une tortue de mer | "Sea turtle" |
| Un serpent | "Snake" |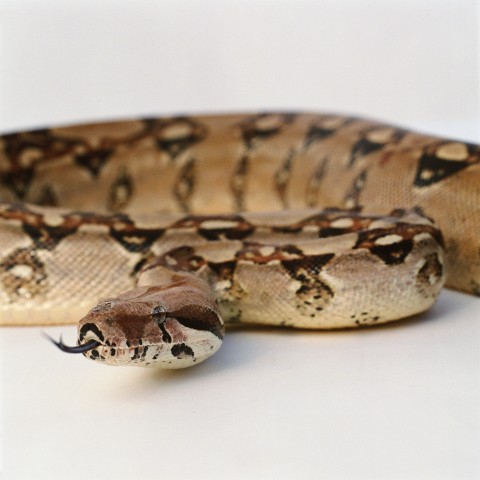 Un serpent ("Snake")
8. Animal Body Parts
Une queue
"Tail"
Un poil
"Hair"
Une fourrure
"Fur"
Une dent
"Tooth"
Un croc
"Fang"
Une griffe
"Claw"
Une corne
"Horn"
Un sabot
"Hoof"
Une plume
"Feather"
Une aile
"Wing"
Un bec
"Beak"
Une gueule
"Mouth"
The word gueule is also a rude slang term for "mouth," as in the expression: Ferme ta gueule. ("Shut your trap.")

In that case, you're implicitly comparing the other person to an animal.

Une nageoire
"Fin"
Un tentacule
"Tentacle"
Une crinière
"Mane"
Une trompe
"Trunk"
Une défense
"Tusk"
Une antenne
"Antenna"
Un dard
"Dart"
Une patte
"Leg"
Une patte can only be used for animals. When talking about a human leg, we use une jambe.
Une écaille
"Scale"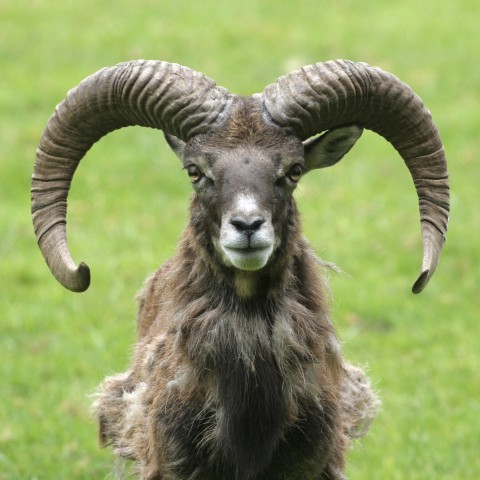 Des cornes ("Horns")
9. Animal Verbs
| | |
| --- | --- |
| Miauler | "To meow" |
| Aboyer | "To bark" |
| Rugir | "To roar" |
| Bourdonner | "To buzz" |
| Grogner | "To growl" |
| Ronronner | "To purr" |
| Galoper | "To gallop" |
| Nager | "To swim" |
| Ramper | "To crawl" |
| Mordre | "To bite" (with teeth) |
| Piquer | "To sting" (with a dart) |
| Griffer | "To scratch" |
| Lécher | "To lick" |
| Caresser | "To pet" |
| Dresser | "To tame" / "To train" |
| Nourrir | "To feed" |
| Vacciner | "To vaccinate" |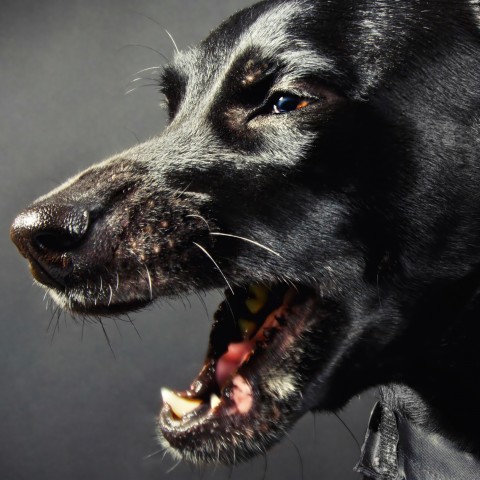 Le chien aboie. ("The dog is barking.")
10. Animal Sounds
The onomatopoeia used for animal sounds vary greatly from one country to the next, and it's always hilarious to see how people perceive barking or meowing in other cultures. Here are the most popular French animal sounds, for your entertainment.
But before you make fun of our animals' sounds, just keep in mind that cats say "knavili" in Georgian, dogs go "Gaf gaf" in Russian, Danish ducks sing "Rap rap," and Belgian turkeys gobble "Irka kloek kloek." Just sayin'.
Miaou
(Cat)
Ouaf / Wouf
(Dog)
Meuh
(Cow)
Bêêê
(Sheep)
Cui cui
(Bird)
Cocorico
(Rooster)
We also use this sound as a symbol of national pride. When a French person says Cocorico !, it's pretty much like saying "Go France!"
Coin coin
(Duck)
Grrr
(Growling sound)
Hou hou
(Owl)
Croa croa
(Toad)
Glouglou
(Turkey)
Cot cot
(Hen)
Groin groin
(Pig)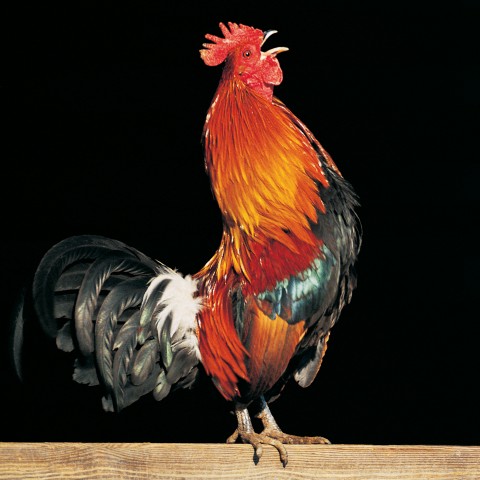 Cocorico ! ("Cock-a-doodle-doo!")
11. Bonus: Animal Idioms
French expression
Marcher sur des œufs
Literal translation
"To walk on eggs"
This is the equivalent of "to walk on eggshells," when you're being very careful not to offend someone or do anything wrong.
French expression
Ça ne casse pas trois pattes à un canard.
Literal translation
"It doesn't break a duck's three legs."
The equivalent of "It's nothing to write home about," when something is not really impressive.
French expression
Oh la vache !
Literal translation
"Oh, the cow!"
The unholy version of "Holy cow!"
French expression
Vachement
Literal translation
"Cowishly"
This roughly translates to "really" or "very."

For example: C'est vachement bien ! ("It's really good!")
French expression
Il pleut comme vache qui pisse.
Literal translation
"It's raining like a pissing cow."
Similar to "It's raining cats and dogs," when talking about heavy rain.
French expression
Il n'y a pas un chat.
Literal translation
"There is not a cat."
The place is so empty that you can't even spot a stray cat strolling around.
French expression
J'ai un chat dans la gorge.
Literal translation
"I have a cat in the throat."
The equivalent would be "I have a frog in my throat," when you can't speak normally because of how dry and hoarse your throat feels.
French expression
Il fait un temps de chien.
Literal translation
"It's a dog's weather."
"The weather is really bad." 

The expression was introduced at the beginning of the twentieth century, when dogs still had a reputation for being dirty animals. When it was pouring rain, only stray dogs would stay outside and roam the empty streets.
French expression
Un trou à rat
Literal translation
"A rat hole"
A dirty or miserable place.
French expression
Donner de la confiture aux cochons
Literal translation
"To give jam to the pigs"
The equivalent of "to throw pearls before swine." To waste good things on someone undeserving.
French expression
Un caractère de cochon
Literal translation
"A pig's temper"
Do pigs have especially bad tempers? This is what the expression implies.
French expression
Poser un lapin
Literal translation
"To put a rabbit"
The equivalent of "to stand someone up," when you're supposed to meet them but fail to show up.
French expression
C'est chouette !
Literal translation
"It's owl!"
I'd translate it as "It's nice," or "It's cool." We use it when talking about something exciting or pleasant.

For example: Ce film est chouette. ("This movie is nice.")
French expression
À vol d'oiseau
Literal translation
"On bird's flight"
This is the equivalent of "as the crow flies." It describes the shortest possible distance between two points that a bird could cover, flying over roads and obstacles.

For example: La gare est à 2 km à vol d'oiseau. ("The train station is two kilometers as the crow flies.") In other words: It would be further when walking, but here's a raw estimate.
French expression
Noyer le poisson
Literal translation
"To drown the fish"
Similar to "to cloud the issue," when you make a problem more difficult to understand or deal with by introducing unnecessary ideas.
French expression
Chercher la petite bête
Literal translation
"To look for the tiny beast"
The equivalent of "to nitpick," when you focus on small, specific mistakes. A teacher might nitpick if they blame you for a missing comma in your otherwise perfect paper.
Les chouettes sont vachement chouettes ! ("Owls are super cool!")
12. Le mot de la fin
In this guide, you've learned many animal names in French, from pets to marine animals and beyond. Now you're ready to ask your friends about their pets or their favorite furry animals.
Did we forget any animal expression you've heard? If you know more funny French animal sounds, be sure to share them in the comments below!
Make sure to explore FrenchPod101, as we have plenty of free resources to help you practice your grammar and learn new words. Our vocabulary lists are also a great way to review words and learn their pronunciation.
Remember that you can also use our Premium PLUS service, MyTeacher, to get personal 1-on-1 coaching with your own private teacher. They can help you practice the animal words from this article, and much more. In addition to giving you assignments and personalized exercises, your teacher can record audio samples for you and review your work to help you improve in all areas. 
Happy learning on FrenchPod101.com!
About the Author: Born and bred in rainy Northern France, Cyril Danon was bouncing off various jobs before he left everything behind to wander around the wonders of the world. Now, after quenching his wanderlust over the last few years, he's eager to share his passion for languages.
August 26, 2021
Did you know that the French language does not differentiate between "love" and "like"? When you say J'aime le fromage, it means that you like cheese. But if you say Je t'aime, it stands for "I love you" in French and certainly not just "I like you."
This might be one of the reasons why the French are known to be rather quick about saying "I love you." Unlike other cultures, they don't necessarily mean that they want to get married and spend the rest of their days with the person, but more like they really like the person and love spending time together.
But I'm getting ahead of myself! In this guide, we'll talk about love, of course, but also about flirting and seduction—from first contact to sweet talk for lovebirds—staying in touch, and spicing things up. We've even included a bonus section on the most infamous love quotes that you should never use.
Table of Contents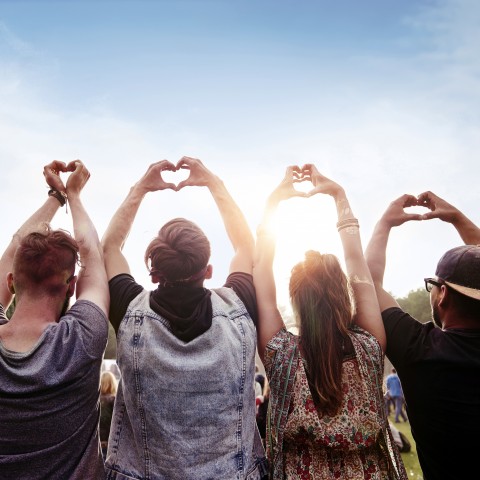 All you need is love!
1. First Contact
Have you just seen the stylish guy over there with the stubble and fancy scarf? Or maybe you're looking at the Mediterranean-looking girl with olive skin, high cheekbones, and dark hair? 
If you've just gotten a crush on someone and want to make first contact, this is where we start. 
In the following sentences—and throughout this guide—we'll assume you're in an informal setting such as a bar or a club, and using the casual tu (informal "you") instead of the polite vous (formal "you").
| | |
| --- | --- |
| Tu viens souvent ici ? | "Do you come here often?" |
Tu veux danser ?
Tu veux danser avec moi ?
"Do you want to dance?"
"Do you want to dance with me?"
Je t'offre un verre ?
"Can I buy you a drink?"
In France, men are not expected to pay for everything and it's common for couples on a date to split the bill. It's perfectly fine to buy a girl a drink, but you should not feel obligated to do so. 

It's more unusual for a girl to buy a guy a drink, but you're sure to make an impression simply for being different.
Tu es venu(e) avec ton copain ?
Tu es venu(e) avec ta copine ?
"Did you come with your boyfriend?"
"Did you come with your girlfriend?"
This is a not-so-subtle way to ask someone if they're single. 

If you want to be even more straightforward, you could ask: Tu es célibataire ? ("Are you single?")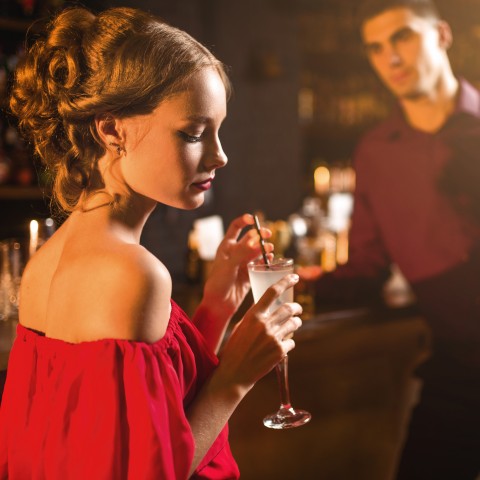 Tu veux danser ? ("Do you wanna dance?")
2. Keep in Touch
Now that you've made first contact, let's imagine that you both had a good time and you want to spend more time with your potential date. You could set the next date right away or just smoothly get their phone number.
Si on prenait un verre un de ces quatre ?
"What about having a drink one of these days?"
Un de ces quatre (literally: "One of these four") is the short version of Un de ces quatre matins ("One of these four mornings"). It describes a short, undefined amount of time, such as "a few days," and adds an element of uncertainty (it might just not happen at all).
Je peux t'inviter à dîner ?
"Can I invite you for dinner?"
Like I mentioned before, it's not necessarily up to the man to pay the bill and it's not expected "by default." However, this shouldn't keep you from inviting someone for dinner, which implies that you'll be paying.
Je voudrais te revoir.
J'aimerais bien te revoir.
"I'd like to see you again."
Je peux te donner mon numéro ?
"Can I give you my number?"
Why give your number instead of asking for his/hers?

Aside from being more courteous, giving your number first is a way to show interest right away. Then, if you've made a good impression and your potential date is interested, they'll either return the favor right away or call you later. 

Just be cool about it and accept that it might not happen.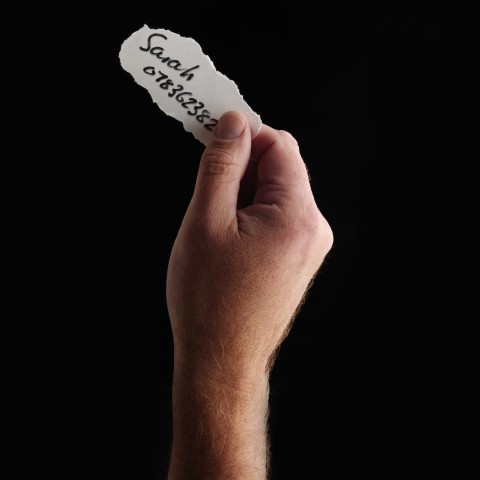 Je peux te donner mon numéro ? ("Can I give you my number?")
3. Take it to the Next Level
Did you score that second date? Or a third, or more? Whether it's your first or your tenth, if you feel like it's time to shift into high gear, I've got you covered with these romantic French phrases: 
Tu veux sortir prendre l'air ?
"Do you wanna get some fresh air?"
"Do you wanna get out?"
This is a rather casual request and a great way to see whether the person is interested in spending a bit of time alone with you, without having them commit to anything more.
On va dans un endroit plus tranquille ?
"Do you wanna go somewhere quieter?"
It's getting more serious than just sortir prendre l'air.
Je te raccompagne ?
"Can I take you home?"
As early as the first date, you can ask her if you can take her home (it's most commonly a guy thing). It doesn't need to have any hidden meaning and you shouldn't be offended if she declines.

You'll be showing good manners by offering, but keep in mind that your partner is not committing to anything, such as letting you in.
Tu veux entrer prendre un verre ?
"Do you want to come in for a drink?"
This is often seen as a seduction technique, but you shouldn't necessarily read too much into it.

If you're made such an offer and are willing to accept it, only assume that you're going in for the drink and the conversation. Your partner is not committing to anything else for now.
Tu me plais.
"I like you."
This is more than "I like you." You'd rarely say this to a friend and it's more often used toward a partner or a romantic interest. It can also express physical attraction.
J'ai envie de toi.
"I want you."
This one is rather self-explanatory.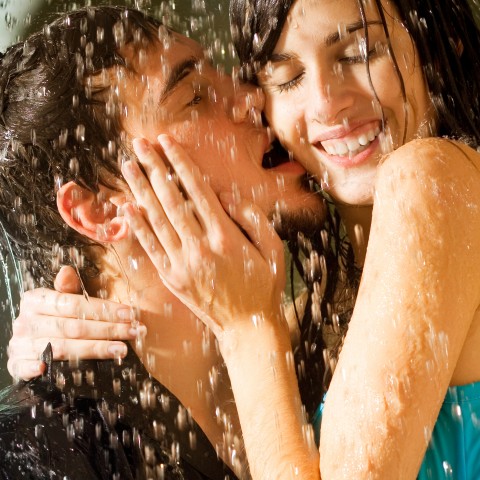 J'ai envie de toi. ("I want you.")
4. Let's Meet Again
When you're seeing someone and would like to spend more time together, you should probably let them know. Here are a few ways to express it:
Tu me manques.
"I miss you."
This is a peculiar and cute feature of the French language.

Unlike in English, where missing someone is a direct action toward the person, the French version literally means "You are missing from me," or "I'm missing you," (in the same way that a dish would "miss" salt or pepper). Missing a person is like missing a part of yourself.
| | |
| --- | --- |
| On se revoit bientôt ? | "Are we meeting again soon?" |
| | |
| --- | --- |
| J'ai hâte de te revoir.  | "I can't wait to see you again." |
Je voudrais passer plus de temps avec toi.
J'aimerais passer plus de temps avec toi.
"I'd like to spend more time with you."
Je pense toujours à toi.
Je n'arrête pas de penser à toi.
"I'm still thinking about you."
"I can't stop thinking about you."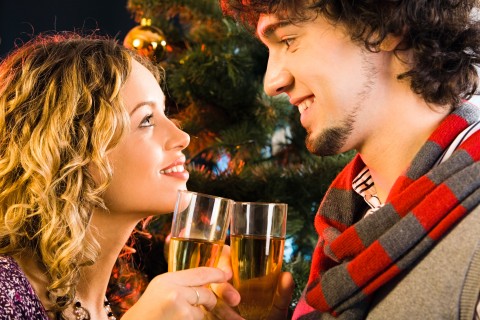 On se revoit bientôt ? ("Are we meeting again soon?")
5. You're in Love
There you are: You're now completely head over heels, madly in love with your French date or partner, and you want to confess your love…or maybe tell your most trusted friends about it. Here are some French love words and phrases you can use to do so.

Je t'aime.
"I love you."
Even though we don't have a clear distinction between "like" and "love" like English does, there are some ways to express the different levels of affection:

Je t'aime bien ("I like you") [Friendly]
Je t'aime ("I love you") [Romantic]
Je t'adore ("I adore you") [Could be friendly or romantic]

For more information on the many shades of aimer ("to love" / "to like"), make sure to stop by the fifth chapter of our article on the Top 10 French Sentence Patterns.
Je suis fou de toi.
Je suis folle de toi.
"I'm crazy about you." [Speaker is male]
"I'm crazy about you." [Speaker is female]
Tu es beau.
Tu es belle.
"You're beautiful." [The other person is male]
"You're beautiful." [The other person is female]
Mon amour
Mon chéri
Ma chérie
"My love"
"My dear" / "My darling" [Male]
"My dear" / "My darling" [Female]
These are just a few popular French terms of endearment, but there are many more: mon cœur (literally: "my heart"), mon bébé ("my baby"), mon chaton ("my kitten"). It's all a matter of preference.
Je suis tombé amoureux.
Je suis tombée amoureuse.
"I've fallen in love." [Speaker is male]
"I've fallen in love." [Speaker is female]
J'ai eu un coup de foudre.
"I've had a crush."
This literally means that you've been struck by lightning. We generally use it to describe "love at first sight": a very strong and immediate attraction.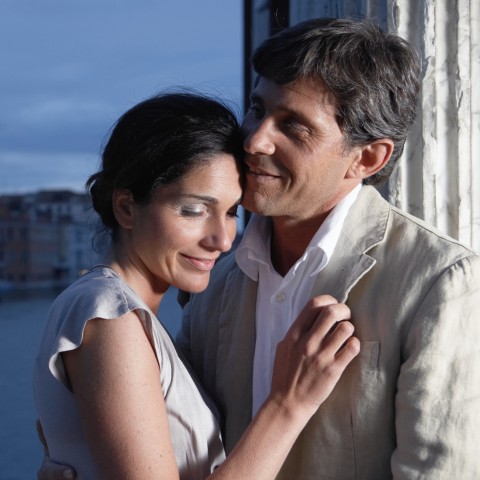 Je t'aime. ("I love you.")
6. Bonus: The Worst French Love Phrases
Do you feel like you're too handsome and charming for your own good and you're growing tired of constantly attracting the people around you?

Here is a collection of the most infamous French love quotes that remain inexplicably popular. You can use them if you want to make sure you'll stay single.
T'as d'beaux yeux, tu sais.
"You have beautiful eyes, you know."
A famous quote from the movie Le Quai des Brumes (1938) with Jean Gabin and Michèle Morgan. There's nothing inherently wrong with the quote, but it has been overused to the point where it sounds silly.
T'es bien charmante mademoiselle.
"You're very charming, miss."
If you've been to Paris, you might have bumped into one of these groups of small-time dodgy-looking youngsters trying to act tough.

If you're a woman, they would most likely whistle at you and throw a bunch of distasteful comments in some futile attempt to look witty and seductive. This quote is rather harmless, but most French girls would run away at the sound of it.
Lâche ton 06.
"Give me your mobile number."
Literally: "Drop your 06." It's a reference to the first digits that all French mobile phone numbers used to start with.

This is what generally comes after the T'es bien charmante and some more naughty comments. For the same reason, you should only use it to get rid of someone, or humoristically.
J'te kiffe bébé.
"I'm into you baby."
Kiffer ("to like" / "to love") is the slang equivalent of aimer.
Ton père est un voleur. Il a volé toutes les étoiles du ciel pour les mettre dans tes yeux.
"Your father is a thief. He stole all the stars from the sky to put them in your eyes."
If you want the cheesiest of all French love phrases, look no further.
T'as d'beaux yeux, tu sais. ("You have beautiful eyes, you know.")
7. Le mot de la fin
In this guide, you've learned how to say "I love you," in French and how to use the most common and useful French love phrases. From the early flirting lines to intimate whispers and ardent confessions of love, you now have some phrases for every step of the way.
Did we forget any important love phrases you know? Don't hesitate to share them in the comments below!
Make sure to explore FrenchPod101, as we have plenty of free resources for you to practice your grammar and learn new words. Our vocabulary lists are also a great way to review the words and learn their pronunciation.
Remember that you can also use our Premium PLUS service, MyTeacher, to get personal 1-on-1 coaching with your own private teacher who can help you practice. In addition to giving you assignments, personalized exercises, and recorded audio samples, your teacher will review your work and help you improve your pronunciation. Happy learning on FrenchPod101.com!
About the Author: Born and bred in the rainy north of France, Cyril Danon has been bouncing off various jobs before he left everything behind to wander around the wonders of the World. Now, after quenching his wanderlust for the last few years, he's eager to share his passion for languages.
July 15, 2021
Why should people learn French, and more importantly, why should you? That's a fair question to ask before committing your precious time and brainpower to the task.
If I were to learn another language, I'd personally pick something simple enough, widely spread across the globe, with a thriving culture and lots of business opportunities. Damn, I wish I could learn French again!
Whether you're a travel lover, a people person, or a culture vulture, you'll find many benefits in learning a new language—and French might be just the one for you.
In this article, we'll go over the 10 main reasons why you should learn French for leisure (travel, friendship, entertainment) or business (quality studies, work opportunities). We'll also discuss why it's easier to learn than you might think.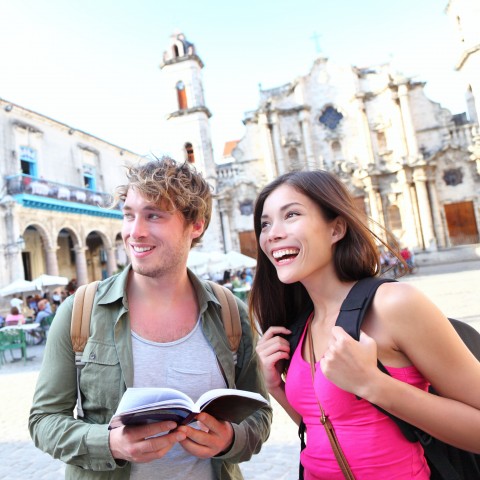 Travel opportunities are a good reason to learn a language.
Table of Contents
1 – It's the perfect language for travel lovers.
A- French is everywhere…
French is a widespread language with native speakers all over the world. 
With close to 300 million speakers in 27 different countries, it's also the only language to be spoken across all 5 continents. Belgium, Switzerland, Quebec, a big chunk of Africa, French Guiana, and lots of heavenly tropical islands, you name it!
Learning French will open up many places where you'll be able to travel with peace of mind, knowing you've overcome the language barrier. It's also the second most widely learned language in the world, making it a big asset for travelers, wherever they go!
B- Especially in France!
So many countries, but nothing beats good ol' France!
This is such a beautiful country with a wide variety of landscapes, from lush forests to snow-capped mountains and glaciers, dramatic cliff sides, sleeping volcanoes, and don't even get me started on the Mediterranean coast.
And it's not just the natural wonders one has to look forward to: Cities and towns feature a unique blend of architectural styles, thanks to centuries of history. There's a reason why France is one of the world's most popular travel destinations, with over 80 million visitors per year.
Oh, and one more thing…
You might think that in this day and age, you'll always find someone who speaks English, right? That's not necessarily true in France, as we're known for lagging behind most of our European neighbors. 
Are you sure you want to rely on the waiter's dubious English when ordering delicious French food in a restaurant?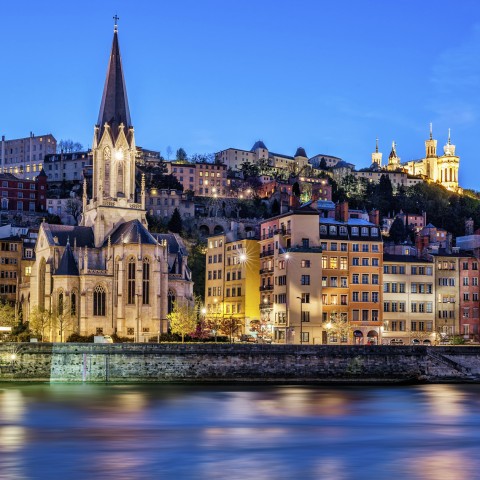 French architecture rarely disappoints.
2 – You'll be able to make real connections with French people.
When you learn a language, even if you're just focusing on practical topics such as grammar and vocabulary, you'll get to learn more about the culture and way of thinking of its native speakers.

Without getting too philosophical, let's just say that our thoughts are shaped by our language, and vice-versa. As a result, simply learning the language is an open window to the French culture and way of life!

More prosaically, learning French will help you make genuine connections with native French speakers, whether you meet them in your country or as you travel and spend time with the locals.
You'll get a better understanding of how they think, what drives them, and what all the fuss over this Art de Vivre ("Art of Living") is about. Okay, I can answer that one for you: Our boundless love for tasty food and good wine. Sounds interesting, right?
3 – You'll start to enjoy the French culture in its original version.
One of the best reasons to study French—especially if you have a deep appreciation of world cultures and world-class entertainment—is that France has a whole lot of both. 
A- Timeless classics
Sure, France is a rather small country. It's not the biggest superpower in terms of its economy or military. But when it comes to soft power and international aura, it's a cultural superpower with outstanding contributions to art, fashion, cuisine, and entertainment.
France is the birthplace of some of the most fascinating and influential artists of the last few centuries.
Just to name a few, from classic French literature:
And in the visual arts, we have eminent painters including:
B- Cinema, music, comics
What better way to learn a language than to immerse yourself in its entertainment industry? By watching movies, reading comics, or listening to music in French, you'll combine study with pleasure and make progress faster! 
And you're in luck because the French entertainment industries are thriving. There are lots of new interesting French movies and series released every single year, French music record companies are booming, and 2020 was proclaimed "The Year of Comics" by our local ministry of culture.
You could start watching movies with original French audio and English subtitles. Then, as you get more and more comfortable with the language, you could turn the subtitles to French, and later turn them off entirely.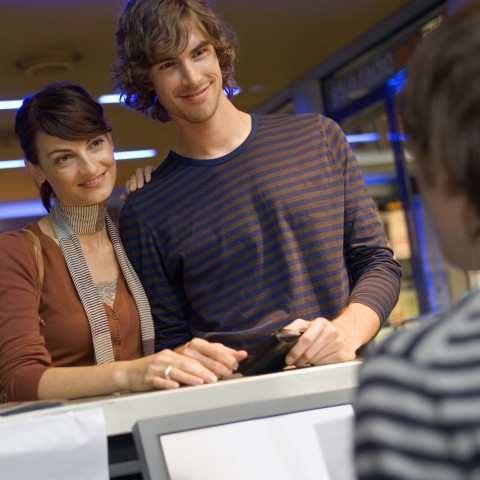 Why not take your French date for a movie night?
4 – Learning French will give you a deeper understanding of English.
Did you know that around 30% of English words come directly from French?
British and French histories have been intertwined for a good thousand years, and it shows. You wouldn't believe how many common English words are actually derived from French. They're sometimes slightly modified or just kept identical but with a different pronunciation.
Bureau – from the French Un bureau ("Desk" / "Office")
Salad – Une salade
Utensil – Un ustensile
Soup – Une soupe
And there are so many more: 
Restaurant (Un restaurant)
Television (Une télévision)
Hotel (Un hôtel)
Debris (Un débris)
Gallery (Une galerie)
I couldn't possibly list all of them.
Many of these words are used in specialized or technical fields. For example:
Military: Army (Une armée), Cavalry (Une cavalerie), Soldier (Un soldat), Captain (Un capitaine)
Art: Music (Une musique), Dance (Une danse), Theatre (Un théâtre), Rhythm (Un rythme)
Cuisine: Confit (Un confit), Mustard (Une moutarde), Sauce (Une sauce), Sausage (Une saucisse)
As a result, learning French will also benefit your English, as you'll learn new words as well as the etymology of words you already know. It will help you expand your vocabulary and better understand borrowed French words.
5 – France is known for its cheap (yet high-quality) studies.
Speaking French opens up lots of opportunities for education, as France has some of the best renowned universities (La Sorbonne, Pierre Marie Curie) as well as first-class Grandes écoles (HEC, Polytechnique, ESSEC).
Grandes écoles (literally: "big schools") is what we call our most prestigious schools. You know, the ones with highly selective admissions, top-notch teachers, and big fancy degrees.
French universities are internationally known for the outstanding quality of their education—but did you know they're also cheap as dirt? Especially compared to the price of attending big universities in the U.S., it's much cheaper to get your education in France!
Not only do these schools accept foreign applicants, but students who are fluent enough in French can also apply for a French government grant on the course of their choice in France. In a nutshell, you can have the French government pay for your studies.
Sure, this isn't for everyone, as it will take an advanced proficiency level to be comfortable in a French classroom (especially in classes on complicated or technical topics). But if you can manage, a French degree will open lots of doors in France and beyond.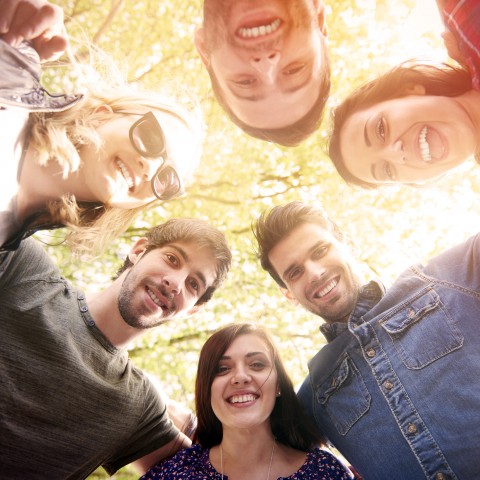 Studies are the best opportunity to make friends AND build your network.
6 – Once you've worked in France, there's no going back.
As if you needed any more reasons to learn French, get this: Working in France comes with a list of benefits that might just make it the most employee-friendly country in the world. This is all thanks to a set of labor laws aimed at protecting employees over the company and not the other way around.
Double health insurance
By default, as soon as you're legally living in France, you can enroll for our free healthcare system and have most of your medical bills paid for. Many employers also offer a complimentary insurance system to make sure you're not paying anything for your health.



Paid holidays
You can expect: A minimum of 5 weeks of paid vacation per year + 11 days of national holidays and some special time off for major life events (wedding, child, etc.).



Job security
French workers are generally well-protected by labor laws. Permanent contracts offer job security and make it difficult for a company to fire you without good reasons. Short-term contracts come with a nice financial bonus at the end of the period.



Unemployment allowance
If you lose your job or reach the end of your contract, you can benefit from the Allocation chômage and get a fair portion of your former salary for about a year. It's more than enough time to find a new job.
Vouchers, coupons, discounts
Your employer will pay at least 50% of your public transport card, provide you with restaurant vouchers, and offer some other perks and discounts.
On top of all that, France is a fairly developed country and salaries are not half bad. Sure, you have to consider the cost of living and rather high taxes, but all in all, even a small salary should allow you to live comfortably.
7 – French is one of the top languages for business.
Learning French to work in France is one thing, but it doesn't end there. Today, French stands on the same podium as English and Chinese, as one of the three most important languages for conducting business.
The economical and cultural influence of France at an international level makes French one of the most wanted languages in the business world.
Based on numbers by Bloomberg Rankings, French is the second most useful language for business. This means that if you're looking for a job, speaking both English and French is a major asset on your resume that will help you stand out.
But why, exactly? First of all, French is widely used in international relations. It's an official language of major international groups such as the Red Cross, North Atlantic Treaty Organization (NATO), the United Nations (U.N.), Olympics, UNESCO, and of course the European Union (E.U.).
What's more, learning French will provide you with opportunities to work for companies that either have ties with French groups or use French as their working language. These companies operate in a number of sectors, but most notably in luxury, cosmetics, aeronautics, and automotive.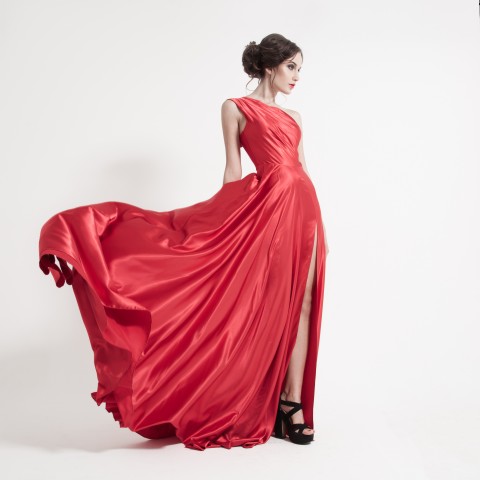 French holds its status as the World Capital of Fashion and Luxury.
8 – French is growing faster than you think.
What is the language of the future that we'll all be speaking by the end of the century? Sure, Mandarin is the new boss in town and many studies place it at the top of the podium. But these studies don't take into consideration how excruciatingly hard it is for Western students to learn. That's definitely going to limit its spread in the long-run. 
On the other hand, French is currently growing so fast that studies indicate it could be a major player in years to come. Forbes reports that Natixis Investment Bank went as far as claiming that French will be the most spoken language in the world by 2050.
To be fair, this study seems rather questionable and it does go a little overboard with speculations, but it got a fair amount of attention. In similar projections, France usually sits comfortably somewhere in the top 5.
In any case, French is growing fast, especially in Africa. Now, when you consider that Africa is one of the fastest-growing regions in the world, with the potential to become a major economic powerhouse, it really makes you think.
9 – Get ready to show off at dinner parties. 
But enough with business and world economics. Let's cut to the real reason why YOU should start learning French today!
A- To be a better lover
First of all, it's common knowledge that learning French will make you a better kisser. Mastering the weird French [R] and [U] will be just the tongue workout you need to shine at French kissing, and practicing nasal vowels will improve your breathing by 72%. Numbers don't lie.
Besides, French is known to be "the language of love." It makes it the perfect language to serenade your special someone in. You can use sweet French words like, Parfait au chocolat ("You are so beautiful") or Voulez-vous coucher avec moi ce soir ? ("Can I buy you a drink?"). You might wanna double-check that, just in case.
B- To impress your friends
In addition to being the official language of love, French is also called the "language of reasoning and debate" and "the language of enlightenment." (I'm not even making that up, it's all over the internet.)
Impress your friends with your linguistic knowledge by randomly dropping fancy words and existential quotes from French philosophers in their original version. If they're not speechless already, you could imply that you started learning yesterday, but you're a natural.
Another fail-proof technique to leave your audience in awe is to take them to a French restaurant (make sure you split the bill, though; elegance doesn't come cheap) and start dropping sophisticated French terms to the waiter.
If you're not comfortable enough with your current level, you could just read through the wine menu with an air of thoughtful confidence. And for once, you'll have good reasons to say, "Pardon my French."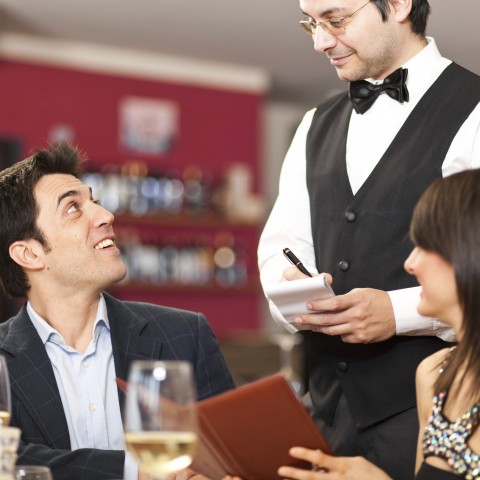 Une glace au Chardonnay, s'il vous plaît. ("A Chardonnay ice cream, please.")
10 – French is pretty easy to learn.
For someone who already knows English (that's you, if you're reading this), French is generally considered a fairly easy language to pick up. 
Both the FSI (Foreign Service Institute) and ELC (European Language Center) rank French as one of the most accessible languages for English speakers. Why is that? Let's break it down quickly:
French is a Romance language
As such, it has a LOT in common with other Romance languages such as Spanish, Romanian, and Portuguese. Although English is not part of this exact family, it shares many aspects of it in terms of syntax and vocabulary, which will give you a huge head-start.



You already know a ton of French words
As mentioned earlier, nearly 30% of English words are of French origin. This is essentially free vocabulary that you don't have to study.



Structures are oddly similar
Many grammar structures are so similar that you can often translate French to English word for word. No need to twist your brain in awkward positions. For example: Elle a un beau jardin. ("She has a beautiful garden.")



Internet and mobile apps to the rescue
Living in the 21st century is a beautiful thing for language learners. Never before has it been easier to pick up and master a language.

What used to take years can be achieved within mere months, with a level of ease and flexibility our parents couldn't even imagine when they were grinding their way through foreign languages, old-school-style.
If you'd like to know more about why learning French is easier than you might think, make sure to visit our full article titled How Hard is it to Learn French?
11 – Le mot de la fin
In this guide, you've learned the main reasons why you should learn French, from the vast number of French-speaking countries to the culture- and business-related opportunities. If you want to work, study, or move to France, learning this language is an obvious choice—but showing off is also a fair reason, isn't it? Why do you want to learn French? 
Learning a new language used to be a painful grind, but nowadays, it's a much faster and more streamlined experience when done right.
With our integrated approach, a metric ton of free content, and quality premium coaching, FrenchPod101 is just what you need to get started. Make sure to explore all of our free resources to get a feel of what we have to offer!
Remember that you can also use our Premium PLUS service, MyTeacher, to get personal one-on-one coaching with a private teacher who can help you practice wherever you are. Your teacher will be able to offer you personalized assignments and exercises, record audio samples to help you practice your pronunciation, and help you dive deeper into the French culture and language. 
Happy learning on FrenchPod101.com!
About the Author: Born and bred in the rainy north of France, Cyril Danon was bouncing off various jobs before he left everything behind to wander around the wonders of the World. Now, after quenching his wanderlust for the last few years, he's eager to share his passion for languages.
June 10, 2021
Why are proverbs so popular? As old-fashioned as they can be, you read, hear, and use them on a daily basis. They reflect who we are and the values we stand for. They're timeless and comforting, never seem to age, and always bring this old magical wisdom that helps us go through life.
Personally, what I find fascinating about proverbs is how they serve as a window to different cultures. When I hear Chinese, Russian, or Indian proverbs, I feel like I'm entering a whole new world with a wildly different culture and mindset to learn from.
French proverbs are no different, and this is what I'm offering you in this article: a window to popular French wisdom, made up of common proverbs and old sayings. They might not instantly make you wiser, but I'm hoping they'll get you curious to learn more about the culture and history of France.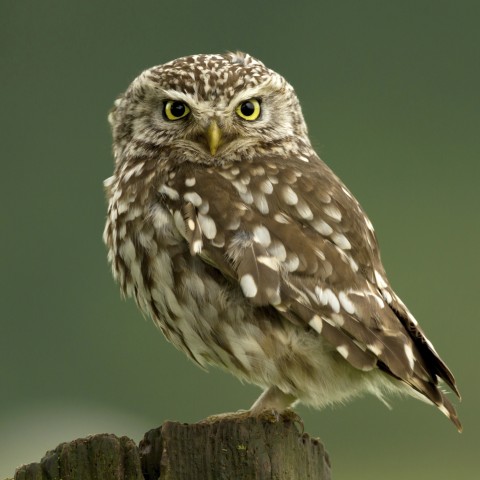 Be wise as a French owl!
Table of Contents
1. Proverbs About Wisdom
Speaking of wisdom, let's begin by looking at some proverbs in French that touch on how to live life wisely. 
#1
French

Il ne faut pas vendre la peau de l'ours avant de l'avoir tué.

Literally

"Don't sell the bear's hide before you've killed the bear."

Equivalent

Don't count your chickens before they hatch.
This traditional saying comes from Old French. It means that you should wait to act until you know that something is certain.

Ne vendons pas la peau de l'ours avant de l'avoir tué, on ne sait pas encore si elle va gagner. "Let's not count our chickens before they hatch; we don't know yet if she will win."
#2
French

L'argent ne fait pas le bonheur.

Equivalent

"Money cannot buy happiness."
Nearly identical to its English counterpart, this expression means that although money lets you buy things, it's not enough to achieve happiness.

The most materialistic people often follow it with mais il y contribue ("but it contributes to it"). Benjamin Franklin would argue: "Money never made a man happy yet, nor will it. The more a man has, the more he wants."
#3
French

Il n'y a que les imbéciles qui ne changent pas d'avis.

Literally

"Only fools never change their minds."

Equivalent

A wise man changes his mind, a fool never will.
A foolish consistency is the hobgoblin of little minds. (Emerson)
Our opinions may vary, and people clinging to their believes or decisions when they have every reason not to are being stupid.

We use this proverb to point out stubbornness or to justify changing our minds.

A: Je pensais que tu ne voulais pas lire ce livre. ("I thought you didn't want to read that book.")
B: Il n'y a que les imbéciles qui ne changent pas d'avis. ("Only fools never change their mind.")
#4
French

On n'apprend pas au vieux singe à faire la grimace.

Literally

"We don't teach the old monkey to make a face."

Equivalent

This old dog knows all the tricks.
You don't need to teach something to someone who has much more experience than you have.

We typically use this expression when someone with less experience or knowledge is trying to explain something we find obvious or easy. 
#5
French

Il n'y a que la vérité qui blesse.

Literally

"Only the truth hurts."

Equivalent

Truth hurts.
If you feel offended by a statement or reproach, it only proves that it was true. The most hurtful comments are the ones we deserve.

This expression is often used as a taunt, or when someone is denying their fault or wrongdoing and acting offended by the accusation.
#6
French

La vengeance est un plat qui se mange froid.

Equivalent

"Revenge is a dish best served cold."
Vengeance is more satisfying when delayed and exacted with a clear head.

You'll take more pleasure if you wait until the heat of anger has cooled off, rather than take revenge as an immediate act of rage.

There's a common misconception about the origin of this quote, with many people claiming that it's from the French novel Les Liaisons Dangereuses ("Dangerous Liaisons") by Choderlos de Laclos. But the phrase actually appears in none of De Laclos' work. As it stands, its origin remains unknown.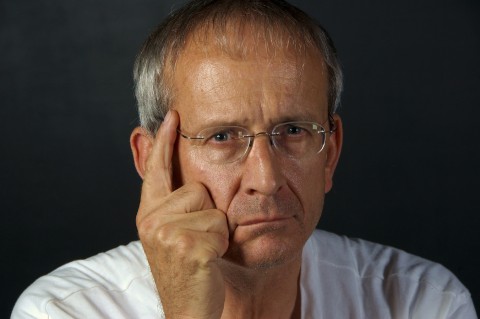 The old dog knows all the tricks.
2. Proverbs About Success
We all have our own definitions of success, defined by our personal goals and our outlook on the world. Here are a few French proverbs and sayings that speak on success in its many forms—and how to attain it! 
#1
French

À vaincre sans péril, on triomphe sans gloire.

Literally

"To win without risk is a triumph without glory."

Equivalent

No guts, no glory.
Success won't come if you're not brave enough to take risks.

This is a quote from Le Cid, a five-act French tragicomedy written by Pierre Corneille. The whole book is written in alexandrines (lines of verse always composed of twelve syllables), which is quite impressive! 
#2
French

Il ne faut pas mettre la charrue avant les bœufs.

Literally

"You should not put the cart before the oxen."

Equivalent

Don't put the cart before the horse.
This expression from the fifteenth century means that you shouldn't go so fast that you fail to do things in the right order. Literally, it means that it makes no sense to have the cart placed before the oxen if the oxen are supposed to pull the cart.

It's often used to temper someone's enthusiasm by reminding them to take their time and start at the beginning.
#3
French

On n'est jamais mieux servi que par soi-même.

Literally

"You are never served better than by yourself."

Equivalent

If you want something done right, do it yourself.
If you want something done exactly the way you want it, you should just do it yourself.

This is a quote from the play Bruis et Palaprat (1807) by Charles-Guillaume Étienne.
#4
French

Qui ne risque rien n'a rien. 

Literally

"Who's not risking anything gets nothing."

Equivalent

Nothing ventured, nothing gained.
One must take risks to achieve something. If you don't risk anything, you won't get anything good.

Quit that boring nine-to-five job, grab your backpack, and chase your dreams! Success is never guaranteed, but laying still will never take you anywhere.
#5
French

Ne remets pas à demain ce que tu peux faire aujourd'hui.

Equivalent

"Don't put off until tomorrow what you can do today." (Benjamin Franklin)
No time like the present! You shouldn't delay doing something if you can do it right now.

This quote is a powerful mantra for serial procrastinators. I should get it as a tattoo.
#6
French

C'est en forgeant qu'on devient forgeron.

Literally

"It is by forging that you become a blacksmith."

Equivalent

Practice makes perfect.
To really become proficient at something, you need practice and not just theory.
#7
French

À cœur vaillant rien d'impossible.

Literally

"To a valiant heart, nothing is impossible."

Equivalent

–
A brave heart can accomplish anything. With enough courage, one can do the impossible.

This quote was the motto of Jacques Cœur (1395 – 1456), silversmith for the French king Charles VII.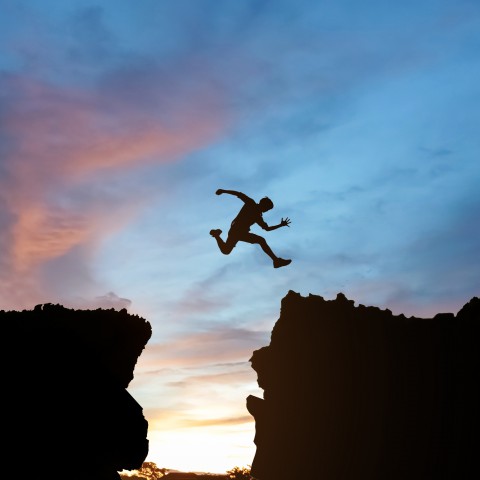 « À cœur vaillant rien d'impossible. »
3. Proverbs About Life
We could all use a little guidance now and then as we navigate this thing called life. And more often than not, we end up looking to the wisdom of our predecessors for that extra insight. Here are a few common French proverbs about life that offer just that! 
#1
French

Chat échaudé craint l'eau froide.

Literally

"A scalded cat fears cold water."

Equivalent

Once bitten, twice shy.
This is what you'd say if you were scared of doing something again because you previously had an unpleasant experience doing that thing.

Bad experiences make us cautious, and sometimes even overly cautious. Likewise, the cat that got splashed with hot water will be scared of water, whether it's hot or cold.
#2
French

On ne change pas une équipe qui gagne.

Literally

"One does not change a winning team."

Equivalent

If it ain't broken, don't fix it.
The English equivalent is pretty self-explanatory: There's no need to make any changes to something that's already working well.

Le prochain John Wick sera encore réalisé par David Leitch et Chad Stahelski. On ne change pas une équipe qui gagne !
 "The next John Wick movie will again be directed by David Leitch et Chad Stahelski. You don't change a winning team!"
#3
French

Il vaut mieux prévenir que guérir.

Literally

"It is better to prevent than to heal."

Equivalent

Better safe than sorry.
You might use this proverb when it seems wiser to be careful and protect yourself instead of taking unnecessary risks.

Je sais qu'il fait beau mais je vais prendre mon parapluie. Mieux vaut prévenir que guérir !
"I know it's sunny, but I'll take my umbrella anyway. Better safe than sorry!"
#4
French

Il n'y a pas de fumée sans feu.

Literally

"There is no smoke without fire."

Equivalent

Where there is smoke, there is fire.
If there's any sign of something being true, then it must be at least partly true.

Je ne crois pas aux théories du complot mais il n'y a pas de fumée sans feu.
 "I don't believe in conspiracy theories, but where there is smoke, there is fire."
« Il n'y a pas de fumée sans feu. »
4. Proverbs About Family & Friends
Wherever you live in the world, relationships are an essential part of everyday life. Gain some extra perspective on the topic with these French proverbs about family and friends. 
#1
French

Qui aime bien châtie bien.

Literally

"Who loves well, punishes well."

Equivalent

Spare the rod and spoil the child.
This proverb is originally translated from Latin: "Qui bene amat, bene castigat." It's sometimes attributed to classical Greek philosopher Socrates.

This is a bit different from the English equivalent. "Spare the rod and spoil the child," implies that if you don't punish a child when they do something wrong, they will never learn what's right.

In the French expression, we mean that when you love someone, you'll punish them proportionally to their wrongdoing instead of being too harsh or ignoring their fault. If you don't like someone, you're more likely to be indifferent when they do wrong—but the behavior of your loved ones matters to you.
#2
French

Qui se ressemble s'assemble.

Literally

"Those who look alike get together."

Equivalent

Birds of a feather flock together.
People with similar interests or character tend to gather and spend time with each other.

This proverb is often used pejoratively when disapproving of a shared characteristic or interest.
#3
French

Mieux vaut être seul que mal accompagné.

Equivalent

"Better to be alone than in bad company."
Identical to its English equivalent, this quote by Pierre Gringore reminds us that it's pointless to seek company at all cost. If you can only be in bad company, you should rather be alone and enjoy yourself in the comfort of your mind palace.
#4
French

Les bons comptes font les bons amis.

Literally

"Good accounts make good friends."

Equivalent

Fast pay makes fast friends.
To preserve friendship, quickly pay your debts. 

Friendship and money never combine gracefully, so as Benjamin Franklin would say: "Never keep borrowed money an hour beyond the time you promised." (Yes, I'm a Ben Franklin fan, he's so quotable!)
#5
French

Les chiens ne font pas des chats.

Literally

"Dogs don't breed cats."

Equivalent

The apple doesn't fall far from the tree.
Children usually have similar characteristics or qualities to those of their parents.

This expression can be used to highlight the parents' talents:

Elle joue déjà très bien de la guitare. Les chiens ne font pas des chats.
"She's playing guitar very well. The apple doesn't fall far from the tree."

Or it can be used pejoratively:

Il a un sale caractère. Les chiens ne font pas des chats.
"He's got a bad temper. The apple doesn't fall far from the tree."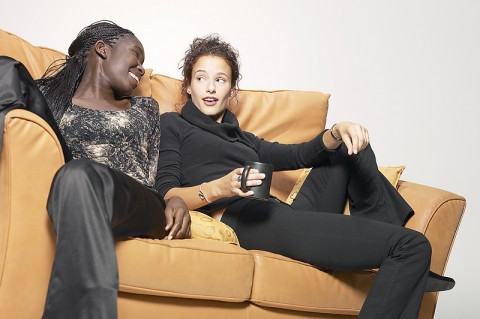 « Qui se ressemble s'assemble. »
5. A Few More Proverbs for the Road?
#1
| | |
| --- | --- |
| French | Rien ne sert de courir, il faut partir à point. |
| Literally | "It's useless to run. You should start on time." |
| Equivalent | Slow and steady wins the race. |
#2
French

Il n'y a que celui qui ne fait rien qui ne se trompe jamais.

Literally

"Only those who do nothing never fail."
This is sometimes used as a motivational quote when starting a new business or career.
#3
French

Chassez le naturel, il revient au galop.

Literally

"Chase away the natural and it returns at a gallop."

Equivalent

A leopard cannot change its spots.
If you go against your nature, it will never last.
#4
French

A cheval donné, on ne regarde pas les dents.

Literally

"When given a horse, don't look at its teeth."

Equivalent

Never look a gift horse in the mouth.
This is said to advise someone not to refuse something when it's offered.
#5
| | |
| --- | --- |
| French | Il n'est pire aveugle que celui qui ne veut pas voir. |
| Literally | "There is no worse blind man than the one who doesn't want to see." |
| Equivalent | You cannot reason with someone who's not interested in the truth. |
#6
| | |
| --- | --- |
| French | Vouloir, c'est pouvoir. |
| Literally | "To want is to be able to." |
| Equivalent | Where there is a will, there is a way. |
#7
| | |
| --- | --- |
| French | Après la pluie, le beau temps. |
| Literally | "After the rain, the good weather." |
| Equivalent | Every cloud has a silver lining. |
#8
French

On ne fait pas d'omelette sans casser d'oeufs.

Literally

"You don't make omelets without breaking some eggs."

Equivalent

No pain no gain.
You cannot achieve great things without making sacrifices.
6. Le mot de la fin
In this guide, you've learned about the most important French proverbs on a variety of topics, from wisdom to relationships. Did I forget any important proverb that you know? Or maybe you know some cool saying on a different topic? Make sure to share them with our community in the comments below!

If you enjoyed this lesson, FrenchPod101 also has tons of vocabulary lists with audio recordings, as well as free resources to boost your studies and keep your French learning fresh and entertaining!
Remember that you can also use our Premium PLUS service, MyTeacher, to get personal one-on-one coaching and have your private teacher practice with you. They'll use assignments, personalized exercises, and recorded audio samples to help you improve your French skills like never before. Happy learning on FrenchPod101.com!
About the Author: Born and bred in the rainy north of France, Cyril Danon has been bouncing off various jobs before he left everything behind to wander around the wonders of the World. Now, after quenching his wanderlust for the last few years, he's eager to share his passion for languages.
May 14, 2021
Have you ever been to Paris? Few cities around the world have aroused as much passion as the French capital. Locals often grow to hate it for its heavy traffic, pollution, and hectic lifestyle. Visitors love it for its high-class shopping and stunning architecture. Lovers from all over the world choose it as their honeymoon destination.
Whether you love it or hate it, Paris is a city like no other. Centuries of history, countless museums, enough sights and activities to keep you busy for weeks, and several contrasting districts to explore…these are but a few of the city's most charming qualities.

What's the best time to visit Paris? And what are the most amazing places to visit? You will know it all by the end of this guide.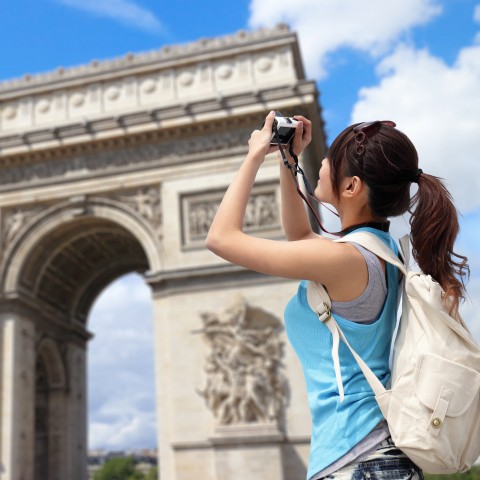 Explorer Paris ("Exploring Paris")
Table of Contents
1. Travel Tips
Paris is the capital—and by far the most populated—city of France, with more than two million people living in around 100 square kilometers. It lies at the center of the Île-de-France or Paris region, which has a population of twelve million.
Since the seventeenth century, Paris has been one of Europe's most important centers for finance, business, science, fashion, and the arts. It received around 17.5 million visitors in 2018, ranking as the sixth most visited city in the world (after Hong Kong, Bangkok, London, Macao, and Singapore).
When?
March and May are usually the best months to visit Paris. If you can't visit during the spring, autumn is another good option.
Winters are mild, but with school holidays in December and February, the streets get unpleasantly crowded. Summer, especially the month of August, can be really hot and wet. This is also when most Parisians go on vacation, and many shops and restaurants are closed for the month.
Getting Around
It's very easy to navigate the capital and you'll be offered many options, from strolling on foot (most of the center is beautiful and pedestrian-friendly) to using the Metro, buses, trains, trams, or bicycles. 
Unlike its large metropolitan area, the inner city is rather small and packed with amazing architecture and sight-seeing. If you can afford the time, it's well worth walking around.
Language
You can visit Paris without speaking French, but the more you learn before your trip, the better. It will allow you to interact with locals, read the signs and menus, and immerse yourself deeper into the culture.
Anyone who deals with tourists in Paris will speak some measure of English. As for the common folks, their level of English literacy is somewhat better than our national average (but still not great), and many Parisians are still completely helpless with English.
Sleeping
At the time of this writing, the cheapest dorm bed in Paris is 23€, and luckily, you can find several more relatively cheap hostels (23-30€) in the inner city. Double rooms can be found from 40€ if you're adventurous, but it may be better to plan for a minimum of 60€ for something reasonably clean and comfortable.
Eating
You can find cheap meals starting at around 6€ (typically kebab or Chinese menus). A hearty and typical plat du jour (dish of the day) should be around 10-15€, and 15-20€ will buy you a three-course meal. Then, for more sophisticated food, you can find restaurants accommodating the highest budgets. The finest dining in world-class restaurants, such as Le Meurice, will cost you around 500€.
Un restaurant français ("A French restaurant")
2. The Top 10 Must-See Places in Paris
Whether you're a culture vulture, a nature-lover, a shopping addict, or a patron of the arts, you'll find plenty of excitement in Paris. 
In this list, I'll give you a summary of the sights and attractions in Paris that should not be missed—not because they're highly touristic, but because I believe they all offer something unique and remarkable.
1 – Tour Eiffel
I bet you didn't see that one coming! And surprisingly, as cliché as this popular landmark in Paris may appear, the Eiffel Tower is probably the most controversial item on this list. Many Parisians find it ugly or unappealing, and more and more visitors prefer to stay away from its army of tourists, trinket-sellers, and endless waiting lines.
Did you know it was originally meant to be destroyed after serving its purpose?
Towering 300 meters over the Champs de Mars, this colossus of over 10,000 tons of iron was built specifically for the Exposition Universelle in 1889 and was supposed to be destroyed twenty years later. It was only saved by scientific experiments regarding radio transmission and telecommunications.
100 years later, the tower is still standing. It has become the stage for numerous international events, quickly rising to the top of the list of the most-visited monuments in the world.
I keep reading that you can get equally striking sights from the Montparnasse Tower, but would you rather see them from the top of a skyscraper or from this unique four-legged iron monster?

At night, it has to be seen to be believed. Lit up from head to feet, it brightens the city skyline as it gets illuminated with a ten-minute light show every hour, from dusk until one a.m.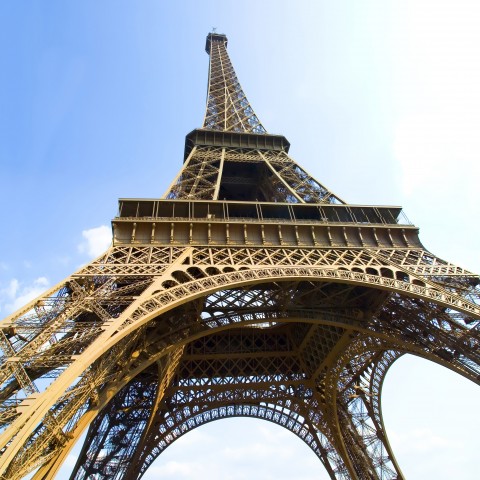 La Tour Eiffel
2 – Notre-Dame & Saint Michel
Nested at the heart of Paris, on a small islet called Île de la Cité ("Island of the City"), the cathedral of Notre-Dame de Paris (Literally: "Our Lady of Paris") is the most iconic and touristic monument in the whole city. Yes, it gets almost twice as many visitors as the Eiffel Tower!

But then, on April 15, 2019, a ferocious accidental fire raged for around fifteen hours despite the sustained efforts of thousands of firemen. By the time it was extinguished, the spire had collapsed and most of the roof had been destroyed. Luckily, the outside of the structure remained largely intact and a lot of damage was prevented by its stone vaulted ceiling which contained the roof as it collapsed.
The restoration of the cathedral started almost immediately; one year later, the forecourt of Notre-Dame was reopened. It will take at least four more years to bring it back to its former glory, but it's still worth seeing it from the outside!
Despite its fame, I've personally never been that impressed with Notre-Dame. It looks just like many other French Gothic cathedrals in smaller cities such as Reims, Amiens, Chartres, and Anvers.
However, visiting Notre-Dame, you're right at the center of the most beautiful Parisian districts: 
North of Île de la Cité, you can reach the 4ème Arrondissement, one of the most iconic and sight-filled districts. You're only one bridge away from another islet called Île Saint Louis, and just south of Notre-Dame, you can stroll through the Saint Michel neighborhood, which features countless restaurants, bookshops, and parks.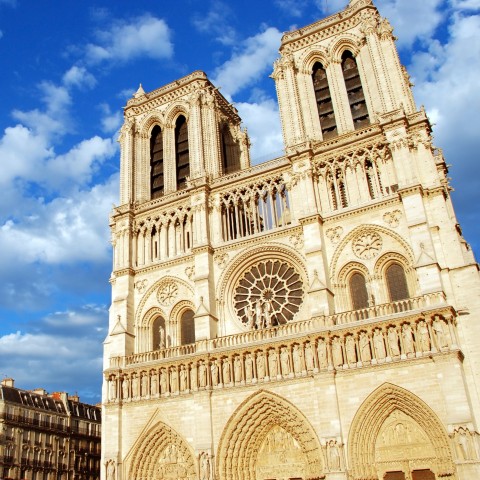 Notre-Dame de Paris
3 – Musée du Louvre
The Louvre is the world's most popular museum, greeting ten million visitors every year. It's home to more than 500,000 pieces of eclectic art, though only 35,000 are available to the public (for some mysterious reason).
Should you visit the Louvre? If you just want to see the Mona Lisa, please don't and just buy a postcard. This is the single most-visited painting in the museum, and you won't see much of her enigmatic smile while being ripped to shreds in a forest of selfie sticks.

Of course, there are plenty of other museums in Paris: Musée d'Orsay, Musée de l'Orangerie, Musée Rodin, Centre Pompidou. You could spend a good month just visiting them all. 
But obviously, the Louvre is special—not only for its extensive collection, but also for the monument and its surroundings. The Pyramide du Louvre, a large glass pyramid located in the main courtyard of the Louvre Palace, is a prime example.
Le Musée du Louvre
4 – Jardin du Luxembourg
Located next to the Latin district of Paris, the Luxembourg Garden was created in 1612 at the request of Queen Marie de Médicis, to go along the new residence she was having built: the Luxembourg Palace. 
Spread over 25 hectares of green elegance and floral magnificence, it's split into two parts with different styles: English and French, separated by a geometric forest and a large pond. There is also an orchard, an apiary, a rose garden, a stunning collection of orchids, more than 100 statues, an enormous fountain, the Orangerie, and of course, the palace itself.
The gardens are a very popular spot for locals and it can get a little crowded. There, you can play chess, bridge, or tennis, stroll through the alleys, or sit next to the pond. Even though it's right in the middle of the city, it has a pretty relaxed atmosphere.
5 – Montmartre
No matter how touristic it is, you can't leave Paris without visiting Montmartre, the art district of Paris.
Historically, it's renowned for attracting painters, writers, musicians, and comedians. And to this day, it's full of eccentric and interesting people, colorful cafés, art galleries, and way too many souvenir shops.
At the heart of this charming district lies the Butte Montmartre, a small hill at the top of which stands the Sacré-Coeur ("Holy Heart") Basilica. Take the cheap funicular or climb the 220 steps to reach the top, and you'll be rewarded with a beautiful view of Paris' rooftops.
But there's more! From the top of Butte Montmartre, you're only a short walk away from the world-famous Moulin Rouge. (If you haven't watched the dazzling movie from Baz Luhrmann, it's never too late.)
If you plan to visit Paris by night, are looking for the most iconic Parisian nightlife experience, and are ready to spend big, the Moulin Rouge is exactly what you need. This legendary cabaret has been running every night since 1889, with sparkling burlesque dancers adorned in rhinestones and feathers. (Due to the somewhat erotic nature of the show, it's probably not the best place to take your kids, though.)
Le Moulin Rouge
(Photo by Keven Law – CC)
6 – Cimetière du Père Lachaise
Depending on where you're from, it might sound weird or even disrespectful to visit a cemetery, but this is not the case in France—especially not in the large historical cemeteries in Paris, such as Père Lachaise, Montmartre, and Montparnasse.
Our cemeteries are an integral part of the city's cultural heritage, visited by people from all around the world who want to see the tombs of the many celebrities buried there (such as Jim Morrison, Oscar Wilde, and Edith Piaf). It also makes for an unusual and picturesque walk in a peaceful atmosphere.
Personally, what I love about Père Lachaise is the surreal and eclectic architectures of the graves and mausoleums. All funeral styles are represented and the Gothic crypts are especially impressive.
Le cimetière du Père Lachaise
7 – Le Marais
If you want to take in a deep breath of typical Parisian style, head to one of the city's oldest and coolest districts. Its typical cobblestone streets and small courtyards will make you feel like you're strolling in Medieval Paris.
Le Marais (Literally "The Swamp") was originally built on a swamp, but it's hard to tell when strolling across its fancy streets and high-end fashion boutiques. It has numerous museums and art galleries, vintage shops, antiques, and nightlife ventures.
The district has become home to various communities over the last few centuries. Traditionally a Jewish quarter, it later became popular with Chinese emigrants after World War I. Nowadays, it's famous for its thriving LGBT+ community. 
There are lots of small restaurants to choose from and if you're not in a rush, you can trust the length of the line to locate the best places. For a taste of what Le Marais has to offer, you can't go wrong with Florence Kahn or L'As du Falafel.
"Pavillon de la Reine", in Le Marais
(Photo by Alex59300 – CC)
8 – Catacombes de Paris 
If the cemetery didn't scare you away, how about we take it up a notch and dive into one of the most macabre and unsettling historical attractions Paris has to offer?
The Catacombs of Paris is an underground network beneath the streets of the city, with an ossuary hosting the remains of more than six million people. It was created in the eighteenth century to compensate for the city's overflowing cemeteries.
There are a lot of creepy stories surrounding the catacombs, as you can probably imagine. But this hasn't kept half a million visitors from heading down the dark tunnels each year since 1874, when it became open to public visitation. Upon entry, they're greeted with the sign: "Stop. This is the empire of death."
No one is certain of how large the catacombs really are, but they're estimated to be around 320 kilometers. They're largely inaccessible to date, but clandestine groups of catacomb enthusiasts (known as "Cataphiles") frequently roam this underworld in search of thrills and uncharted sections.
Due to the illegal nature of these activities, it's difficult to get in touch with any of these urban explorers. Unless you're intimate with a member, you'll have to opt for the organized tour. Just make sure you're not claustrophobic!
Les Catacombes de Paris
(Photo by Vlastimil Juricek – CC)
9 – Parc de Sceaux
There are many parks in Paris, and some of them are really beautiful, like the Parc des Buttes Chaumont or the Parc Monceau. But as soon as the sun comes up, they get awfully crowded with locals and tourists alike. 
Le Parc de Sceaux is kind of a secret gem and attracts much more of a local crowd than the more central gardens do.
The Domaine de Sceaux is a vast expanse of grass, colorful trees, flowers, and ponds, spread around a typical Renaissance castle. It's much bigger (and quieter) than other parks in Paris, but just as elegant and beautiful.
Le Domaine de Sceaux
10 – La Seine
The Seine River splits Paris in half, and unless you're blindly bus-hopping from one attraction to the next, you're likely to spend a lot of your time strolling along its paved shores.
First of all, this is arguably the most romantic spot in Paris. Especially near Notre-Dame, strolling on its peaceful piers with the city lights reflecting on the canal is pure magic. (The water doesn't look dirty at night!)
It's so romantic indeed that you might have heard of the famous love-locks bridge, where lovers from all around the world attach a padlock as a symbolic way to "Lock their love forever."
The trend started around 2008, and seven years later, the Pont des Arts ("Bridge of the Arts") started to crumble under the weight of 700,000 locks for an estimated total of 93 metric tons of romance! At first, the city didn't seem too keen on listening to grumpy locals calling it vandalism, but when it started threatening the bridge's integrity, they had to replace the railing entirely.

On a less romantic note, did you know that Parisians used to drink the Seine's water, use it to wash their laundry, and even swim in it? However, scientific analysis of the water in the 20s revealed that the water was highly toxic, polluted, and absolutely unsuitable for any water activity.
But none of this kept us from creating Paris Plage ("Paris Beach"). This oddity appeared in 2002, turning part of the banks of the Seine into a beach, with tons of sand as well as swimming pools, beach volley nets, ice cream stalls, tanning chairs—you name it! 
Initially meant for those who couldn't take summer vacations on the coast, Paris Plage is now a popular spot for everyone. Nobody's crazy enough to actually swim in the Seine, though.
La Seine
3. Places You Might Want to Skip
After going through our Top 10, you may be surprised that some of the most iconic locations are missing. This is not an oversight, but rather a deliberate omission.
L'Arc de Triomphe

This enormous piece of stone stands at the center of the Place de l'Étoile ("Star Plaza"). The monument itself is not especially pretty and it's not tall enough to offer an interesting view of the city. More importantly, it's right in the middle of one of the world's busiest and noisiest roundabouts.
Les Champs-Élysées

I never got the appeal of our "Elysian Fields." This is nothing more than a glorified shopping street with thousands of tourists waiting in endless lines in front of luxury fashion shops. It's also notorious for attracting pickpockets and scammers.

Don't expect to do any regular shopping here, as you're gonna need very deep pockets to afford a bag from Louis Vuitton or the most expensive Macarons you've ever seen.
Le Château de Versailles

This is another timeless classic you could easily avoid. The Versailles Castle is quite remote and will likely take you a full day. As a result, I would only recommend it if you're spending a week or more in the capital.

You can find better exhibitions in the central museums and equally interesting gardens in Jardin du Luxembourg or Jardin des Tuileries.
4. Survival French for Travelers
Even if you don't speak much French, it's generally recommended to greet people in French, as it will make for a much more positive first impression. Don't worry, you can switch back to English as soon as you've greeted them. That said, they will appreciate you going the extra mile and learning a few more survival phrases. 
Bonjour !
Bonsoir !
"Hello!" / "Good morning!"
"Good evening!"
Au revoir.
"Goodbye."
Merci (beaucoup).
"Thank you (very much)."
Non merci.
"No, thank you."
S'il vous plaît.
"Please."
Excusez-moi. 
"Excuse me."
(Je suis) désolé(e).
"(I am) sorry."
Où sont les toilettes ?
"Where are the toilets?"
→ For more useful travel phrases or pronunciation practice, please have a look at the following resources on FrenchPod101.com:
| | |
| --- | --- |
| Pouvez-vous répéter (s'il vous plaît) ? | "Can you repeat (please)?" |
| Un peu plus lentement, s'il vous plaît. | "A bit slower, please." |
| Je suis désolé(e), je ne comprends pas. | "I'm sorry, I don't understand." |
| Vous parlez anglais ? | "Do you speak English?" |
→ These are just some basics to help you get by. For more resources on this topic, be sure to check out our survival guide on French Travel Phrases.
Le Mot De La Fin
In this guide, you've learned about the most amazing places to visit in Paris, from the obvious Tour Eiffel to some lesser-known gems like the Domaine de Sceaux or Père Lachaise. Did it get you excited about visiting the City of Lights? Or maybe you've been there already but missed some of its treasures?
Did we forget any important places you've seen or heard about? Don't hesitate to share it with your fellow students in the comments!
Make sure to explore FrenchPod101.com, as we have plenty of free resources to help you practice your grammar and learn new words before you visit France. Our vocabulary lists are also a great way to review words and learn their pronunciation.
Remember that you can also use our Premium PLUS service, MyTeacher, to get personal one-on-one coaching with your own private teacher who will help you practice new travel phrases and more. In addition to providing you with assignments, personalized exercises, and recorded audio samples, your teacher will review your work and help improve your pronunciation.
Happy learning on FrenchPod101!
About the Author: Born and bred in the rainy north of France, Cyril Danon has been bouncing off various jobs before he left everything behind to wander around the wonders of the World. Now, after quenching his wanderlust for the last few years, he's eager to share his passion for languages.
May 13, 2021
Did you know that nearly 30% of English words might be of French origin? This is still a hot topic among linguists, but it speaks volumes about how languages influence each other, especially now that globalization is going full throttle.
Conversely, the English language has long been influential in the evolution of French, but with the rise of the internet, new technologies, and the uncontested power of Hollywood, English terms and expressions have been literally pouring into the French language in recent years. 
In this article, you'll learn everything about English words used in French and this weird two-headed language called Frenglish. We'll cover it all, from loanwords to the excesses of business Frenglish, mysterious syntax mutations, and how the French are reacting to all this.
At work, after work, Frenglish is everywhere!
Table of Contents
1. Frenglish or Loanwords?
Before going any further, what are loanwords and how are they different from Frenglish?
1 – Le Franglais
Le Franglais ("Frenglish") is a portmanteau word. It's the combination of the words Français ("French") and Anglais ("English"), and it describes the excessive mixing of French and English by French speakers. 
It is a derogatory word used to denounce the overuse of English words in the French language, though it has lost some of its negative connotations over time. At best, you could use it to show self-awareness of your linguistic shortcomings any time you realize you're using too many English words in your speech.
2 – English Loanwords
A loanword is a word taken from one language and incorporated into another without translation. These are not just look-alikes from a common etymology, but actual copy-pastes of foreign words without translation. 
For example: 
Un sandwich ("A sandwich")
Le suspense ("Suspense")
Let's dive deeper into English loanwords and see why they're going to be your best friends!
2. Legit Loanwords
As you learn French, you're gonna love English loanwords! Because they're borrowed from English with little to no changes, they are easy for English speakers to understand. And there are so many of them in French that they represent a wealth of free vocabulary you don't even have to study!
While English loanwords in French are ubiquitous, they're especially common in certain fields, such as technology and entertainment. Here are some examples:
1 – About Food
| | |
| --- | --- |
| Un sandwich | Un sandwich au thon, s'il vous plaît. ("A tuna sandwich, please.") |
| | |
| --- | --- |
| Un burger | Un burger au bleu. ("A blue-cheese burger.") |
Un steak
J'aime mon steak saignant. ("I like my steak rare.")
You might come across the word bifsteck, the francization of "beefsteak," and…what can I say? It looks pretty gross to me, but to be fair, it's outdated and barely used anymore by the younger generations.
| | |
| --- | --- |
| Un cocktail | Quel est ton cocktail préféré ? ("What is your favorite cocktail?") |
| | |
| --- | --- |
| Un cookie | Un cookie au chocolat noir. ("A dark chocolate cookie.") |
Un chewing-gum
J'ai toujours des chewing-gums dans mon sac. ("I always have chewing gum in my bag.")
If you ever come across the expression gomme à mâcher, know that it's the French version of "chewing gum." But it's so old-fashioned that even my grandmother doesn't remember about it.
| | |
| --- | --- |
| Happy hour | À quelle heure est l'happy hour ? ("At what time is happy hour?") |
→ If this section made you hungry, why not indulge for a minute and stop by our vocabulary list on French Food? Spoiler alert: It features the amazing chestnut purée.
2 – About Technology
Un mail, Un email
Je t'ai envoyé un mail la semaine dernière. ("I sent you an email last week.")
The word un mail can be a bit tricky because we only use it for "email." Paper mail is un courrier.

Also, the strongest advocates for French purity eventually came up with a French word for "email," hoping to replace un mail. And so, the questionable un courriel was created. Nowadays, except on some official documents, nobody ever uses it.
| | |
| --- | --- |
| Un bug | Il y a un bug dans la base de données. ("There is a bug in the database.") |
internet
J'utilise internet tous les jours. ("I'm using the internet every day.")
In writing, you might also read l'internet, but it sounds a bit silly and outdated. If you come across les internet, just take a deep breath and pretend you didn't hear that. (It sounds old and snobbish.)
| | |
| --- | --- |
| Un smartphone | J'ai vendu mon smartphone. ("I have sold my smartphone.") |
Un chat
Je vais lui poser la question sur le chat. ("I will ask him on the chat.")
This has the same spelling as un chat ("a cat"), but we pronounce it like the English word "chat."
→ You'll find a few more of these loanwords on our free list of Technology vocabulary, with recordings for you to practice their pronunciation.
3 – About Movies
| | |
| --- | --- |
| Un trailer | Tu as vu le trailer du dernier James Bond ? ("Have you seen the latest James Bond trailer?") |
| | |
| --- | --- |
| Un teaser | Le teaser de ce film est incroyable ! ("The teaser for this movie is incredible!") |
| | |
| --- | --- |
| Un spoiler | C'est difficile d'éviter les spoilers sur internet. ("It's difficult to avoid spoilers on the internet.") |
| | |
| --- | --- |
| Un cliffhanger | Il y a un cliffhanger de fou à la fin de cet épisode ! ("There is a crazy cliffhanger at the end of this episode!") |
4 – More Loanwords
| | |
| --- | --- |
| Un t-shirt | J'adore ton nouveau t-shirt. ("I love your new t-shirt.") |
| | |
| --- | --- |
| Le week-end | Passe un bon week-end ! ("Have a good weekend!") |
| | |
| --- | --- |
| Cool | Ce jeu est tellement cool ! ("This game is so cool!") |
| | |
| --- | --- |
| Un parking | Il y a un parking à côté du magasin. ("There is a parking lot next to the shop.") |
| | |
| --- | --- |
| Du shopping | Je vais faire du shopping demain. ("I'm going shopping tomorrow.") |
| | |
| --- | --- |
| Un challenge | C'est un vrai challenge de se garer ici. ("It's a real challenge to park here.") |
Faire du shopping ("To go shopping")
3. Fake Loanwords
Although loanwords are an incredible source of easy vocabulary, you should be aware that we've laid some traps along the way. A few English words have been improperly incorporated into the French language and have a different meaning.
They're quite treacherous but not numerous, so all you need to do is keep them in a corner of your mind so you don't get tricked.
Here are the most common 'fake' English loanwords in French:
| | |
| --- | --- |
| Le zapping | "Channel hopping" or "Channel surfing." This refers to when you quickly browse TV channels. |
| | |
| --- | --- |
| Des baskets | "Sneakers," "Trainers," or more generally, "Sport shoes" |