Why should people learn French, and more importantly, why should you? That's a fair question to ask before committing your precious time and brainpower to the task.
If I were to learn another language, I'd personally pick something simple enough, widely spread across the globe, with a thriving culture and lots of business opportunities. Damn, I wish I could learn French again!
Whether you're a travel lover, a people person, or a culture vulture, you'll find many benefits in learning a new language—and French might be just the one for you.
In this article, we'll go over the 10 main reasons why you should learn French for leisure (travel, friendship, entertainment) or business (quality studies, work opportunities). We'll also discuss why it's easier to learn than you might think.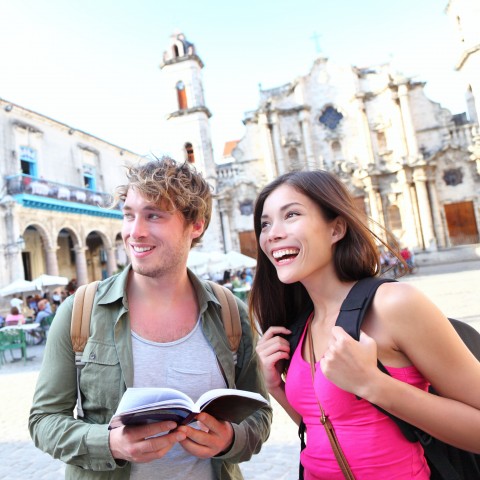 Travel opportunities are a good reason to learn a language.
Table of Contents
1 – It's the perfect language for travel lovers.
A- French is everywhere…
French is a widespread language with native speakers all over the world. 
With close to 300 million speakers in 27 different countries, it's also the only language to be spoken across all 5 continents. Belgium, Switzerland, Quebec, a big chunk of Africa, French Guiana, and lots of heavenly tropical islands, you name it!
Learning French will open up many places where you'll be able to travel with peace of mind, knowing you've overcome the language barrier. It's also the second most widely learned language in the world, making it a big asset for travelers, wherever they go!
B- Especially in France!
So many countries, but nothing beats good ol' France!
This is such a beautiful country with a wide variety of landscapes, from lush forests to snow-capped mountains and glaciers, dramatic cliff sides, sleeping volcanoes, and don't even get me started on the Mediterranean coast.
And it's not just the natural wonders one has to look forward to: Cities and towns feature a unique blend of architectural styles, thanks to centuries of history. There's a reason why France is one of the world's most popular travel destinations, with over 80 million visitors per year.
Oh, and one more thing…
You might think that in this day and age, you'll always find someone who speaks English, right? That's not necessarily true in France, as we're known for lagging behind most of our European neighbors. 
Are you sure you want to rely on the waiter's dubious English when ordering delicious French food in a restaurant?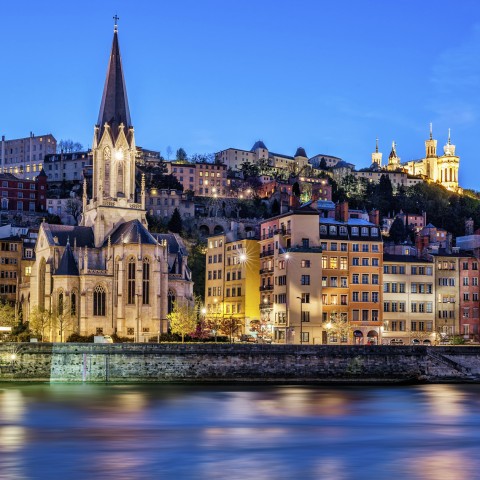 French architecture rarely disappoints.
2 – You'll be able to make real connections with French people.
When you learn a language, even if you're just focusing on practical topics such as grammar and vocabulary, you'll get to learn more about the culture and way of thinking of its native speakers.

Without getting too philosophical, let's just say that our thoughts are shaped by our language, and vice-versa. As a result, simply learning the language is an open window to the French culture and way of life!

More prosaically, learning French will help you make genuine connections with native French speakers, whether you meet them in your country or as you travel and spend time with the locals.
You'll get a better understanding of how they think, what drives them, and what all the fuss over this Art de Vivre ("Art of Living") is about. Okay, I can answer that one for you: Our boundless love for tasty food and good wine. Sounds interesting, right?
3 – You'll start to enjoy the French culture in its original version.
One of the best reasons to study French—especially if you have a deep appreciation of world cultures and world-class entertainment—is that France has a whole lot of both. 
A- Timeless classics
Sure, France is a rather small country. It's not the biggest superpower in terms of its economy or military. But when it comes to soft power and international aura, it's a cultural superpower with outstanding contributions to art, fashion, cuisine, and entertainment.
France is the birthplace of some of the most fascinating and influential artists of the last few centuries.
Just to name a few, from classic French literature:
And in the visual arts, we have eminent painters including:
B- Cinema, music, comics
What better way to learn a language than to immerse yourself in its entertainment industry? By watching movies, reading comics, or listening to music in French, you'll combine study with pleasure and make progress faster! 
And you're in luck because the French entertainment industries are thriving. There are lots of new interesting French movies and series released every single year, French music record companies are booming, and 2020 was proclaimed "The Year of Comics" by our local ministry of culture.
You could start watching movies with original French audio and English subtitles. Then, as you get more and more comfortable with the language, you could turn the subtitles to French, and later turn them off entirely.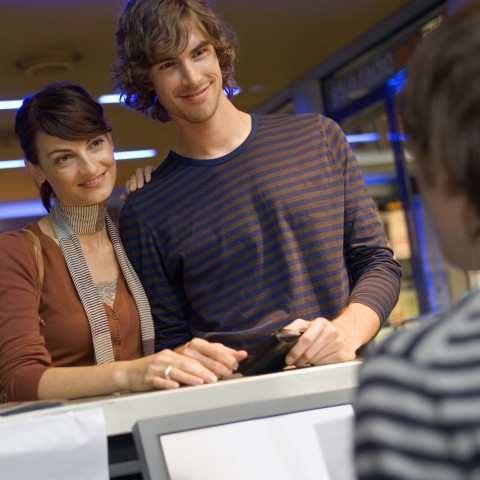 Why not take your French date for a movie night?
4 – Learning French will give you a deeper understanding of English.
Did you know that around 30% of English words come directly from French?
British and French histories have been intertwined for a good thousand years, and it shows. You wouldn't believe how many common English words are actually derived from French. They're sometimes slightly modified or just kept identical but with a different pronunciation.
Bureau – from the French Un bureau ("Desk" / "Office")
Salad – Une salade
Utensil – Un ustensile
Soup – Une soupe
And there are so many more: 
Restaurant (Un restaurant)
Television (Une télévision)
Hotel (Un hôtel)
Debris (Un débris)
Gallery (Une galerie)
I couldn't possibly list all of them.
Many of these words are used in specialized or technical fields. For example:
Military: Army (Une armée), Cavalry (Une cavalerie), Soldier (Un soldat), Captain (Un capitaine)
Art: Music (Une musique), Dance (Une danse), Theatre (Un théâtre), Rhythm (Un rythme)
Cuisine: Confit (Un confit), Mustard (Une moutarde), Sauce (Une sauce), Sausage (Une saucisse)
As a result, learning French will also benefit your English, as you'll learn new words as well as the etymology of words you already know. It will help you expand your vocabulary and better understand borrowed French words.
5 – France is known for its cheap (yet high-quality) studies.
Speaking French opens up lots of opportunities for education, as France has some of the best renowned universities (La Sorbonne, Pierre Marie Curie) as well as first-class Grandes écoles (HEC, Polytechnique, ESSEC).
Grandes écoles (literally: "big schools") is what we call our most prestigious schools. You know, the ones with highly selective admissions, top-notch teachers, and big fancy degrees.
French universities are internationally known for the outstanding quality of their education—but did you know they're also cheap as dirt? Especially compared to the price of attending big universities in the U.S., it's much cheaper to get your education in France!
Not only do these schools accept foreign applicants, but students who are fluent enough in French can also apply for a French government grant on the course of their choice in France. In a nutshell, you can have the French government pay for your studies.
Sure, this isn't for everyone, as it will take an advanced proficiency level to be comfortable in a French classroom (especially in classes on complicated or technical topics). But if you can manage, a French degree will open lots of doors in France and beyond.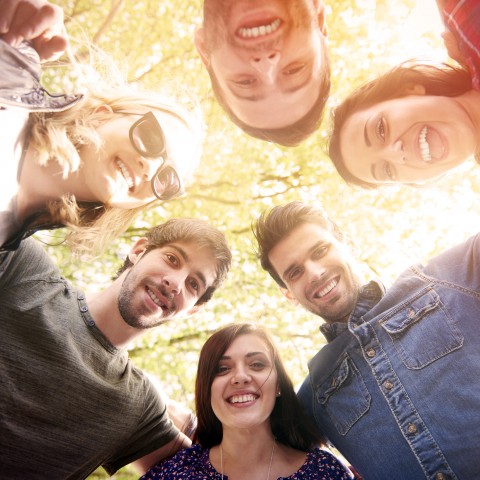 Studies are the best opportunity to make friends AND build your network.
6 – Once you've worked in France, there's no going back.
As if you needed any more reasons to learn French, get this: Working in France comes with a list of benefits that might just make it the most employee-friendly country in the world. This is all thanks to a set of labor laws aimed at protecting employees over the company and not the other way around.
Double health insurance
By default, as soon as you're legally living in France, you can enroll for our free healthcare system and have most of your medical bills paid for. Many employers also offer a complimentary insurance system to make sure you're not paying anything for your health.



Paid holidays
You can expect: A minimum of 5 weeks of paid vacation per year + 11 days of national holidays and some special time off for major life events (wedding, child, etc.).



Job security
French workers are generally well-protected by labor laws. Permanent contracts offer job security and make it difficult for a company to fire you without good reasons. Short-term contracts come with a nice financial bonus at the end of the period.



Unemployment allowance
If you lose your job or reach the end of your contract, you can benefit from the Allocation chômage and get a fair portion of your former salary for about a year. It's more than enough time to find a new job.
Vouchers, coupons, discounts
Your employer will pay at least 50% of your public transport card, provide you with restaurant vouchers, and offer some other perks and discounts.
On top of all that, France is a fairly developed country and salaries are not half bad. Sure, you have to consider the cost of living and rather high taxes, but all in all, even a small salary should allow you to live comfortably.
7 – French is one of the top languages for business.
Learning French to work in France is one thing, but it doesn't end there. Today, French stands on the same podium as English and Chinese, as one of the three most important languages for conducting business.
The economical and cultural influence of France at an international level makes French one of the most wanted languages in the business world.
Based on numbers by Bloomberg Rankings, French is the second most useful language for business. This means that if you're looking for a job, speaking both English and French is a major asset on your resume that will help you stand out.
But why, exactly? First of all, French is widely used in international relations. It's an official language of major international groups such as the Red Cross, North Atlantic Treaty Organization (NATO), the United Nations (U.N.), Olympics, UNESCO, and of course the European Union (E.U.).
What's more, learning French will provide you with opportunities to work for companies that either have ties with French groups or use French as their working language. These companies operate in a number of sectors, but most notably in luxury, cosmetics, aeronautics, and automotive.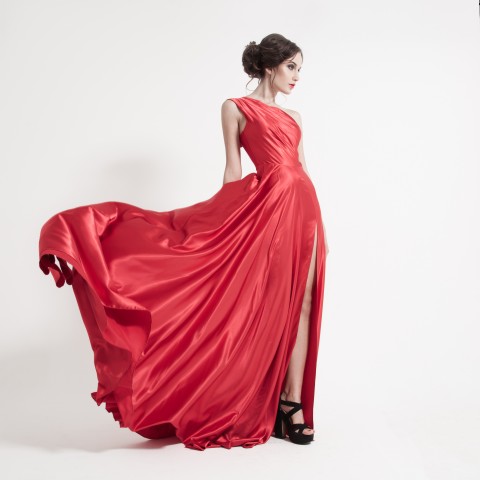 French holds its status as the World Capital of Fashion and Luxury.
8 – French is growing faster than you think.
What is the language of the future that we'll all be speaking by the end of the century? Sure, Mandarin is the new boss in town and many studies place it at the top of the podium. But these studies don't take into consideration how excruciatingly hard it is for Western students to learn. That's definitely going to limit its spread in the long-run. 
On the other hand, French is currently growing so fast that studies indicate it could be a major player in years to come. Forbes reports that Natixis Investment Bank went as far as claiming that French will be the most spoken language in the world by 2050.
To be fair, this study seems rather questionable and it does go a little overboard with speculations, but it got a fair amount of attention. In similar projections, France usually sits comfortably somewhere in the top 5.
In any case, French is growing fast, especially in Africa. Now, when you consider that Africa is one of the fastest-growing regions in the world, with the potential to become a major economic powerhouse, it really makes you think.
9 – Get ready to show off at dinner parties. 
But enough with business and world economics. Let's cut to the real reason why YOU should start learning French today!
A- To be a better lover
First of all, it's common knowledge that learning French will make you a better kisser. Mastering the weird French [R] and [U] will be just the tongue workout you need to shine at French kissing, and practicing nasal vowels will improve your breathing by 72%. Numbers don't lie.
Besides, French is known to be "the language of love." It makes it the perfect language to serenade your special someone in. You can use sweet French words like, Parfait au chocolat ("You are so beautiful") or Voulez-vous coucher avec moi ce soir ? ("Can I buy you a drink?"). You might wanna double-check that, just in case.
B- To impress your friends
In addition to being the official language of love, French is also called the "language of reasoning and debate" and "the language of enlightenment." (I'm not even making that up, it's all over the internet.)
Impress your friends with your linguistic knowledge by randomly dropping fancy words and existential quotes from French philosophers in their original version. If they're not speechless already, you could imply that you started learning yesterday, but you're a natural.
Another fail-proof technique to leave your audience in awe is to take them to a French restaurant (make sure you split the bill, though; elegance doesn't come cheap) and start dropping sophisticated French terms to the waiter.
If you're not comfortable enough with your current level, you could just read through the wine menu with an air of thoughtful confidence. And for once, you'll have good reasons to say, "Pardon my French."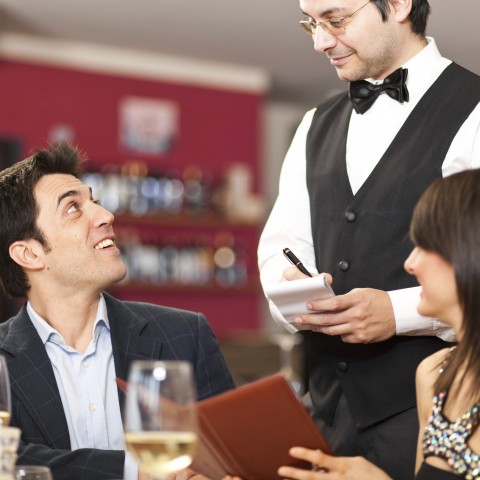 Une glace au Chardonnay, s'il vous plaît. ("A Chardonnay ice cream, please.")
10 – French is pretty easy to learn.
For someone who already knows English (that's you, if you're reading this), French is generally considered a fairly easy language to pick up. 
Both the FSI (Foreign Service Institute) and ELC (European Language Center) rank French as one of the most accessible languages for English speakers. Why is that? Let's break it down quickly:
French is a Romance language
As such, it has a LOT in common with other Romance languages such as Spanish, Romanian, and Portuguese. Although English is not part of this exact family, it shares many aspects of it in terms of syntax and vocabulary, which will give you a huge head-start.



You already know a ton of French words
As mentioned earlier, nearly 30% of English words are of French origin. This is essentially free vocabulary that you don't have to study.



Structures are oddly similar
Many grammar structures are so similar that you can often translate French to English word for word. No need to twist your brain in awkward positions. For example: Elle a un beau jardin. ("She has a beautiful garden.")



Internet and mobile apps to the rescue
Living in the 21st century is a beautiful thing for language learners. Never before has it been easier to pick up and master a language.

What used to take years can be achieved within mere months, with a level of ease and flexibility our parents couldn't even imagine when they were grinding their way through foreign languages, old-school-style.
If you'd like to know more about why learning French is easier than you might think, make sure to visit our full article titled How Hard is it to Learn French?
11 – Le mot de la fin
In this guide, you've learned the main reasons why you should learn French, from the vast number of French-speaking countries to the culture- and business-related opportunities. If you want to work, study, or move to France, learning this language is an obvious choice—but showing off is also a fair reason, isn't it? Why do you want to learn French? 
Learning a new language used to be a painful grind, but nowadays, it's a much faster and more streamlined experience when done right.
With our integrated approach, a metric ton of free content, and quality premium coaching, FrenchPod101 is just what you need to get started. Make sure to explore all of our free resources to get a feel of what we have to offer!
Remember that you can also use our Premium PLUS service, MyTeacher, to get personal one-on-one coaching with a private teacher who can help you practice wherever you are. Your teacher will be able to offer you personalized assignments and exercises, record audio samples to help you practice your pronunciation, and help you dive deeper into the French culture and language. 
Happy learning on FrenchPod101.com!
About the Author: Born and bred in the rainy north of France, Cyril Danon was bouncing off various jobs before he left everything behind to wander around the wonders of the World. Now, after quenching his wanderlust for the last few years, he's eager to share his passion for languages.