Have you ever been to Paris? Few cities around the world have aroused as much passion as the French capital. Locals often grow to hate it for its heavy traffic, pollution, and hectic lifestyle. Visitors love it for its high-class shopping and stunning architecture. Lovers from all over the world choose it as their honeymoon destination.
Whether you love it or hate it, Paris is a city like no other. Centuries of history, countless museums, enough sights and activities to keep you busy for weeks, and several contrasting districts to explore…these are but a few of the city's most charming qualities.

What's the best time to visit Paris? And what are the most amazing places to visit? You will know it all by the end of this guide.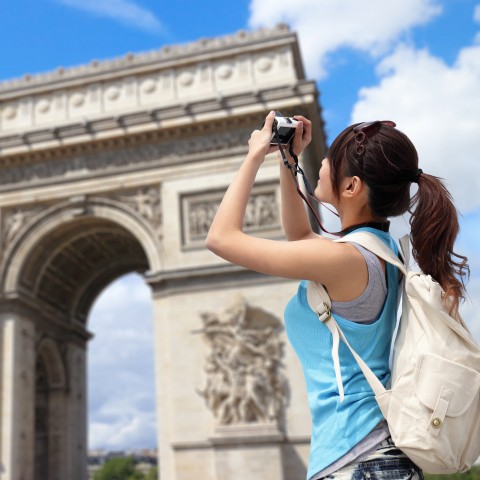 Explorer Paris ("Exploring Paris")
Table of Contents
1. Travel Tips
Paris is the capital—and by far the most populated—city of France, with more than two million people living in around 100 square kilometers. It lies at the center of the Île-de-France or Paris region, which has a population of twelve million.
Since the seventeenth century, Paris has been one of Europe's most important centers for finance, business, science, fashion, and the arts. It received around 17.5 million visitors in 2018, ranking as the sixth most visited city in the world (after Hong Kong, Bangkok, London, Macao, and Singapore).
When?
March and May are usually the best months to visit Paris. If you can't visit during the spring, autumn is another good option.
Winters are mild, but with school holidays in December and February, the streets get unpleasantly crowded. Summer, especially the month of August, can be really hot and wet. This is also when most Parisians go on vacation, and many shops and restaurants are closed for the month.
Getting Around
It's very easy to navigate the capital and you'll be offered many options, from strolling on foot (most of the center is beautiful and pedestrian-friendly) to using the Metro, buses, trains, trams, or bicycles. 
Unlike its large metropolitan area, the inner city is rather small and packed with amazing architecture and sight-seeing. If you can afford the time, it's well worth walking around.
Language
You can visit Paris without speaking French, but the more you learn before your trip, the better. It will allow you to interact with locals, read the signs and menus, and immerse yourself deeper into the culture.
Anyone who deals with tourists in Paris will speak some measure of English. As for the common folks, their level of English literacy is somewhat better than our national average (but still not great), and many Parisians are still completely helpless with English.
Sleeping
At the time of this writing, the cheapest dorm bed in Paris is 23€, and luckily, you can find several more relatively cheap hostels (23-30€) in the inner city. Double rooms can be found from 40€ if you're adventurous, but it may be better to plan for a minimum of 60€ for something reasonably clean and comfortable.
Eating
You can find cheap meals starting at around 6€ (typically kebab or Chinese menus). A hearty and typical plat du jour (dish of the day) should be around 10-15€, and 15-20€ will buy you a three-course meal. Then, for more sophisticated food, you can find restaurants accommodating the highest budgets. The finest dining in world-class restaurants, such as Le Meurice, will cost you around 500€.
Un restaurant français ("A French restaurant")
2. The Top 10 Must-See Places in Paris
Whether you're a culture vulture, a nature-lover, a shopping addict, or a patron of the arts, you'll find plenty of excitement in Paris. 
In this list, I'll give you a summary of the sights and attractions in Paris that should not be missed—not because they're highly touristic, but because I believe they all offer something unique and remarkable.
1 – Tour Eiffel
I bet you didn't see that one coming! And surprisingly, as cliché as this popular landmark in Paris may appear, the Eiffel Tower is probably the most controversial item on this list. Many Parisians find it ugly or unappealing, and more and more visitors prefer to stay away from its army of tourists, trinket-sellers, and endless waiting lines.
Did you know it was originally meant to be destroyed after serving its purpose?
Towering 300 meters over the Champs de Mars, this colossus of over 10,000 tons of iron was built specifically for the Exposition Universelle in 1889 and was supposed to be destroyed twenty years later. It was only saved by scientific experiments regarding radio transmission and telecommunications.
100 years later, the tower is still standing. It has become the stage for numerous international events, quickly rising to the top of the list of the most-visited monuments in the world.
I keep reading that you can get equally striking sights from the Montparnasse Tower, but would you rather see them from the top of a skyscraper or from this unique four-legged iron monster?

At night, it has to be seen to be believed. Lit up from head to feet, it brightens the city skyline as it gets illuminated with a ten-minute light show every hour, from dusk until one a.m.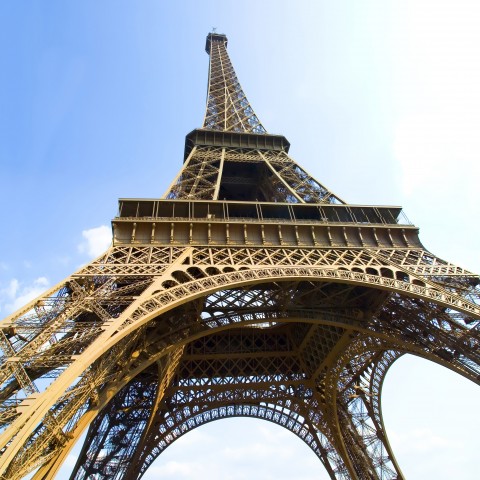 La Tour Eiffel
2 – Notre-Dame & Saint Michel
Nested at the heart of Paris, on a small islet called Île de la Cité ("Island of the City"), the cathedral of Notre-Dame de Paris (Literally: "Our Lady of Paris") is the most iconic and touristic monument in the whole city. Yes, it gets almost twice as many visitors as the Eiffel Tower!

But then, on April 15, 2019, a ferocious accidental fire raged for around fifteen hours despite the sustained efforts of thousands of firemen. By the time it was extinguished, the spire had collapsed and most of the roof had been destroyed. Luckily, the outside of the structure remained largely intact and a lot of damage was prevented by its stone vaulted ceiling which contained the roof as it collapsed.
The restoration of the cathedral started almost immediately; one year later, the forecourt of Notre-Dame was reopened. It will take at least four more years to bring it back to its former glory, but it's still worth seeing it from the outside!
Despite its fame, I've personally never been that impressed with Notre-Dame. It looks just like many other French Gothic cathedrals in smaller cities such as Reims, Amiens, Chartres, and Anvers.
However, visiting Notre-Dame, you're right at the center of the most beautiful Parisian districts: 
North of Île de la Cité, you can reach the 4ème Arrondissement, one of the most iconic and sight-filled districts. You're only one bridge away from another islet called Île Saint Louis, and just south of Notre-Dame, you can stroll through the Saint Michel neighborhood, which features countless restaurants, bookshops, and parks.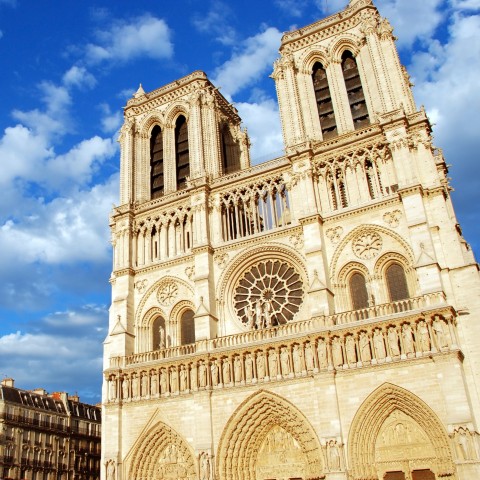 Notre-Dame de Paris
3 – Musée du Louvre
The Louvre is the world's most popular museum, greeting ten million visitors every year. It's home to more than 500,000 pieces of eclectic art, though only 35,000 are available to the public (for some mysterious reason).
Should you visit the Louvre? If you just want to see the Mona Lisa, please don't and just buy a postcard. This is the single most-visited painting in the museum, and you won't see much of her enigmatic smile while being ripped to shreds in a forest of selfie sticks.

Of course, there are plenty of other museums in Paris: Musée d'Orsay, Musée de l'Orangerie, Musée Rodin, Centre Pompidou. You could spend a good month just visiting them all. 
But obviously, the Louvre is special—not only for its extensive collection, but also for the monument and its surroundings. The Pyramide du Louvre, a large glass pyramid located in the main courtyard of the Louvre Palace, is a prime example.
Le Musée du Louvre
4 – Jardin du Luxembourg
Located next to the Latin district of Paris, the Luxembourg Garden was created in 1612 at the request of Queen Marie de Médicis, to go along the new residence she was having built: the Luxembourg Palace. 
Spread over 25 hectares of green elegance and floral magnificence, it's split into two parts with different styles: English and French, separated by a geometric forest and a large pond. There is also an orchard, an apiary, a rose garden, a stunning collection of orchids, more than 100 statues, an enormous fountain, the Orangerie, and of course, the palace itself.
The gardens are a very popular spot for locals and it can get a little crowded. There, you can play chess, bridge, or tennis, stroll through the alleys, or sit next to the pond. Even though it's right in the middle of the city, it has a pretty relaxed atmosphere.
5 – Montmartre
No matter how touristic it is, you can't leave Paris without visiting Montmartre, the art district of Paris.
Historically, it's renowned for attracting painters, writers, musicians, and comedians. And to this day, it's full of eccentric and interesting people, colorful cafés, art galleries, and way too many souvenir shops.
At the heart of this charming district lies the Butte Montmartre, a small hill at the top of which stands the Sacré-Coeur ("Holy Heart") Basilica. Take the cheap funicular or climb the 220 steps to reach the top, and you'll be rewarded with a beautiful view of Paris' rooftops.
But there's more! From the top of Butte Montmartre, you're only a short walk away from the world-famous Moulin Rouge. (If you haven't watched the dazzling movie from Baz Luhrmann, it's never too late.)
If you plan to visit Paris by night, are looking for the most iconic Parisian nightlife experience, and are ready to spend big, the Moulin Rouge is exactly what you need. This legendary cabaret has been running every night since 1889, with sparkling burlesque dancers adorned in rhinestones and feathers. (Due to the somewhat erotic nature of the show, it's probably not the best place to take your kids, though.)
Le Moulin Rouge
(Photo by Keven Law – CC)
6 – Cimetière du Père Lachaise
Depending on where you're from, it might sound weird or even disrespectful to visit a cemetery, but this is not the case in France—especially not in the large historical cemeteries in Paris, such as Père Lachaise, Montmartre, and Montparnasse.
Our cemeteries are an integral part of the city's cultural heritage, visited by people from all around the world who want to see the tombs of the many celebrities buried there (such as Jim Morrison, Oscar Wilde, and Edith Piaf). It also makes for an unusual and picturesque walk in a peaceful atmosphere.
Personally, what I love about Père Lachaise is the surreal and eclectic architectures of the graves and mausoleums. All funeral styles are represented and the Gothic crypts are especially impressive.
Le cimetière du Père Lachaise
7 – Le Marais
If you want to take in a deep breath of typical Parisian style, head to one of the city's oldest and coolest districts. Its typical cobblestone streets and small courtyards will make you feel like you're strolling in Medieval Paris.
Le Marais (Literally "The Swamp") was originally built on a swamp, but it's hard to tell when strolling across its fancy streets and high-end fashion boutiques. It has numerous museums and art galleries, vintage shops, antiques, and nightlife ventures.
The district has become home to various communities over the last few centuries. Traditionally a Jewish quarter, it later became popular with Chinese emigrants after World War I. Nowadays, it's famous for its thriving LGBT+ community. 
There are lots of small restaurants to choose from and if you're not in a rush, you can trust the length of the line to locate the best places. For a taste of what Le Marais has to offer, you can't go wrong with Florence Kahn or L'As du Falafel.
"Pavillon de la Reine", in Le Marais
(Photo by Alex59300 – CC)
8 – Catacombes de Paris 
If the cemetery didn't scare you away, how about we take it up a notch and dive into one of the most macabre and unsettling historical attractions Paris has to offer?
The Catacombs of Paris is an underground network beneath the streets of the city, with an ossuary hosting the remains of more than six million people. It was created in the eighteenth century to compensate for the city's overflowing cemeteries.
There are a lot of creepy stories surrounding the catacombs, as you can probably imagine. But this hasn't kept half a million visitors from heading down the dark tunnels each year since 1874, when it became open to public visitation. Upon entry, they're greeted with the sign: "Stop. This is the empire of death."
No one is certain of how large the catacombs really are, but they're estimated to be around 320 kilometers. They're largely inaccessible to date, but clandestine groups of catacomb enthusiasts (known as "Cataphiles") frequently roam this underworld in search of thrills and uncharted sections.
Due to the illegal nature of these activities, it's difficult to get in touch with any of these urban explorers. Unless you're intimate with a member, you'll have to opt for the organized tour. Just make sure you're not claustrophobic!
Les Catacombes de Paris
(Photo by Vlastimil Juricek – CC)
9 – Parc de Sceaux
There are many parks in Paris, and some of them are really beautiful, like the Parc des Buttes Chaumont or the Parc Monceau. But as soon as the sun comes up, they get awfully crowded with locals and tourists alike. 
Le Parc de Sceaux is kind of a secret gem and attracts much more of a local crowd than the more central gardens do.
The Domaine de Sceaux is a vast expanse of grass, colorful trees, flowers, and ponds, spread around a typical Renaissance castle. It's much bigger (and quieter) than other parks in Paris, but just as elegant and beautiful.
Le Domaine de Sceaux
10 – La Seine
The Seine River splits Paris in half, and unless you're blindly bus-hopping from one attraction to the next, you're likely to spend a lot of your time strolling along its paved shores.
First of all, this is arguably the most romantic spot in Paris. Especially near Notre-Dame, strolling on its peaceful piers with the city lights reflecting on the canal is pure magic. (The water doesn't look dirty at night!)
It's so romantic indeed that you might have heard of the famous love-locks bridge, where lovers from all around the world attach a padlock as a symbolic way to "Lock their love forever."
The trend started around 2008, and seven years later, the Pont des Arts ("Bridge of the Arts") started to crumble under the weight of 700,000 locks for an estimated total of 93 metric tons of romance! At first, the city didn't seem too keen on listening to grumpy locals calling it vandalism, but when it started threatening the bridge's integrity, they had to replace the railing entirely.

On a less romantic note, did you know that Parisians used to drink the Seine's water, use it to wash their laundry, and even swim in it? However, scientific analysis of the water in the 20s revealed that the water was highly toxic, polluted, and absolutely unsuitable for any water activity.
But none of this kept us from creating Paris Plage ("Paris Beach"). This oddity appeared in 2002, turning part of the banks of the Seine into a beach, with tons of sand as well as swimming pools, beach volley nets, ice cream stalls, tanning chairs—you name it! 
Initially meant for those who couldn't take summer vacations on the coast, Paris Plage is now a popular spot for everyone. Nobody's crazy enough to actually swim in the Seine, though.
La Seine
3. Places You Might Want to Skip
After going through our Top 10, you may be surprised that some of the most iconic locations are missing. This is not an oversight, but rather a deliberate omission.
L'Arc de Triomphe

This enormous piece of stone stands at the center of the Place de l'Étoile ("Star Plaza"). The monument itself is not especially pretty and it's not tall enough to offer an interesting view of the city. More importantly, it's right in the middle of one of the world's busiest and noisiest roundabouts.
Les Champs-Élysées

I never got the appeal of our "Elysian Fields." This is nothing more than a glorified shopping street with thousands of tourists waiting in endless lines in front of luxury fashion shops. It's also notorious for attracting pickpockets and scammers.

Don't expect to do any regular shopping here, as you're gonna need very deep pockets to afford a bag from Louis Vuitton or the most expensive Macarons you've ever seen.
Le Château de Versailles

This is another timeless classic you could easily avoid. The Versailles Castle is quite remote and will likely take you a full day. As a result, I would only recommend it if you're spending a week or more in the capital.

You can find better exhibitions in the central museums and equally interesting gardens in Jardin du Luxembourg or Jardin des Tuileries.
4. Survival French for Travelers
Even if you don't speak much French, it's generally recommended to greet people in French, as it will make for a much more positive first impression. Don't worry, you can switch back to English as soon as you've greeted them. That said, they will appreciate you going the extra mile and learning a few more survival phrases. 
Bonjour !
Bonsoir !
"Hello!" / "Good morning!"
"Good evening!"
Au revoir.
"Goodbye."
Merci (beaucoup).
"Thank you (very much)."
Non merci.
"No, thank you."
S'il vous plaît.
"Please."
Excusez-moi. 
"Excuse me."
(Je suis) désolé(e).
"(I am) sorry."
Où sont les toilettes ?
"Where are the toilets?"
→ For more useful travel phrases or pronunciation practice, please have a look at the following resources on FrenchPod101.com:
| | |
| --- | --- |
| Pouvez-vous répéter (s'il vous plaît) ? | "Can you repeat (please)?" |
| Un peu plus lentement, s'il vous plaît. | "A bit slower, please." |
| Je suis désolé(e), je ne comprends pas. | "I'm sorry, I don't understand." |
| Vous parlez anglais ? | "Do you speak English?" |
→ These are just some basics to help you get by. For more resources on this topic, be sure to check out our survival guide on French Travel Phrases.
Le Mot De La Fin
In this guide, you've learned about the most amazing places to visit in Paris, from the obvious Tour Eiffel to some lesser-known gems like the Domaine de Sceaux or Père Lachaise. Did it get you excited about visiting the City of Lights? Or maybe you've been there already but missed some of its treasures?
Did we forget any important places you've seen or heard about? Don't hesitate to share it with your fellow students in the comments!
Make sure to explore FrenchPod101.com, as we have plenty of free resources to help you practice your grammar and learn new words before you visit France. Our vocabulary lists are also a great way to review words and learn their pronunciation.
Remember that you can also use our Premium PLUS service, MyTeacher, to get personal one-on-one coaching with your own private teacher who will help you practice new travel phrases and more. In addition to providing you with assignments, personalized exercises, and recorded audio samples, your teacher will review your work and help improve your pronunciation.
Happy learning on FrenchPod101!
About the Author: Born and bred in the rainy north of France, Cyril Danon has been bouncing off various jobs before he left everything behind to wander around the wonders of the World. Now, after quenching his wanderlust for the last few years, he's eager to share his passion for languages.