Have you noticed how difficult it can be to stop aimlessly scrolling through YouTube videos, from one channel to the next recommendation? Before you know it, it's three a.m. and tomorrow's alarm clock will sound like really bad news.
And have you noticed how difficult it can be to learn a language? 
But what if you could combine business with pleasure and turn some of your relaxing YouTube time into French learning? Wouldn't that be amazing?
In this article, I'll present the best French YouTubers and channels to practice French in 2020, from the best French learning channels to the most informative and entertaining content by popular French YouTubers. When coupled with the FrenchPod101 channel, you'll find that the channels on this list have everything you need to immerse yourself in the French language and make quick progress.
Table of Contents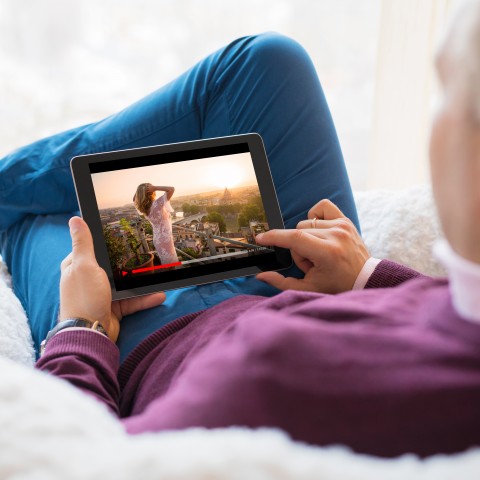 Regarder des vidéos ("To watch videos")
1. Learning French with FrenchPod101 and YouTube
If you're reading this article, chances are you're already familiar with the FrenchPod101 YouTube channel. As far as French learning goes, this is your number-one destination for a wide variety of free content and resources, ranging from listening and pronunciation exercises, grammar lessons, new vocabulary, cultural insights—you name it.
But at the end of the day, you might feel like you want to expand your YouTube horizons and complement FrenchPod101 with more channels in popular categories: documentaries, comedies, science shows, sitcoms, reaction videos, and cooking how-to's, to name a few. There are so many channels out there!
As a learner myself, I strongly believe in the power of exposure for language acquisition; immersing yourself in French can help you more than any grammar lesson ever could. You can effortlessly become more fluent by listening to French music and podcasts; watching movies, series, and documentaries; and reading books, articles, or magazines in French.
In 2019, video streaming was king, with eighty percent of the total Internet traffic being related to streaming—and YouTube was by far the biggest player. With a wealth of content in every language, it has countless channels for you to practice your French with. But it can be overwhelming to find the best channels, for sure.
Let me narrow it down for you, with a list of the best YouTube channels to complement your French studies!
Category: Language
Level: Everyone
This old-school channel may be the best place to learn and practice the sounds of French on YouTube. It features the most thoroughly detailed explanations of how to produce the various sounds of the French language. I recommend this channel to students of all levels, even if you're already fluent.
How do you move your lips and tongue to produce our set of nasal vowels? How do you channel the air through your throat to make the French guttural R? Everything is explained on FrenchSounds, with lots of carefully articulated examples and practical exercises.
This channel isn't active anymore, but with sixty tutorials going from the most basic sounds to the most advanced topics (sentence musicality, rhythmic groups, poetic recitation), you'll have more than enough material to truly master French pronunciation.
Category: Music
Level: Everyone
With a sizable collection of French music hits in various genres, 100% Chanson Française is an entertaining way to immerse yourself in the language and practice your listening skills. It's worth noting that it doesn't have many recent tracks, as French record companies are pretty touchy about copyright laws.
For some even older classics, you can check out the massive collection of Chanson Française. But if you want to listen to specific artists, you'll have to target their individual channels, such as Gims or Angèle.

You may find that older artists, who use less slang and are overall more articulated, are easier to understand at an intermediate level. You can try Francis Cabrel or Johnny.
Category: Listening practice
Level: Everyone
The concept behind Easy French is as easy as it is compelling: going through the streets of French cities to ask locals questions about…anything! And then recording their answers and reactions.
The result is a joyful blend of accents, paces, and manners of speech. These French YouTube videos are a great way to practice your street French by listening to real people. You'll also get to learn a great deal about the culture and local mindset.
The questions are as varied and incongruous as:
And most importantly, these videos feature excellent subtitles in French and English
Category: Comedy
Level: Intermediate & Advanced
Golden Moustache is a comedy studio that produces original videos on YouTube, mainly focusing on comedy and parody. They make fun of pop-culture icons such as Harry Potter and Game of Thrones, as well as popular music and actors. They produce one-shot sketches, a long-running web series, and they even have a movie!
Backed by the French TV channel M6, they can afford sets and costumes with a production value that goes beyond what home-made amateur YouTubers could ever pull off—and they do so with undeniable panache.

Although comedy is not the easiest genre to follow as a student, these videos come with good subtitles, making them a great way to practice your listening skills while having a fun time.
Category: News & Culture
Level: Intermediate & Advanced
Le Monde ("The World") is a French newspaper created in 1944, and today, it's one of the most popular and influential in the country. It claims to have no political stance, and it tries to remain as neutral as possible, though it's often considered to be in line with center-left ideas.
The YouTube channel features lots of videos, covering a wide range of topics: general news, politics, climate, Internet, music, cinema, television, science, sports, and more.
A lot of these videos are very well-articulated, in the typical slow-paced journalistic style. They also feature rather simple vocabulary, which makes this channel a great choice for intermediate or advanced learners who are willing to practice their listening skills and expand their minds.
Category: Language & Culture
Level: Everyone
InnerFrench offers a mix of French learning videos for all levels, as well as interesting playlists such as Learning Strategies and Podcasts.
The Podcasts are perfect for intermediate students looking for interesting content in accessible French on a variety of topics (history, politics, sociology, psychology, media). They speak slowly and won't burden you with convoluted sentences or weird slang.

Last but not least, you'll find a sizable collection of TED Talks in French with subtitles in several languages, including English and French.
Category: Cuisine
Level: Intermediate & Advanced
Food and wine are two of the pillars of French culture, and this list couldn't be complete without at least one French YouTube channel about food and cuisine.
Although arguably not the most exciting or exotic cooking channel on YouTube, 750g is a major player with a thriving online community, lots of informative videos, and countless recipes for every skill level and budget.

For something a bit crazier, head to the fast-food channel FastGoodCuisine, or maybe check out Hervé Cuisine and his mouth-watering collection of cake recipes.
Category: Science
Level: Advanced
Dr. Nozman offers a large collection of well-documented videos on science. From silly experiments to serious videos on biology, physics, epidemiology, and high-tech gadgets, this channel has a lot going on. It's meant for a wide audience, especially those with no technical background.

However, it features this typical "modern YouTubers" style with a frantic montage, elevator music, and relentless jump cuts. But this is the curse of all the best science channels I've found, such as e-penser and Max Bird.
Category: Language
Level: Beginner & Intermediate
Although very classic and barren in its presentation, this channel features a spectacular amount of content in the form of dialogues, grammar, conjugation lessons, and a wealth of vocabulary lists like the ones on FrenchPod101.com.
You'll select a topic, and for each item on the list, you'll see a picture, read the word and its translation, and hear the recording in French. 
No frills and no fuss here: even the illustrations are super-simple and not distracting. Having the combination of image, sound, and text is super-effective in accommodating all types of learners and creating more connections in your brain. In short, it's a great option for learning French on YouTube.
Category: Cartoon
Level: Intermediate
Les Shadoks is a French animated series with 208 very short episodes of two to three minutes. It was created by Jacques Rouxel and first shown on TV in 1968. It quickly became an iconic part of French culture, still fondly remembered to this day.
With a very unique brand of absurd humor, nonsensical science, and a cast of offbeat characters of all shapes and sizes (including stupid alien birds and a very angry gluttonous bug), there was nothing like the Shadoks when they first appeared fifty years ago. And when the series finally concluded in 2000, it was still as weird and unique as ever.

Voiced by legendary French actor Claude Piéplu, the speech is slow, articulated, and accessible for intermediate learners thanks to its simple vocabulary. The cartoons might seem childish, but if you're onboard with the absurd premises, you'll find it enjoyable for all audiences.
12. Le Mot De La Fin
In this guide, you've learned about the top ten YouTube channels to practice French. From French YouTubers to classic language podcasts, comedies, science shows, and cartoons, there's definitely something for your taste and level! 
Did we forget any interesting channel that you're already watching, or maybe a category you're interested in? Make sure to let us know in the comments below!
The more you immerse yourself in the French language, the more beneficial it will be in the long run. It will help you practice your listening and reading skills, learn new vocabulary, and get familiar with common grammar structures as you hear them over and over. But most of all, if you watch some of this content on a regular basis, it will keep you connected with the language.

Make sure to explore FrenchPod101, as we have plenty of free resources to help you practice your grammar and learn new words. Our vocabulary lists are also a great way to review new words and learn their pronunciation.
And of course, the FrenchPod101 YouTube channel should be your first stop for language podcasts, grammar lessons, and vocabulary videos. Be sure to explore our playlists so you can easily pick the category and topic you need.

Remember that you can also use our premium service, MyTeacher, to get personal one-on-one coaching. Practice your conversation skills with your private teacher, and they can give you personalized feedback and advice, and help you with your pronunciation.
About the Author: Born and bred in the rainy north of France, Cyril Danon has been bouncing off various jobs before he left everything behind to wander around the wonders of the World. Now, after quenching his wanderlust for the last few years, he's eager to share his passion for languages.