When in Rome, do as the Romans do. But what is it they do, now that eating in horizontal position while watching gladiators fight has gone out of style? I must confess I don't know, just as you may not know what the French are doing in France. Now you may be wondering, "So, what is French etiquette?" Luckily, I can help with that!
French etiquette and table manners aren't things you can improvise. Dining etiquette, for instance, varies wildly from one country to the next, and French dining etiquette rules have the reputation of being quite rigorous.
To be fair, there are some misconceptions and many exaggerations out there about the importance of social etiquette in France. If you believe everything you read, you probably think we're still wearing wigs and tights, and that you could go to prison for placing your fork on the wrong side of the plate.
The truth is: It all depends on what you're doing in France and who you socialize with. French rules of etiquette are obviously not the same in the Kebab joint on the corner of the street as those at the fancy Alain Ducasse au Plaza Athénée where you can't enter without a suit and a tie.
In this guide, we'll simply cover the daily interactions of someone visiting or living in the country: Basic French etiquette. From French restaurant etiquette, to French etiquette rules for public transport, French business etiquette tips, or how to act in the shops. Stick with me and you'll learn how to behave like a French gentleman with proper French etiquette in no time!
Table of Contents
1. Around the Table: Etiquette in French Dining
I'm sure you won't be surprised to see the French dining étiquette making it first on the list. We do indeed have a lot of table rules: some of them are carefully taught by our parents, others are unspoken and wrongfully considered obvious.
But this isn't especially a French obsession. Displaying good manners around the table matters all around the world, and France is by no means an exception.
I won't waste your time on the countless French table etiquette rules that—as subjective as they are—are more about common sense than local customs, such as:
Don't forget to compliment your host on their cooking skills, and if the food is gross, don't be too vocal about it.
Don't splash sauce all over yourself or the tablecloth.
You should refrain from stealing the silverware or sticking your fork in anybody's eye.
Now that this is out of the way, let's jump right into our Do's and Don'ts around the French table!
Don't
Don't start eating or drinking before everyone is served.
As trivial as it may sound (even to me, although I was raised by these standards), this one is a big deal!
It doesn't matter whether you're in a burger joint or a many-stars restaurant, with friends, family, or business associates. It's considered polite to wait until everyone is served before you start eating.
At home, you can speed up the process by serving the people around you. At the restaurant, you should wait until everyone gets their plate before you jump on yours. In a bar, you should wait until everybody's facing a pint before raising your glass for a toast or a sip.
Don't
Don't eat with your mouth open, slurp, or produce lots of noise.
It may sound obvious to many Western cultures, but don't take it for granted. In Japan, for instance, a country considered to have strict etiquette rules, it's polite to slurp loudly on your Rāmen (noodle soup) to show that you're having a good time. However, any other mouth noise is frowned upon. Confusing, right?
In France, when it comes to French etiquette at the table, you should simply refrain from producing any slurping, chewing, gargling, or burping sounds at the table, or really, in any public place.
Do
You should be prepared for a lengthy meal.
French dining is no joke. This is especially true for holidays and special occasions, such as Christmas dinner or birthday parties. But many casual meals with friends or a simple lunch with coworkers can easily escalate to a never-ending food-fest and drag on until the middle of the afternoon.
French meals are slow to start and even slower to finish. Before you get to the starters, you may rinse your throat with the apéritif (appetizer): often a glass of wine or liquor, such as Pastis or Ricard, with some kind of snack (peanuts, smoked ham, olives, you name it). And before you're excused from the table, there will be a LOT of talking.
Unless you're with close friends on a casual event, it's usually considered rude to leave the table before the meal ends. Of course, if you have a reasonable excuse to do so, nobody will throw rocks at you, but it's generally better not to be in a rush.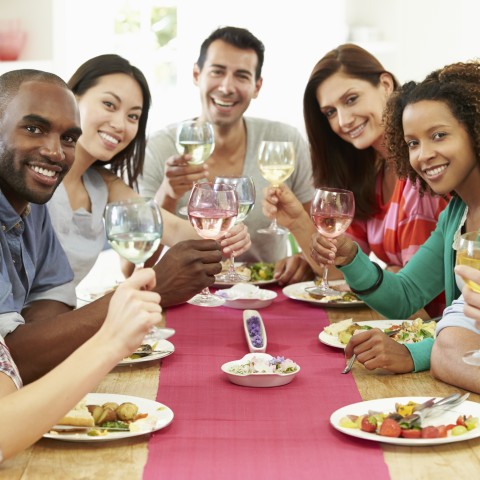 Santé ! ("Cheers!")
One more thing before we move on. If you've read any other guide about French dining etiquette, you must be wondering: But what about touching the cheese with my fingers, keeping my hands on the table, serving women first, or wiping the sauce with bread?
Well… Many authors seem to be living in the 19th century and will shower you with strict instructions that only apply to high-end restaurants or a presidential dinner in Versailles. They fail to mention that most of these rules are way too uptight for a meal with friends or even a business lunch.
However, if you're interested in learning more about the subtleties of French dining etiquette, there's a great number of books to pick from!
2. French Etiquette and Manners in Public Places
A lot of your time in France is likely to be spent in public places of all sorts: avenues, parks, squares, and halls. Let's see how to behave without attracting unwanted attention or angry stares.
Don't
Don't sniffle your snot repeatedly, just blow your nose.
/!\ If you get grossed out just reading about snot, I suggest that you just skip to the next section.
Whether it's healthier to blow your nose in a tissue or to sniff hard and spit it out is still debated, and just like everything related to body fluids and germs, it's really important to get it right when traveling abroad.
In many countries, blowing your nose is considered rude and disgusting, and there's usually nothing wrong with sniffling as much as it takes to keep it inside.
In France, however, you'll find that many people get irritated if you continue to sniffle your snot when you have a runny nose. And I can relate. The sound just gets on my nerves and makes me want to scream "Just blow your freaking nose already!"
However, this doesn't mean that you should blow your nose right at the dinner table. That would be bad etiquette.
Wiping your nose with a tissue is fine, but if you need more relief, just excuse yourself for a moment and find a private corner or move a few steps away and blow it quietly. Your friends will usually prefer one short blow to a sniffling concerto.
Elle se mouche. ("She's blowing her nose.")
Do
You should be quiet and keep your voice down.
This is a good example of French etiquette and customs I had always taken for granted until I visited South America. Until then, I had only been in countries where it's considered polite to speak quietly and refrain from yelling, shouting, or laughing out loud.
You can imagine the cultural shock of coming to a place where it's perfectly acceptable to loudly express your emotions and where the noise level in the street is often much higher than in my home country. Just as it's shocking to the French if you break this rule in their streets by being too loud.
It's good French manners and etiquette to keep your voice down, not to a whisper, but to what we consider a reasonable level. Look around you when you're outside, follow your friends' lead, and you'll get it right.
Do
You can kiss and hug in public (within reason!).
The French are known for being very relaxed about public displays of affection. It's common to see people kiss, hold hands, hug, or cuddle in the street or on the bus, and nobody will mind if you get tender with your lover in a public place. That makes it easy to practice your French kiss skills!
Be careful, however: This only applies to kissing, hugging, and innocent stroking. If it gets more physical or erotic, or if there's any nudity involved, it won't be considered acceptable anymore (and possibly not legal, either).
Public displays of affection for same-sex couples is still a work in progress. Although the country is reasonably progressive in LGBT rights, two men or women kissing in public could still raise some eyebrows from the older or more conservative fringe of the population, especially outside of big cities.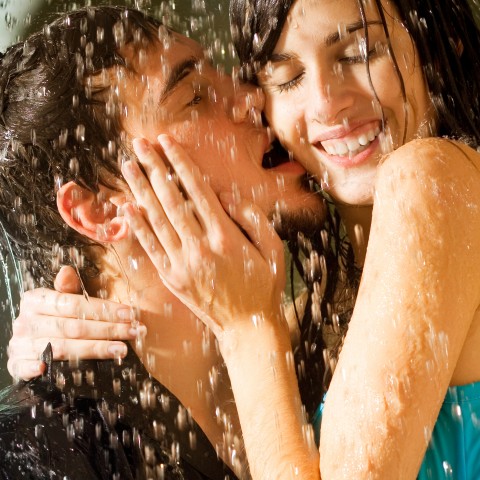 Think Green, turn off the shower!
3. French Greetings and Etiquette: Greeting People
When it comes to French etiquette, greetings in France can be a confusing or stressful experience if you're not prepared for our typical air-kissing technique: La bise. I have covered it extensively in another article on How to Say Hi. Check it out to learn the ins and outs of this oh-so-French custom.
Do
You should greet everyone when you join a group.
When you join a group of French, it's considered good French social etiquette to say "Hello" to everyone, and introduce yourself (simply stating your name is often enough), to whomever you haven't met before.
At a business meeting, shake hands with everyone present when arriving and leaving. The French handshake is brief—one up and down movement—with a firm grip and eye-contact.
With friends and acquaintances, a handshake is the most popular greeting among men, and kissing on the cheek is common between women or between men and women.
Don't
Don't overuse the formal Monsieur and Madame.
You've probably read somewhere that the proper way to greet someone is to use Bonjour (Hello) with either Monsieur (Sir) or Madame (Madam). This is true if you want to explicitly express respect toward the other person, but with friends or coworkers of the same rank, you could sound stiff or overly formal.
There's generally nothing wrong with using Monsieur or Madame when addressing shops' or restaurants' staff, but I usually find it too solemn for my taste.
Mademoiselle (Miss) has an old-fashioned ring to it and has lost a lot of its appeal after it started being overused in cheap pickup lines. I believe if someone is young enough to be called Mademoiselle, you don't need to be formal and use the title. And if you want to use it with galant intentions, you've been warned!
4. French Etiquette Tips When Visiting People
A person's home is their castle, and when invited to your friend's or colleague's, it's best to avoid missteps.
Do
You should bring a small gift to your host.
When invited for dinner, it's polite to thank your host with a gift of some sort. There's no strict rule on what you should bring, but for formal occasions, flowers or a bottle of wine are safe bets. In more casual company, wine works just as well as any liquor or delicacy (chocolates, an interesting appetizer).
Among friends, it's common in France to make the meal a collaborative experience: someone brings the starters, others are in charge of the main, dessert, wine, appetizer, or cheese. Coordination is crucial. Double-check what you should bring so you don't end up with a triple ration of cheese but no wine.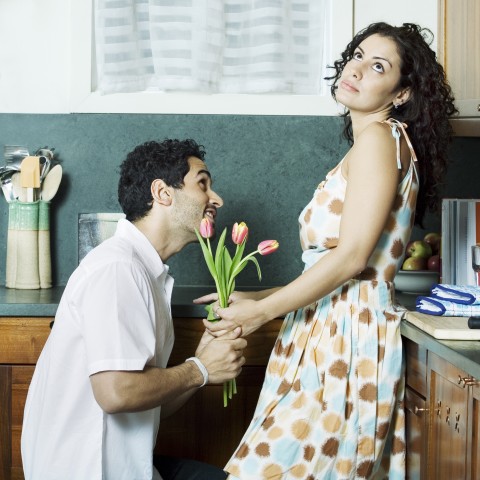 You don't actually have to kneel when offering flowers to your host!
Don't
Don't be late or leave them hanging.
Punctuality is highly appreciated in France, especially in business, but also among friends. When invited for dinner, it's fine to show up slightly later than the set time. But in any other situation, you should do your best to be right on time.
If you're running late or have to cancel, always inform your friends and don't leave them hanging, waiting for you to show up. Even if you're only one person among many, it's polite to inform at least your host or the event organizer if you're not going to make it on time, or at all.
5. French Etiquette Do's and Don'ts for Public Transports
If you're visiting France as a tourist, there's a good chance you'll spend some of your time in public transports. All the rules about behavior in public places apply, but here are a few other recommendations to make everything smoothly polite.
Do
You should wait in line when buying tickets or boarding.
This one actually applies to any line of people waiting for something, whether you're waiting for your train tickets, your lunch, or your baguette. Be respectful to people around you and wait in line for your turn.
If you're in a serious rush, you could ask them politely if they mind you taking over, but you should accept their decision if they refuse.
When boarding your train or bus, don't act like you're in a barbaric mob – quietly wait in line by the doors. During rush hours, things could get messy, especially when the subway gets cramped, and some will try to take over so they don't have to wait for the next train. But most of them will wait in a somewhat orderly line anyway.
Don't
Don't listen to your music on speakers or have loud phone conversations.
Remember when I mentioned that you should stay quiet and avoid yelling or shouting? Let's add some more transport-specific rules of savoir-vivre (good manners).
If you want a soundtrack to make your ride more entertaining, you should keep it to yourself by using headphones. Playing music on your phone's speaker or giant boombox is considered tasteless and rude.
As for loud conversations, you'll get a pass if you're among friends, having a lively conversation. But when talking on the phone, you're expected to keep your voice down as most people feel like they don't need the details of your personal life.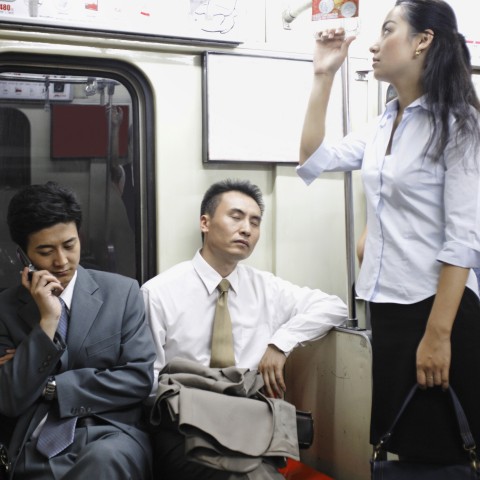 Shhh…don't wake them up.
Do
You should give your seat to grandma.
On the city bus, tramway, or metro, where seats aren't assigned, it's polite and considerate to leave your seat to the elderly, pregnant women, and people with disabilities.
Most public transports have priority seats dedicated to them, but you should be ready to offer them any other seat, regardless of how it's labeled. However, you're free to use any priority seat as long as they're not taken. When doing so, just be extra aware of your surroundings and be ready to offer it to someone in need.
→ Check out our vocabulary list on the Train or Bus Station to learn more vocabulary for your rides in public transports.
6. Proper French Etiquette in a Shop
Do
You should greet the staff and treat them well.
To understand how to properly interact with staff from any shop, restaurant, or administration, you have to know that France doesn't live by the British-American rule of "The customer is always right." In France, the client is a guest in the shop, and it's often more important to the clerk to be treated with respect than to make the sale.
It's hard to stress how important it is to understand this shift of power when interacting with sellers or waiters, especially when coming from the U.S. or the U.K., where client-staff interactions are handled in a wildly different manner.
In a nutshell: Politely greet them, smile, and treat them well. I'm not saying that you should be obsequious or overly submissive. Just treat them like human beings and acknowledge that they deserve respect for providing a service.
Don't
Don't bargain or discuss the prices.
This one is a no-brainer. Unless you're buying fake Ray-Bans on a Sunday market, prices aren't up for discussion and bargaining is just not a thing in France.
In most cases, prices are clearly displayed in shops to spare you the need to ask for them. And if you're not happy with them, it's more polite to walk away and compare your options than to start arguing with the employees.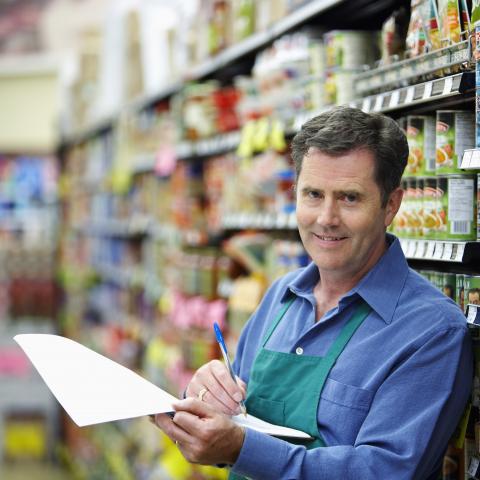 Jean-Pierre looks like a nice guy but you don't want to see him angry…
7. French Etiquette in Business: Conducting Business
Don't
Don't use aggressive selling techniques.
There are many countries where it's fine to jump on your customer as they walk through the door, or start talking numbers as soon as you start a business lunch. However, when it comes to French etiquette, business is supposed to be handled with more tact, and the French don't respond well to this kind of behavior.
We don't like to make hasty and impulsive decisions, especially in business. Deals are rarely finalized in the first meeting, and high-pressure sales tactics are likely not to work at all. It may even provoke enough reluctance to just ruin your efforts.
Do
You should embrace criticism and interruptions.
This rule of etiquette in French business might sound a little counterintuitive, but this is what makes it so important!
When presenting your ideas, either in a meeting or in a less formal setting, don't get upset or frustrated if your colleagues interrupt you to ask questions or give some insight.
Constructive criticism is highly regarded in France, and you should be ready to openly discuss the merits and flaws of your ideas. This is how your coworkers show their interest.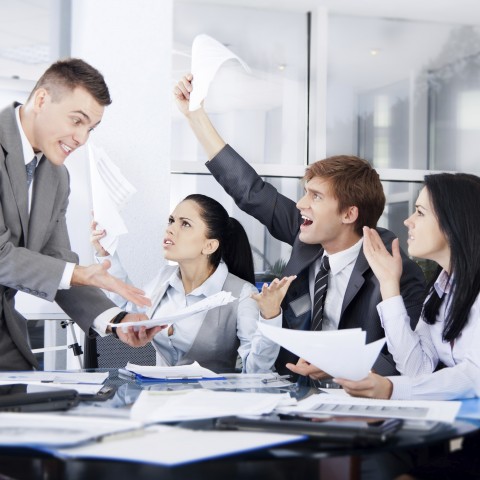 Just keep your cool, you're on the same team!
8. How FrenchPod101 Can Help You Learn More French
In this guide, you've learned the Do's and Don'ts for a wide range of daily life situations, from French meal etiquette to manners in the office, the street, or the train. Get familiar with these social norms and you'll become more confident, knowing that you're behaving respectfully, without being afraid of rude mishaps.
Did I forget any important situations? Do you feel ready to amaze your friends with your impeccable savoir-vivre (good manners), using everything you've learned today?
Make sure to explore FrenchPod101, as it has plenty of free resources for you to practice your grammar and learn new words. Our vocabulary lists are also a great way to revisit the words and learn their pronunciation.
Remember that you can also use our premium service, MyTeacher, to get personal one-on-one coaching. Practice your knowledge about French cultural norms with your private teacher so they can give you personalized feedback and advice, and help you with the pronunciation of important phrases.
About the Author: Born and bred in the rainy north of France, Cyril Danon has been bouncing off various jobs before he left everything behind to wander around the wonders of the World. Now, after quenching his wanderlust for the last few years, he's eager to share his passion for languages.