Do you want to leave a dashing and lasting impression after you've met someone? It's time to work on your grand exit and make sure you choose the right words when leaving the room.
Earlier on this blog, you learned the various ways to say hello and how to introduce yourself. Now it's time to study how to say goodbye in French when it's time to part ways. Overall, French really isn't complicated in that regard, and you could get by using only two expressions. But there's more to learn if you're willing to expand your horizon and want to impress your friends with typical French expressions.

In this article, you'll learn how to say goodbye in French, from fun casual words to formal expressions. Together, we'll go through the twenty-two most useful ways to say goodbye, with explanations and examples. By the end of this guide, you'll be ready to walk away with style! Start with a bonus, and download the Must-Know Beginner Vocabulary PDF for FREE!(Logged-In Member Only)
Table of Contents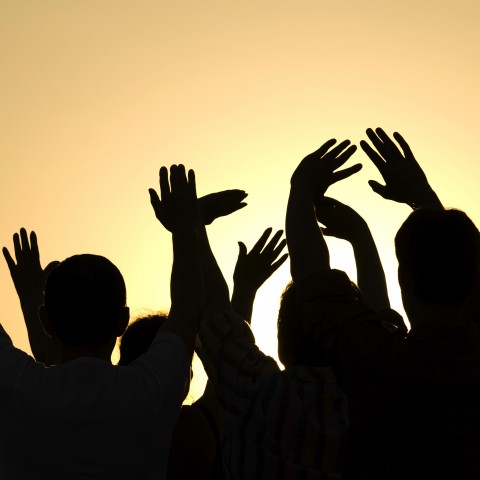 Ce n'est qu'un au revoir. ("This is not really goodbye.")
1. Two Expressions to Rule Them All
Do you remember how to say "Hello"? There are many ways to say it, but you can get by with only two words without ever having to use any of the others. Luckily, it's exactly the same with "Goodbye."
For almost any formal or informal situation, you can use one of these two expressions:
| | | |
| --- | --- | --- |
| Au revoir. | [Formal] | ("Goodbye") |
| Salut ! | [Casual] | ("Bye!") |
When you're among strangers, at a job interview, in a shop, or leaving a restaurant, you can say: Au revoir. If you're among friends, family, colleagues, or people you're generally casual with, you can say: Salut.
But of course, you wouldn't be reading a complete guide on how to say goodbye if you were looking for the easy way! So let's dive into the various ways to say goodbye so you'll be prepared for just about any situation.
2. Various Ways to Say Goodbye
1 – Casual Goodbye
In French, casual goodbyes abound. Feel free to use any of the words or phrases listed below with friends and family, or in other informal situations.
Salut !
[Casual]
("Bye!")
Interestingly, Salut can be used to mean either "Hello" or "Goodbye." It's the Jack-of-all-trades when it comes to goodbyes, and as you interact with French-speakers, you're bound to hear it often.
Now, let's have a look at your alternatives when dealing with friends, relatives, colleagues, or other people you know pretty well.
Ciao ! / Tchao !
[Casual]
("Bye!")
Both Ciao and Tchao are correct and can be found in French dictionaries, but Ciao is often considered the more correct form. Tchao is only the Frenchified version of the Italian greeting word.
Bye ! or  Bye bye !
[Casual]
("Bye!")
Bye has also been integrated into the French dictionary, and is now rather common.
Bisous !
[Very casual]
("Kisses!")
This is the most casual form, and it's equivalent to ending a message with XXX for "Kisses." We use it with family, partners, and close friends—and it's gonna sound funny if you use it with people you're not really intimate with.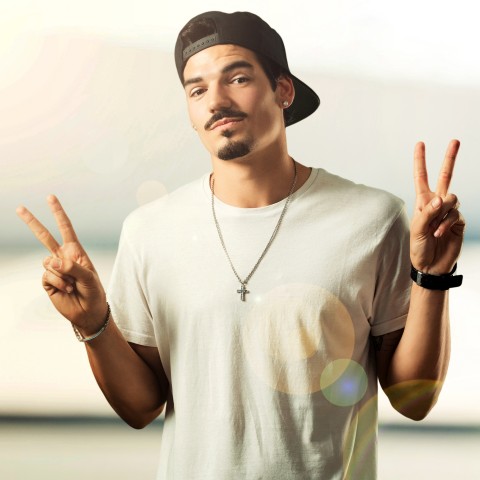 Ciao!
2 – Have a Good One
These are the kind of French goodbye expressions you would use to wish someone a good day, evening, or vacation. 
Bonne journée.
[Neutral]
("Have a good day.")
We use this phrase like its English equivalent, referring to the rest of the current day.
| | | |
| --- | --- | --- |
| Bonne soirée. | [Neutral] | ("Have a good evening.") |
| | | |
| --- | --- | --- |
| Bon week-end. | [Neutral] | ("Have a good weekend.") |
Bon ___. / Bonne ___.
[Neutral]
("Have a good ___.")
This is the blueprint for a variety of custom goodbyes. You can adjust it by adding any day or part of the week, keeping in mind that the adjective bon / bonne ("good") agrees with the object (the thing that is good). 

Bon dimanche. ("Have a good Sunday.")
Bon week-end. ("Have a good weekend.")
Bonne fin de semaine. ("Enjoy the end of the week.")
Here, une fin ("end") is a feminine word, so we would say bonne.
3 – See You!
A tout à l'heure.
[Neutral]
("See you later.")
If you translate à tout à l'heure word for word, it would be "to everything at the hour," which doesn't make much sense. This is a purely idiomatic expression and the most common way to say "See you later!" in French.

Tout à l'heure is a versatile expression that can be used to say "soon," "later," or "in a moment":

Je la verrai tout à l'heure. ("I will see her later.")

But it can also mean "earlier" / "a moment ago." However, once placed in context, it's never confusing:

Je l'ai vue tout à l'heure. ("I saw her a moment ago.")
A toute !
[Very casual]
("See you!")
This is a shortened and very casual version of à tout à l'heure.

In the full expression, there's a liaison between tout and à, making tout sound like toute. To match this sound, we change the spelling to make à toute.
A plus tard.
[Neutral]
("See you later.")
Plus tard means "later," so this basically translates to "until later," and it's a mildly casual way to say "See you later."

You could use it in semi-formal interactions (such as leaving a shop), but it may be a bit too relaxed for serious business and job interviews.
A plus !
[Very casual]
("See you!")
This is a shortened and very casual version of à plus tard.

Note that in the full expression, the S at the end of plus is silent, while in à plus, we pronounce it.
A tout de suite.
[Neutral]
("See you in a bit.")
Tout de suite means "right now," so it's a bit of an exaggeration, like when Spanish-speakers use ahora ("now") to mean "very soon."
| | | |
| --- | --- | --- |
| A bientôt. | [Neutral] | ("See you soon.") |
| | | |
| --- | --- | --- |
| A demain. | [Neutral] | ("See you tomorrow.") |
| | | |
| --- | --- | --- |
| A une autre fois. | [Neutral] | ("See you another time.") |
A la prochaine.
[Casual]
("See you next time.")
Originally a short version of à la prochaine fois, this phrase has become much more popular than the extended cut, so I would advise using à la prochaine.
A la ___ prochaine.
[Neutral]
("See you next ___.")
This template can be used for a variety of "see you" phrases, such as:

A la semaine prochaine. ("See you next week.")
A l'année prochaine. ("See you next year.")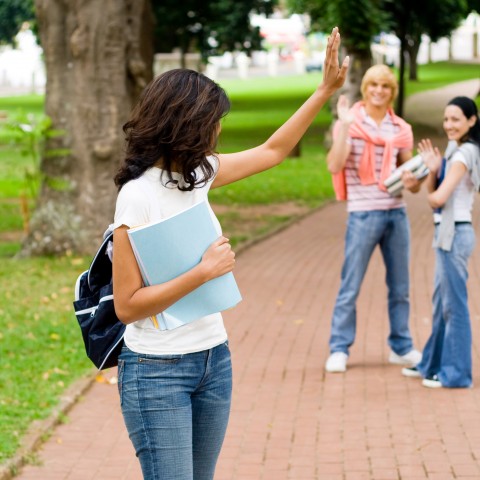 A plus ! ("See you!")
4 – Farewell
Adieu
[Vintage & Formal]
("Farewell")
This old-school expression is mainly seen in works of historical fiction or is used sarcastically.

Created around the thirteenth century, the French goodbye adieu comes from à Dieu ("to God") and is meant to express the idea that you'll only see each other again when meeting God.

In the professional world, it can also be used in the context of un pot d'adieu or une soirée d'adieu ("a farewell toast" or "a farewell party") when someone is retiring.
5 – Good Luck
Bonne continuation.
[Formal]
("All the best.")
This one doesn't have a direct translation, but in English, it would look like "Good continuation." Whatever you're doing, may you continue it well.

It's mainly used professionally, at the end of a working collaboration, for instance. The persons parting ways would wish each other bonne continuation for the next steps of their careers. However, you could use it in other situations after you've met someone that you're not expecting to see anytime soon (a fellow tourist on a trip, for example).
Bonne chance.
[Neutral]
("Good luck.")
Bon courage.
[Neutral]
("Best of luck.")
In English, we use the translation "Good luck" for bonne chance and bon courage, but they're different.

Bonne chance is literally "Good luck" and implies that there's an element of chance involved, such as external factors you can't control.

Bonne chance pour ton examen ! ("Good luck for your exam!")

When taking an exam, you don't know what the exact topic will be and you're not equally prepared for any potential topic that might come up. You'll need some luck to achieve the best outcome.

Bon courage is based on the word "courage," so you're wishing someone strength and bravery. Maybe they're working on something difficult or tedious, or they're about to experience pain and discomfort.
In any case, it's more about them being strong than lucky.

Bon courage pour ton opération. ("Best of luck for your surgery.")

In practice, they tend to be pretty interchangeable, so you could use either one in a given situation.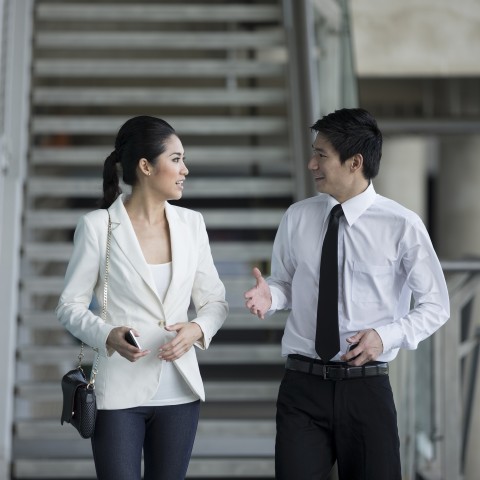 Bonne chance pour ton entretien ! ("Good luck with your interview!")
3. French Culture: Goodbye Gestures
Like in many other countries, the most common gesture in France for saying goodbye is to wave. Raise your hand, tilt it left and right, and you're good to go! But what if you want to get more personal?
1 – "La Bise" : The French Can Also Kiss Goodbye
Have you heard about la bise? The typical air-kissing technique the French are famous for can also be used when saying goodbye.
❖ HOW?
To do la bise (faire la bise), lean forward and touch cheeks with the other person while mimicking a kiss. There's no actual lips-to-cheek contact during the typical bise, just a slight brush of the cheeks. Then, change cheeks and repeat on the other side.
❖ WHO?
If you're a woman, you can do the bise with friends, family, or peers, no matter their gender, and vice-versa. It doesn't mean that you have to, though.
As a man, you can do the bise with female friends, family, peers, or female strangers met in informal contexts. You can also do the bise with your male friends and family, but it usually takes a higher level of intimacy and some people just don't do it.
Doing la bise when saying goodbye is not as common as it is when saying hello, and if you're not comfortable, feel free to skip it!
→ If you want to know all about la bise, be sure to check our blog article on How to Say Hello in French. In the last chapter, "The Secret Art of French Kissing," you'll find all the details on why, when, and how to do la bise.
2 – A Handshake or a Hug?
The French don't usually hug to say hello or goodbye. The fact that we don't even have a word for it speaks volumes about our inclination toward hugging. It's usually reserved for close family and romantic partners, but some friends might initiate it. Just follow their lead.
Shaking hands, however, is perfectly fine. When you're not sure whether you should kiss or shake hands, you can't go wrong with a firm and crisp handshake. Women on the giving or receiving end could be met with a bit of awkwardness, as this is still mainly a masculine habit, but there's nothing wrong with it.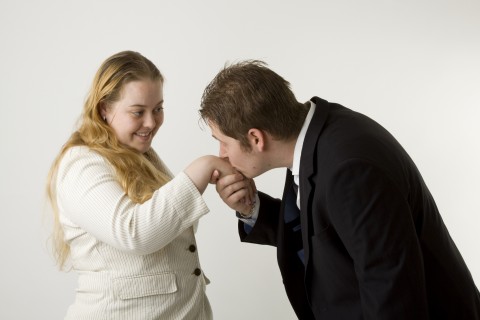 When you can't decide whether you should kiss, hug, or shake hands.
4. Le Mot De La Fin
In this guide, you've learned everything about how to say goodbye in French in both casual and formal situations. You've also seen several variations of how to say "See you later" and "Have a good one."
Did I forget any important goodbye words that you know? Do you feel ready to make a grand exit using what you've learned today?
FrenchPod101 also has tons of vocabulary lists with audio recordings, and free resources to boost your studies and keep your French learning fresh and entertaining!
Remember that you can also use our premium service, MyTeacher, to get personal one-on-one coaching. Your private teacher will help you practice your French goodbye phrases and more, using assignments, personalized exercises, and recorded audio samples for you—they'll even review your own recordings to help you improve your pronunciation. 

Happy learning on FrenchPod101.com!
About the Author: Born and bred in the rainy north of France, Cyril Danon has been bouncing off various jobs before he left everything behind to wander around the wonders of the World. Now, after quenching his wanderlust for the last few years, he's eager to share his passion for languages.